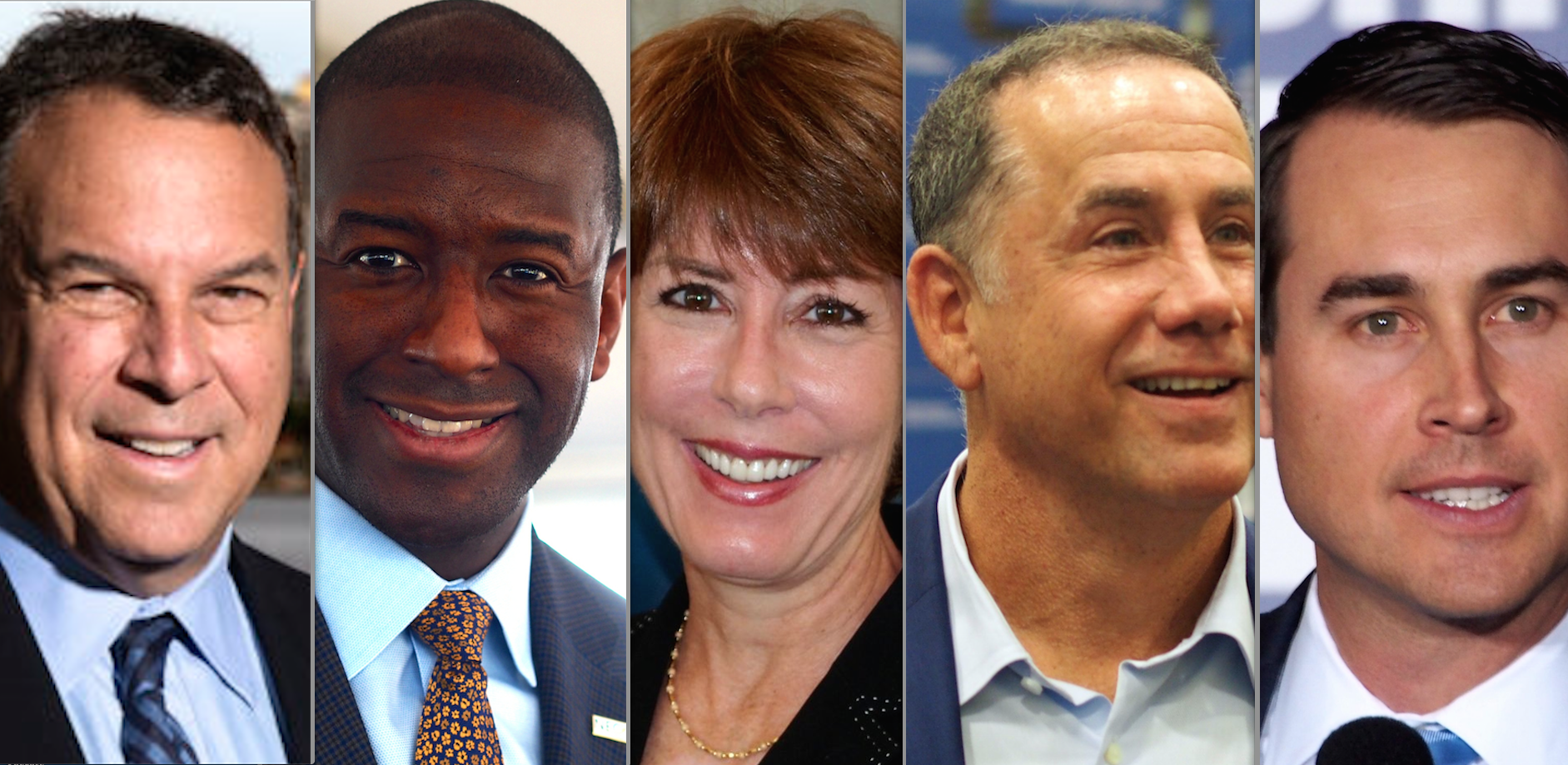 A new poll from RABA Research is finding similar results from one disclosed earlier this week that the Florida Democratic primary race for the governor's election is close to a dead heat between former Miami Beach Mayor Philip Levine and former U.S. Rep. Gwen Graham.
The poll, using random digit dialing and excluding cell phones, surveyed of 660 Florida Democrats last Friday and Saturday, found Levine's support at 27 percent, Graham's at 26 percent, Winter Park businessman Chris King at 15 percent, Tallahassee Mayor Andrew Gillum at 8 percent, and Palm Beach businessman Jeff Greene at 3 percent.
Just 21 percent of those surveyed said they did not know, or that they wanted someone else.
"The race is a coming down to the wire. Phillip Levine and Gwen Graham lead the field with Chris King coming in a strong third," John Davis of RABA Research said in a news release. "The coming weeks will be critical in determining whom Democrats put up as their nominee."
RABA is a reasonably new polling outfit claiming bipartisan roots, founded in 2016 by Republican media strategist Kim Alfano and Democratic campaign consultant Brad Anderson, among others. Their polls have been cited by FiveThirtyEight, Politico and NBC News, among others, though their record is slim thus far. FiveThirtyEight has assessed just two of their polls, giving them only a C rating, and a very slight Democratic lean.
This survey does not take the usual "likely voters" track for Democrats; instead, it redistributes weight between super voters and new voters, with those who indicated the potential to vote in the August 28 primary. Among those surveyed, 79 percent they were almost certain they would vote, 10 percent said probably, and 11 percent said there was a 50-50 chance.
RABA reported a margin of error of 3.8 percent for overall results.
Two things this poll has in common with one conducted by the Republican-leaning political research organization Let's Preserve The American Dream earlier this month while differing from many other polls: the overall conclusion that Levine and Graham are in front, in a very tight race; and a survey sample that took in a large percentage of female voters – 59 percent in the RABA survey. That's reflective of the past two Democratic primaries in Florida, in which women made up 60 percent of the turnout.
Levine's been running TV commercials almost all year; Graham started hers, only in the I-4 corridor, early this month; and King launched his statewide in April. Greene launched a huge ad buy this week, after the survey.
Among other findings:
— Graham was the only Democrat that had a majority of respondents having formed an opinion about her, but just barely — 52 percent.
— She also had the best favorable/unfavorable ratio in the pack, with 43 percent saying they had a favorable opinion of her, and 9 percent an unfavorable opinion. Levine's ratio was 36 to 13 percent; King was 29 to 11 percent; Gillum was 26 to 10 percent. Greene, who might have been remembered by respondents at that point last week only for his failed 2010 U.S. Senate campaign in which he found himself fighting off several negative stories, registered 11 percent favorable, 21 percent unfavorable, with a huge 68 percent saying they are not sure.
— Just 29 percent said Florida was heading in the right direction, 48 percent in the wrong direction, and 23 percent said they were not sure.
— The cross-tab breakouts showed standings in all 10 Florida media markets, with Levine doing well in most of South Florida; Graham in Orlando and much of the Panhandle; Levine leading Graham comfortably in Tampa; Gillum holding down Tallahassee; and King with sizable advantages in Jacksonville and Gainesville, while also slightly leading Levine in West Palm Beach, Greene's home turf.