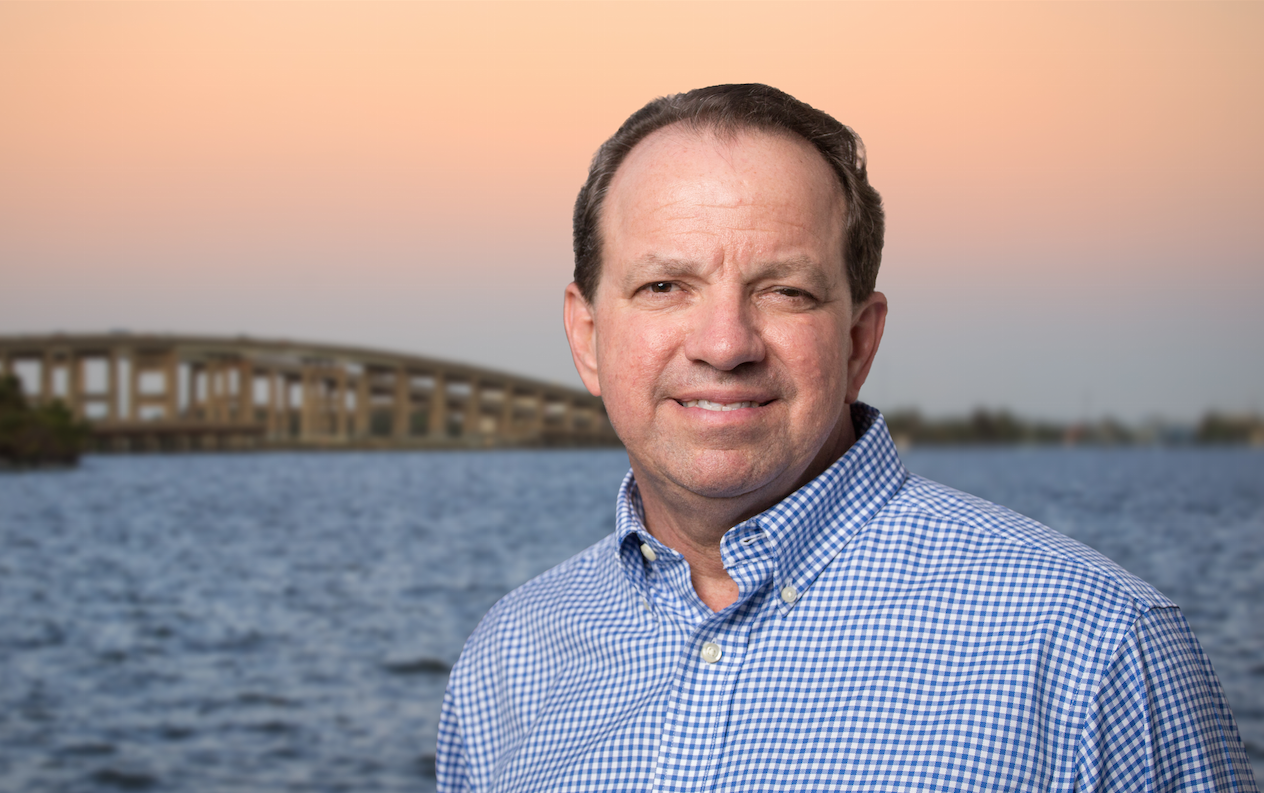 Cocoa Mayor and House District 51 candidate Henry Parrish has posted a video on Facebook showing a supporter of his opponent pulling up and flinging a Parrish campaign sign.
What's raising eyebrows is who did the tossing: Veteran lobbyist Guy Spearman, whose Spearman Management office is right next door.
He supports Republican rival Tyler Sirois, executive director of Brevard-Seminole State Attorney Phil Archer's office, in the race to succeed termed-out GOP state Rep. Tom Goodson.
"This is a video of our opponent's main backer and financier illegally removing one of our campaign signs, legally placed with the landowner's permission," Parrish's Facebook post says.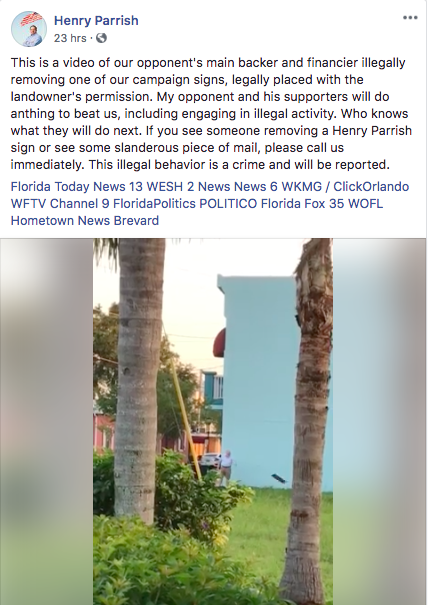 "My opponent and his supporters will do anything to beat us, including engaging in illegal activity," the post goes on. "Who knows what they will do next. If you see someone removing a Henry Parrish sign or see some slanderous piece of mail, please call us immediately. This illegal behavior is a crime and will be reported."

Spearman told Florida Politics that Parrish is in the wrong. He "readily admits" to slinging Parrish's sign, saying it "was on my property. I'm sorry but you can't put a political sign on my property without asking me."
Parrish counters he had permission to place the sign, and said he'll "stick with law and order."
"My campaign will not tolerate criminal activity and dirty tricks from other campaigns," he said in a phone interview. "I did file a report with Cocoa police.
" … This isn't just somebody," Parrish said of Spearman. "This is somebody politically and financially connected to my opponent. If I let this go, I'm not worth a hoot as mayor."
Parrish also said the day before the sign removal, someone came into the bed-and-breakfast he operates and stole several campaign items. He said he doesn't know who's responsible. 
Spearman, who's long been aligned with Democrats, noted Parrish's sign appeared after he let Sirois put one of his signs on the other side of his building: "I mean, right after (Sirois) put up his sign, that other sign came up. Well, duh."
Parrish is "a little bit desperate," Spearman added. "Do I send stuff on Tyler to my lobbying friends? Sure I do. Have I sent anything negative on (Parrish)? Not so far. Now, that could all change."
Meantime, Parrish called the incident "disheartening." 
"This is definitely different from local politics," he said. 
__
Updated 3:30 p.m. — Parrish Campaign Team Leader David Bradford sends this message:
"I work next door to this building at The Parrish Grove Inn and assist with Mayor Parrish's campaign. I wanted to provide you with some additional information that we provided to the police department that was not included in the article or on Facebook and led to Spearman admitting it was not his property and changing his story and admitting his wrong. In fact, he retrieved the stolen property from his garage (the stake) and the police returned it to us. Charges were filed yesterday.
"… Mr. Parrish owned this property previously and sold it to the current owner and has obtained permission every election to place it there. This was a temporary yard sign until Mayor Parrish had time to install his large (sign), which will be installed in this exact location tomorrow. It is a high traffic area and Mayor Parrish has had his signs there during his last two elections with no issues, however Spearman is spearheading Mr. Sirois' campaign and (is) his biggest supporter ….
"… The property Mr. Spearman claims he also 'owns' when he refers to Mr. Sirois' sign on the other side of the building is not owned by Spearman, but in fact by (someone else) who stated he did not give permission for Mr. Sirois to place his sign there and in fact had no knowledge it was there."
__
Gainesville correspondent Drew Wilson contributed to this post.