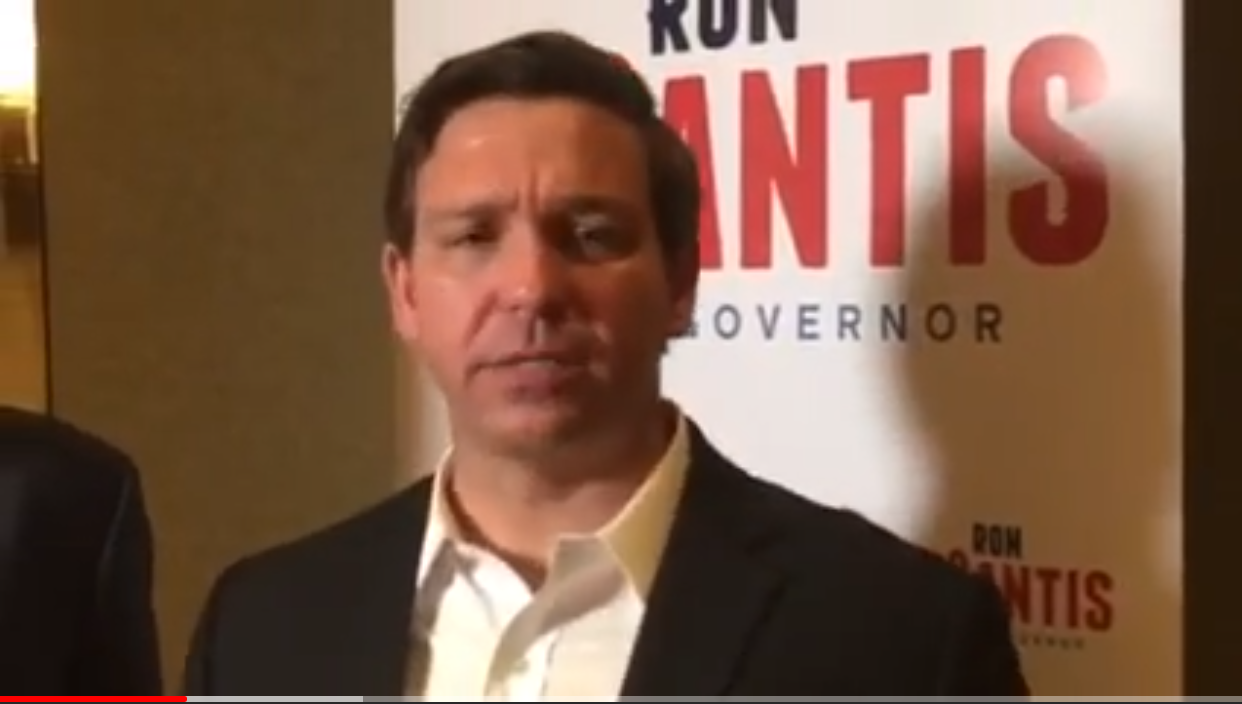 On Saturday morning, U.S. Rep. Ron DeSantis made his pitch for the GOP nomination for Governor in a familiar place: Sawgrass in Ponte Vedra.
With him, serving as hypeman: regular Fox News collaborator and Congressional colleague Rep. Matt Gaetz.
The bad news for the campaign: a 15-point deficit (32 to 17 percent) in recent polls from Fox News and the Florida Chamber.
The good news: a silver bullet, in the form of the Pres. Donald Trump endorsement tweet. DeSantis' team expects that the co-branding with Trump will erase that lead quickly
DeSantis' visit to Sawgrass, the first of three stops Saturday, was very much the kickoff of a new, active phase of the campaign, one in which the candidate will spend $12 million on an ad buy starting Monday. He will also have the support on the ground of Fox News endorsers, such as Sean Hannity, Mark Levin, Judge Jeanine, as well as President Donald Trump and his namesake son.
Will this push be enough? DeSantis, whose strategy thus far has been less headline-grabbing than Putnam's, short on in-state endorsements, believes that it will — and that he will be vindicated in choosing to ramp up the campaign comparatively later than Putnam did.
"I appreciate that people spent a lot of money in April and May, which my opponents did attacking me," DeSantis said in a media availability after his remarks.
"We have a liftoff from the President, we have a debate [next week]," DeSantis added. "You're going to see a very aggressive campaign when people are paying attention, and I think a couple of weeks from now you're going to see a very different thing."
"I've been building for the moment. I have not been out wasting money," DeSantis said, a "deliberate strategy that will pay off."
From there, DeSantis addressed Putnam's contentions that he's just looking for a better job (rooted in this being the second time in two years DeSantis abandoned the House seat to pursue higher office).
DeSantis doesn't believe Putnam, a child of privilege (in his telling), has room to talk.
"Adam Putnam has been running for office since he was 22," he thundered.
"[Putnam] has not had a career outside of politics, he inherited his money, he was born on third base and thinks he hit a triple. I'm somebody who was a blue-collar kid. I started making six dollars an hour. I worked myself. I got nothing handed to me," DeSantis said.
"I had one of the best resumes in the country when I came out of school. I could have made a lot of money. Instead, I volunteered to serve in the Navy. Deployed to Iraq, served in Guantanamo, served in some of our bases here in Florida," DeSantis said.
"This guy is the consummate career politician, and he's exactly what's wrong with modern politics," DeSantis added.
"Adam says he knows so much. He's never served in uniform," DeSantis said, "and the decisions he's made — if you know so much about Florida, why do you oppose E-Verify?"
"The lack of judgment, time and time again, shows me that he really doesn't know what taxpayers and voters want. He knows Florida from the perspective of a career politician and what the power brokers in Tallahassee want, not what the actual voters want," DeSantis said.
"Adam is the toast of Tallahassee, the insider class,"  DeSantis added. "On Duval Street, he will beat me in the vote. But the ones the insiders want aren't always the ones the voters want."
"If you want proof of that, look at Rick Scott in 2010. To a man, they opposed him," he concluded. "And look at the good job Gov. Scott has done."