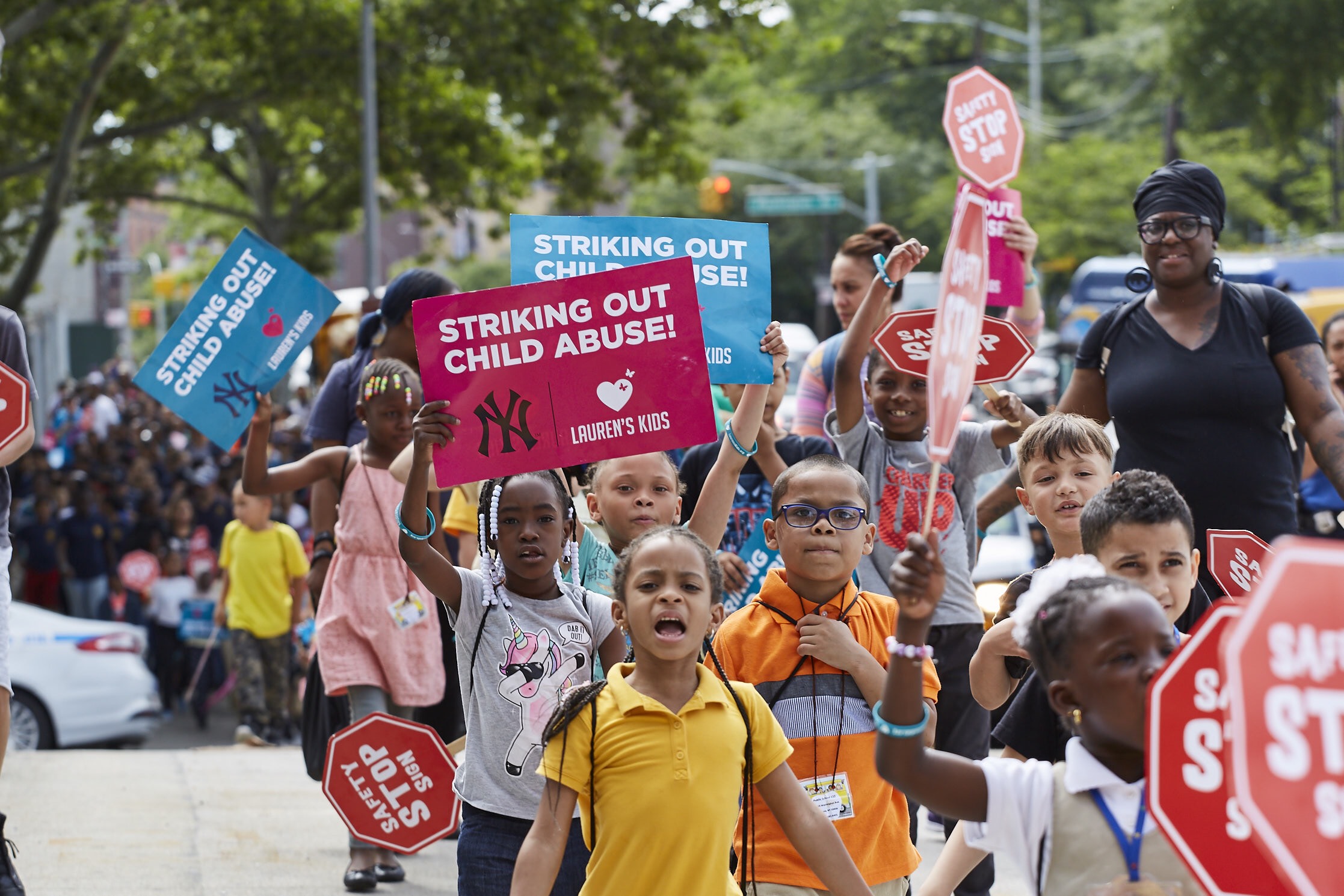 In her lifelong fight against child abuse, state Senator Lauren Book has found a friend in America's favorite pastime.
The Plantation Democrat brought together 1,000 middle and elementary school children from seven schools in the Bronx for a walk to advocate for child safety and protection Thursday.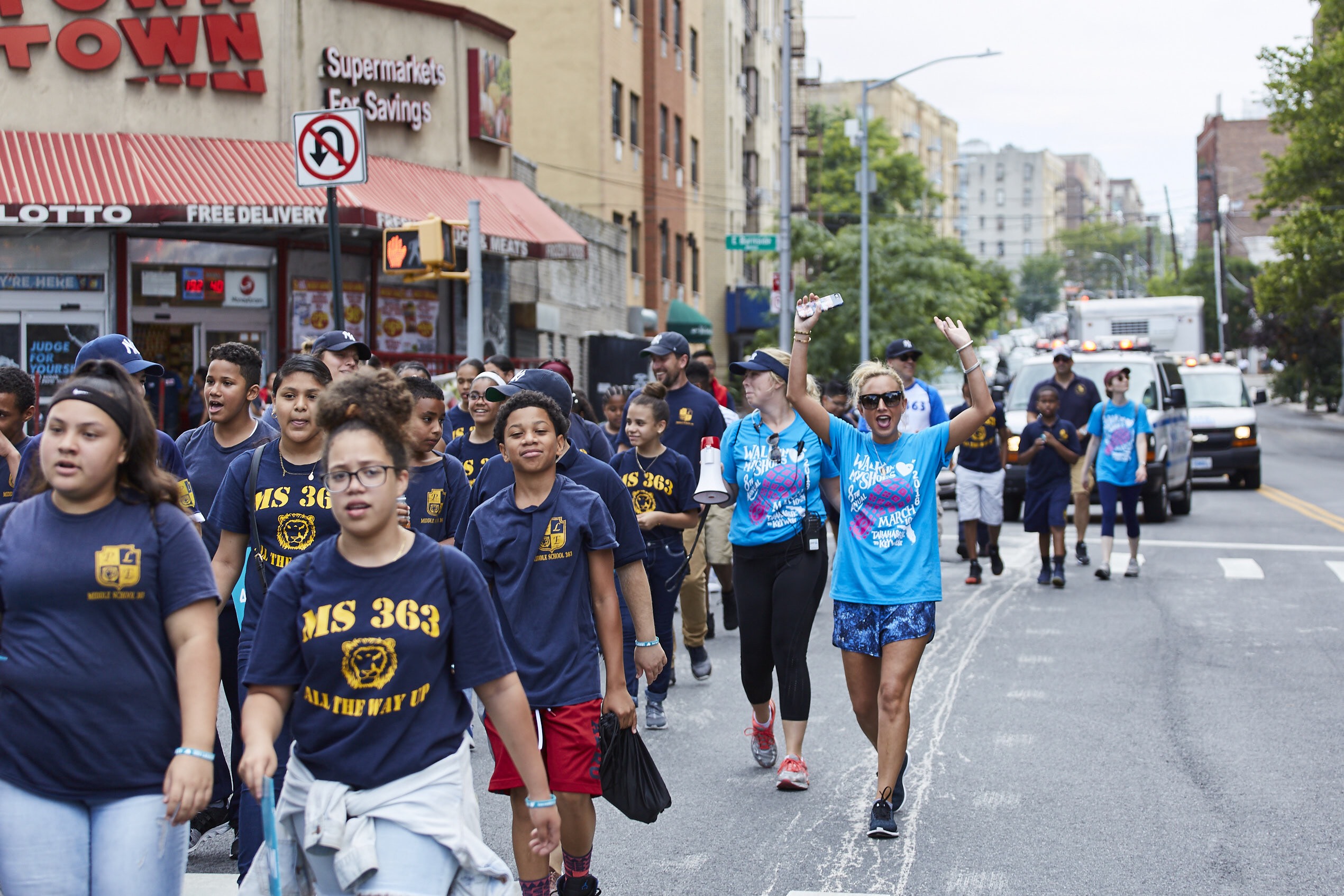 Led by Book, the large group of children approached Yankee Stadium — the heart of the Big Apple borough — as they chanted "Whose streets? OUR streets!"
Once inside, the children were joined by Yankee's staff and players as they paced the warning track. As most stars should be, the activists were recognized over the stadium's PA system.
It's the fourth time the Senator has linked the surrounding neighborhood with one of the most popular teams in baseball, proving that her influence and advocacy knows no geographical limits.
The walk followed recent fatal shootings killing two young people outside local schools. Book paralleled the spirit of Bronx youth with that of Parkland.
"These students remind me that advocacy has no age limit," Book said. "I wish I could shield these children from violence, abuse and poverty they experience daily, but the reality is, something more powerful is going on here: a new generation is being raised up that will combat these things themselves. It's not about me, it's about them."
In the Bronx, Book also teaches lessons from her "Safer, Smarter Kids" curriculum. The first of its kind program is also taught in Manhattan. As part of the walk, Book donated to a local children's advocacy center 200 copies of her book "Lauren's Kingdom," which encourages children suffering abuse to speak up.
Coming up, the usual assortment of tidbits, leftovers and not-ready-for-prime-time moments by Drew Wilson, Danny McAuliffe, Jim Rosica and Peter Schorsch.
But first, the "Takeaway 5" — the Top 5 stories from the week that was:
Take 5
Governor disavows immigration practice — Gov. Rick Scott sent a letter this week to the U.S. Department of Health and Human Services Secretary Alex Azar calling for an end to the practice of separating migrant children from their parents when they are detained for being in the country illegally. The letter preceded President Donald Trump's announcement later this week that he plans to end the immigration policy via an executive order. "I have been very clear that I absolutely do not agree with the practice of separating children from their families," Scott wrote. "This practice needs to stop now." In the letter, Scott requested HHS to notify him of unaccompanied migrant children in the state and made several inquiries regarding health care, education and social services being provided to the children. He also offered a helping hand from the state to reunite children with their parents.
Plans advance to close Broward nursing home — The state won a key victory this week in a series of legal battles with a troubled nursing home in Broward County. An appellate court upheld a state agency's decision to suspend the operating license of the Rehabilitation Center at Hollywood Hills, the nursing home where authorities linked several patient deaths to negligence following a power outage caused by Hurricane Irma. Also upheld by the court were moves to suspend the facility's participation in the Medicaid program and block Medicaid admissions. Meanwhile, the state still is battling the nursing home over whether it should be required to turn over death records of thousands of nursing home patients across the state. A circuit court judge ruled last week that the state Department of Health should provide the records for a reasonable fee. State attorneys this week filed an appeal to that ruling, reports the News Service of Florida.
Feds could join FIU bridge lawsuit — The federal government is "actively considering whether to file a statement of interest" in a Miami Herald lawsuit seeking records held by the state Department of Transportation, reported Jim Rosica for Florida Politics. The records requested pertain to the FIU footbridge that collapsed in March killing 6 people. The Herald and two named reporters are seeking "emails, meeting minutes and other records relating to the bridge's design and construction" from DOT. The U.S. attorney who filed the document this week cited the involvement of a federal entity, the National Transportation Safety Board, as a rationale for potentially justifying involvement in the lawsuit. The state Department of Transportation has cited an ongoing NTSB investigation as just cause for not releasing the records sought by the Herald, as they cannot release the information without NTSB approval.
Groups push halt to early voting ban — University students who are suing over the state's ban on early voting at college campuses filed a motion this week to halt the ban ahead of this year's election. The motion seeks a "preliminary injunction to prevent Florida Secretary of State Ken Detzner from enforcing" the ban, according to a news release. Matt Dixon of POLITICO Florida notes that the students who are plaintiffs in the lawsuit are supported by the Democratic-aligned Andrew Goodman Foundation, along with the nonpartisan League of Women Voters of Florida and other groups. Writes Dixon, "the groups argue the push is not political, but rather to ensure that younger voters are not treated differently." Sponsoring the plaintiffs — made up of nine students from the University of Florida and FSU — is Priorities USA Foundation. The group's Chairman Guy Cecil said, "We're confident that we will prevail in court when this case goes to full trial, and in the meantime urge the court to stop Secretary Detzner from suppressing the vote any further."
Florida relevant in landmark sales tax ruling — A U.S. Supreme Court ruling that's being acclaimed by some as a move toward "leveling the playing field" between physical retails stores and online sellers could significantly affect the dollar amount of taxes remitted in the Sunshine State. Reports Jim Rosica for Florida Politics, "Estimates have varied on how much Florida would get if it captured taxes on its residents' online purchases, from $200 million to more than $750 million." The recent court ruling walks back an earlier precedent that online retailers could only be required to collect sales taxes on purchases if they had a physical presence in the state. The ruling supported a South Dakota law that required online retailers to collect sales taxes on orders from customers within the state. Currently, Floridians are required to pay sales taxes for online orders, and while large online retailers like Amazon already collect sales taxes, other smaller outlets do not, reports Axios. Florida TaxWatch and the Florida Retail Federation lauded the ruling. TaxWatch said the decision signals an opportunity for Florida to modernize its tax system, and the FRF pointed to the ruling as a chance for legislators to create equity between brick-and-mortar stores and online sellers.
Scott targets algae blooms
Amid reports of algae blooms in the Caloosahatchee River and east to the St. Lucie River estuaries and the Indian River Lagoon, Gov. Scott directed the state Department of Environmental Protection to order the U.S. Army Corps of Engineers to "redirect the flow of water out of Lake Okeechobee to the south."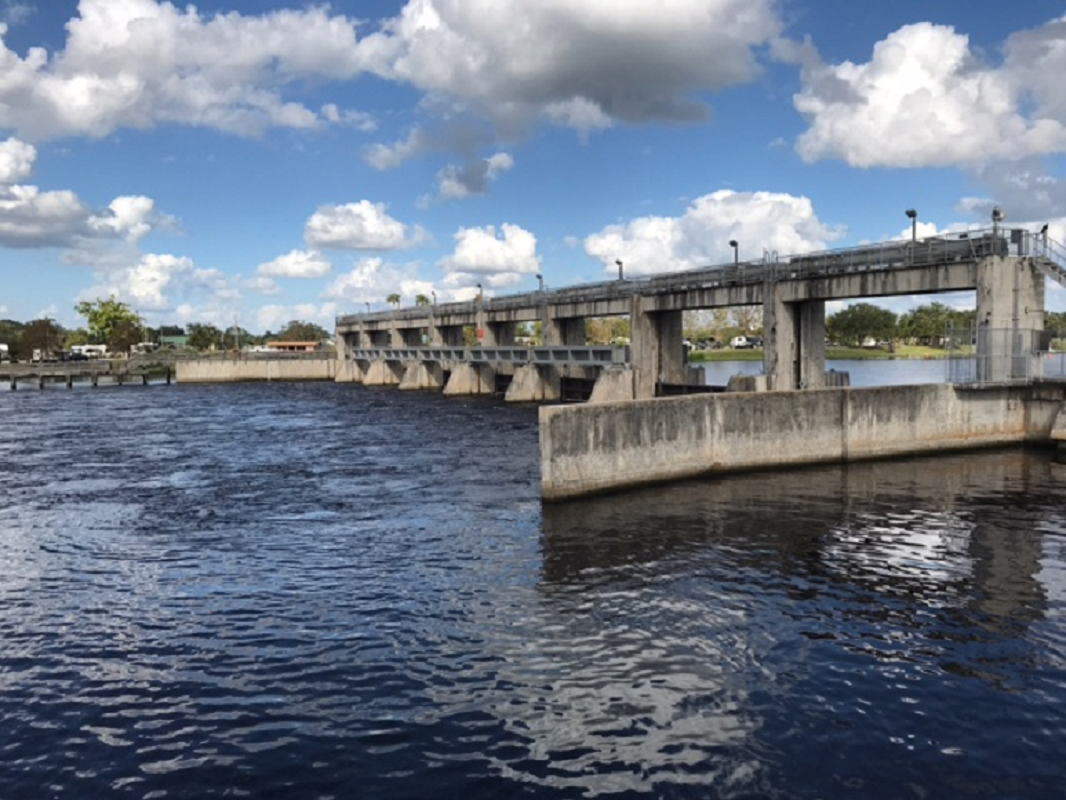 "Two years ago, we saw the devastating impact of releases from Lake Okeechobee into the St. Lucie and Caloosahatchee rivers and estuaries which caused widespread algal blooms and led to the declaration of a state of emergency in four counties," Scott said in a statement Wednesday. "We are taking immediate action to do everything in our power to solve this problem."
In response to the order, reports TCPalm.com, USACE began reducing overall discharges Friday. "Some have noted that there is no storage nor not enough conveyance for the water to go to the south, and that is going to be a problem," reports TCPalm.
In his request, Scott noted that the state has a tentative agreement with the Donald Trump administration to expedite repairs to the federal Dike from where water needs to be discharged.
Added Scott: "Also, working with the Florida Legislature, I signed a law that accelerated the EAA reservoir to move more water south of the Lake, to help ease these discharges. But, while we continue to wait on the federal government's action on the Dike and EAA reservoir, we are going to do all we can to protect our waterways as we enter the hot summer months in Florida."
Bondi touts scam-targeting operation
Operation Main Street, a nationwide initiative focused on stopping scams that target small businesses, saw success in the Sunshine State.
Attorney General Pam Bondi announced this week that of the 24 actions taken against scammers during the initiative, four were in Florida. The following businesses caught the wrath of the Attorney General: Florida Corporate Filing Services, GNA Housekeeping, LLC, United Business Services, Inc., and US Yellow.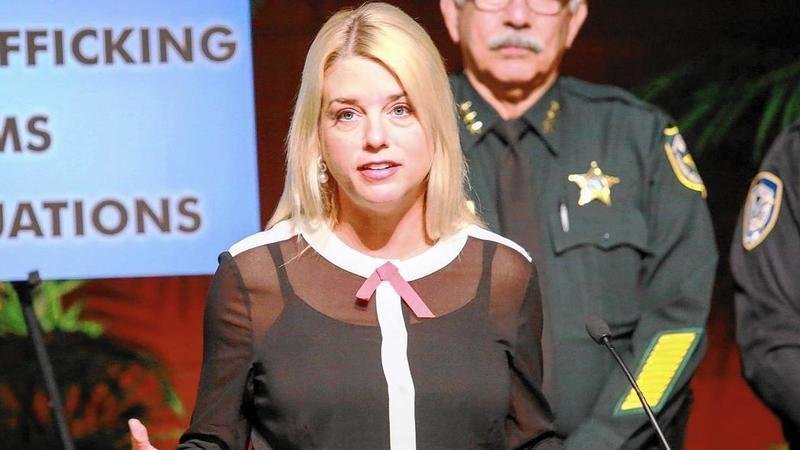 According to a news release from Bondi's office, US Yellow tricked "small businesses into believing US Yellow provided free local listings with local Yellow Pages" and then charged businesses more than $1,000 a year for a listing.
For the other named scammers, Bondi's office obtained final judgments for deceptive practices.
"Small businesses are vital to Florida's economy, employing more than 3 million Floridians and contributing to our state's economic strength," Bondi said.
Instagram of the Week
The Week in Appointments
Collier County Clerk of the Circuit Court
Crystal Kinzel will fill a vacancy created by the death of Dwight Brock. Her term began June 20 and will last through Nov. 13. She was the Chief Deputy Clerk of the same circuit.
Lake County Clerk of the Circuit Court
Gary Cooney will fill a vacancy created by the resignation of Neil Kelly. His term began June 15 and will last through Nov. 13. He was the Chief Deputy Clerk of the same circuit.
Education Dept. lauds family involvement initiatives
The Florida Department of Education this week announced the winners of its 2018 Family and Community Involvement Award, which recognizes schools for their efforts to get families and communities involved in education.
"It is my pleasure to recognize these schools with the Family and Community Involvement Award," said Commissioner of Education Pam Stewart. "As a former teacher and principal, I have seen firsthand how family and community involvement can positively impact student achievement. My congratulations to our schools for their innovation in creating meaningful programs that connect students, parents and the community."
Winning awards for their initiatives were Callahan Intermediate School in Nassau County, Denn John Middle School in Osceola County, Gulf Middle School and Hudson Elementary School in Pasco County, Killearn Lakes Elementary School in Leon County, Minneola Elementary School in Lake County, Poinciana Elementary School in Monroe County, Thomas L. Sims Middle School in Santa Rosa County and Woodlands Community Middle School in Palm Beach County.
The winners will be formally recognized and invited to share their award-winning programs at the Educational Strategies and Student Engagement Institute in November.
FWC staff recognized for conservation efforts
John Hunt, a biologist working for the Florida Fish and Wildlife Conservation Commission, and FWC officer Michael Bibeau were both honored this week by the Florida Guides Association for their conservation efforts.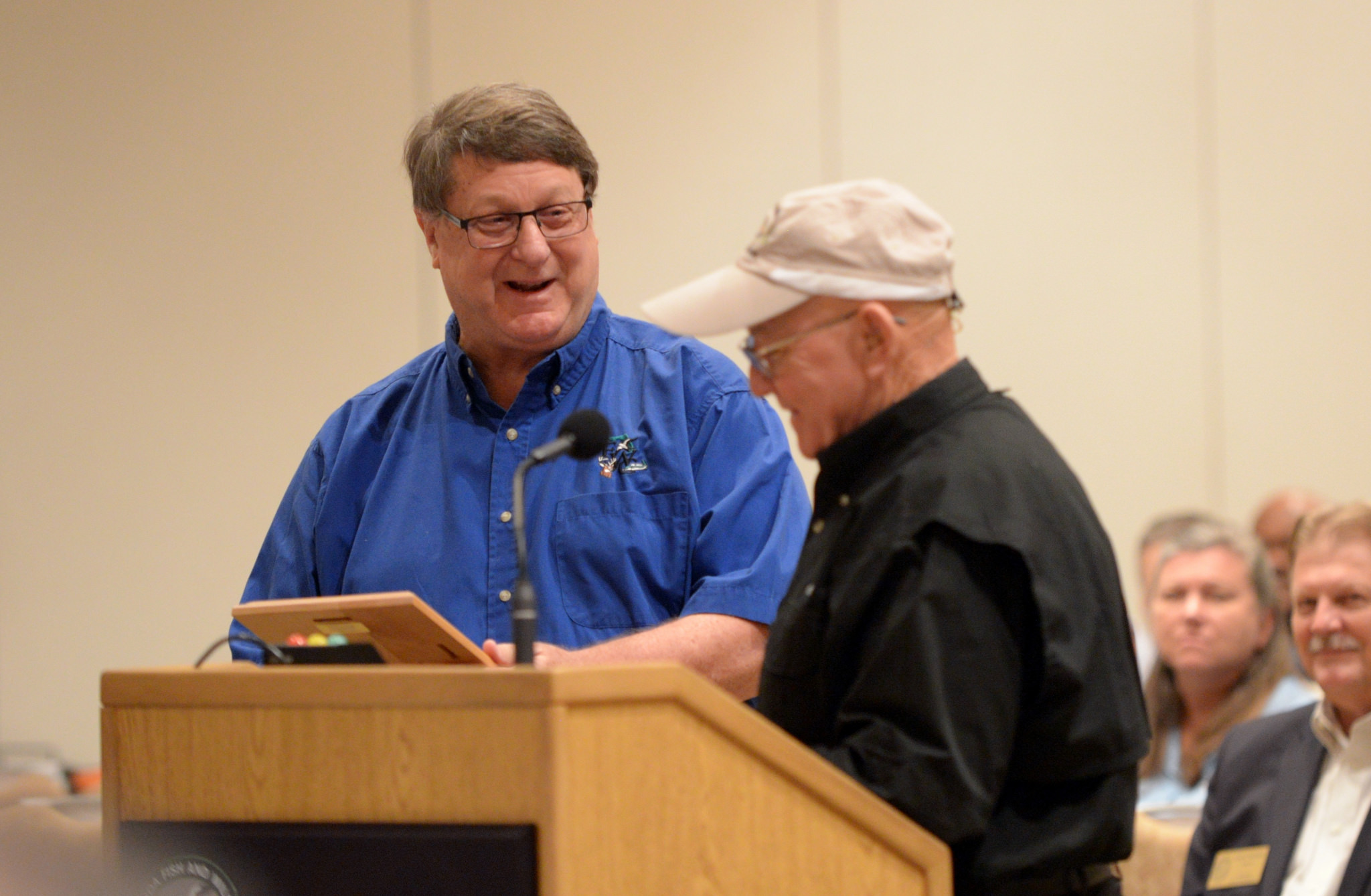 For his "passionate commitment" to protecting marine fisheries, Hunt received the Capt. Phil Chapman Award. He is known across the globe for scientific contributions that have been instrumental in preserving the Caribbean spiny lobster fishery.
Gil McRae, Director of FWC's Fish and Wildlife Research Institute, said Hunt "embodies" the needed application of "sound science and collective problem-solving approach that relies upon strong partnerships among government, stakeholders and environmental groups."
"Perhaps, most importantly, John is a tireless advocate for his staff within the agency," added McRae. "He has repeatedly shown admirable dedication and commitment to his staff, serving as a model for all of us with his leadership, compassion and courage."
For his work patrolling Pinellas County, Bibeau was honored with the Trained Eyes Coastwatchers Officer of the Year award.
"The hard work of my brothers and sisters in conservation law enforcement inspires me to do my job every day to the best of my ability," Bibeau said.
Parks surpass prescribed-fire record
The Florida Park Service has beaten a previous record for the amount of land managed by prescribed fire in a fiscal year.
More than 80,837 acres of land have been managed via controlled burns this year. The process is extremely beneficial to the environment, and remains a safe and effective way to help woodlands; the fires are planned, set and extinguished by specialized staff.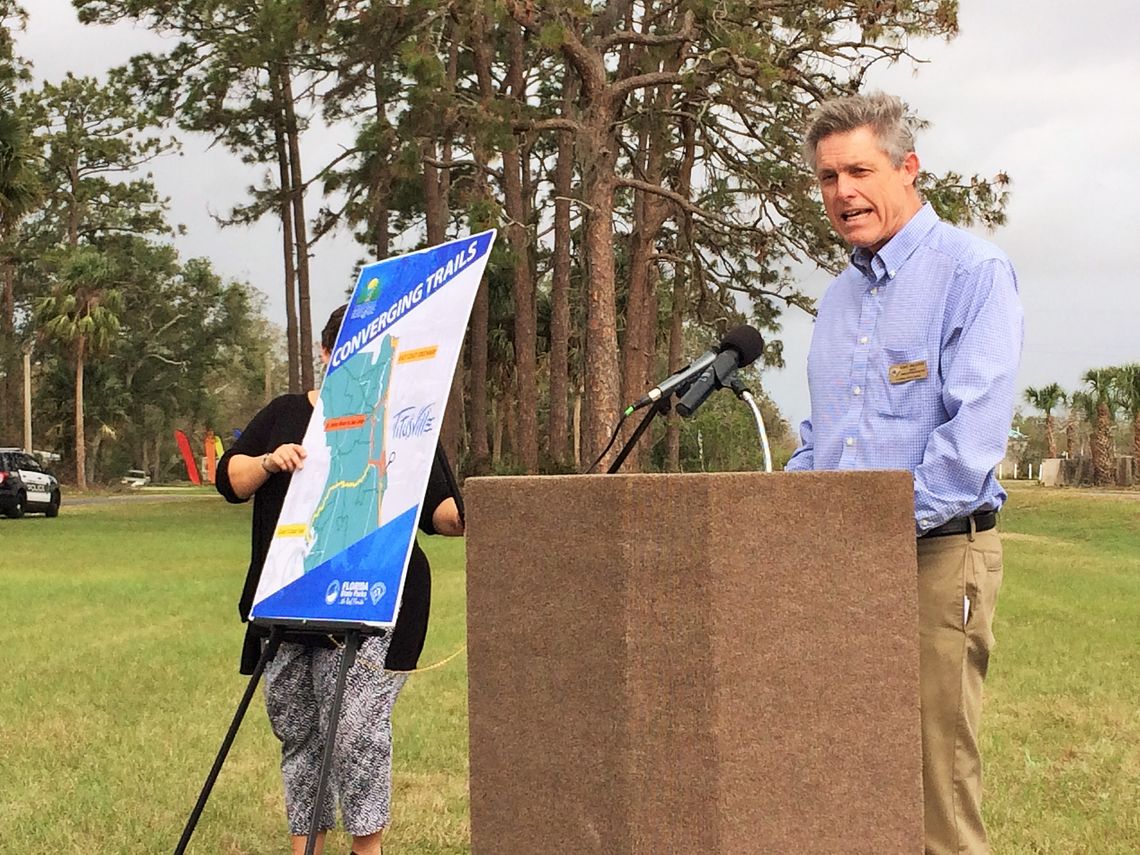 "We are proud of Florida State Parks staff for setting a new record for protecting park habitat with prescribed fire," said Florida State Parks Director Eric Draper. "Florida is fortunate to have such dedicated people working in state parks reducing risks of wildfire and restoring natural systems."
The risk of wildfires is mitigated through prescribed fires because the deliberate blazes can be used to target areas where dry, dead plants have accumulated. It's an effective tool that allows park workers to clear brush out of the way. Other benefits of controlled burns include increased nutrients in soil and upticks in biodiversity.
There are 175 state parks in Florida, 67 of them have seen more than 390 prescribed fires this year.
Preliminary citrus budget gets approval
The Florida Citrus Commission approved a preliminary $17.68 million spending plan for the Florida Department of Citrus in the 2018-2019 fiscal year.
That's a $442,000 increase from last year, which ended up being one of the worst years for Florida citrus in recent history as it reeled from the devastation caused by Hurricane Irma.
The tentative plan figures Florida citrus growers should produce 60 million boxes of oranges and 5 million boxes of grapefruit. The budget is based on a tax projection of $.07 per box of processed oranges, all grapefruit and all specialty fruit. A tax of $.05 is projected for fresh oranges.
Though the overall budget increased, international programs, scientific research, and administration components of the budget saw cuts.
The budget will not be finalized until October, after the USDA releases its initial crop forecast for the upcoming season. Florida growers are on track to produce just 44.95 million boxes of oranges this year, according to the latest USDA forecast, and citrus groves suffered extensive damage that could affect crop production for years to come.
No SunPass fines during update
Good news for drivers: there'll be no late fees or penalties as the state updates the troubled SunPass electronic toll collection system.
"I share the frustrations with our customers over the rollout of (the updated system) and find it unacceptable," said Mike Dew, secretary of the Florida Department of Transportation.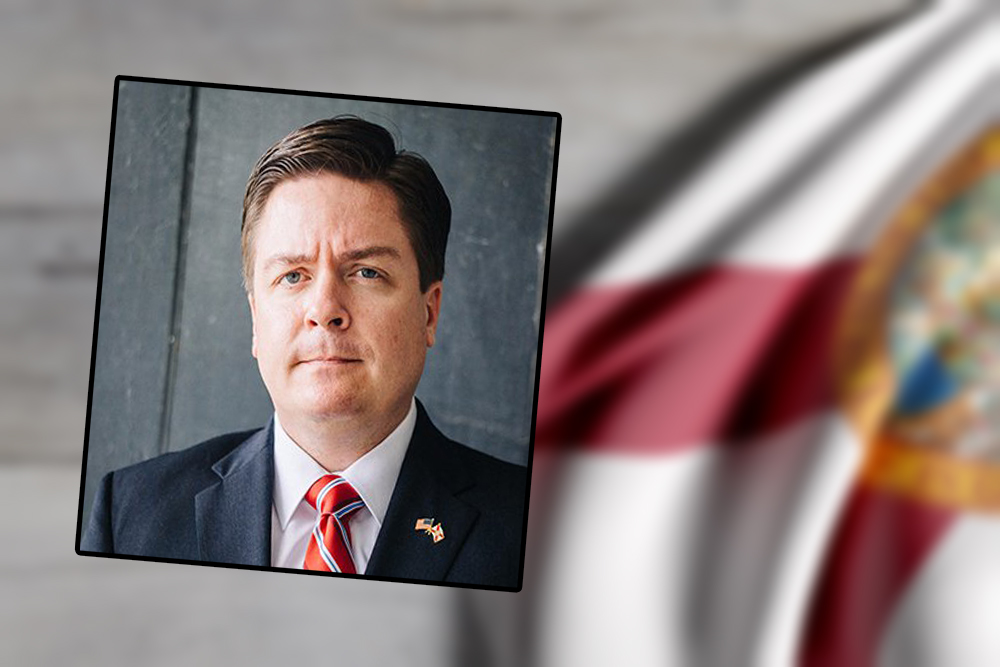 "We will not be imposing late fees or penalties on SunPass accounts until the system is providing the benefits and ease of access that our customers deserve and expect."
"The SunPass system has accumulated toll charges for customer accounts since the maintenance period began June 1," a news release said. "In the best interest of the customer, the posting of toll charges was withheld until the website and call center systems were operating more efficiently."
SunPass customers will continue to be charged regular tolls, however. Once the system gets a clean bill of health, fees and penalties will resume for delinquent accounts.
Lawmakers ranked on progressive positions
It's a common practice for activist groups and interests to dole out letter grades for lawmakers based on their voting records during the previous Session.
Typically, the results fall along party lines. And a recent report card from Progress Florida was no outlier to that trend; all of the 17 lawmakers who earned an A grade are Democrats, and very few Republicans received anything but an F grade — although term-limited Republican Sen. Rene Garcia of Miami got a C.
Votes were factored into whether they expressed support for what Progress Florida dubbed "People First" positions. During 2018, votes, like supporting an assault weapons ban, or opposing the House's education package, met the "People First" criteria.
"Floridians don't always know where their legislators stand on key issues impacting their lives, from access to health care and environmental protection to gun safety, the economy and supporting public schools," said Progress Florida Executive Director Mark Ferrulo. "Our People First Report Card grades state lawmakers based not on what they say in a campaign mailer, but on how they actually voted on issues Floridians care about."
Unsurprisingly, Orlando Democratic Rep. Carlos Guillermo Smith topped the group's list. The freshman Democrat helped found and chaired the Legislative Progressive Caucus. He was joined with 100 percent scores by South Florida Democrats Sen. Jose Javier Rodriguez and Rep. David Richardson. Each aligned with Progress Florida on every scored vote.
Chip LaMarca recognized for local commitment
As he vies for the South Florida HD 39 seat in the Legislature, Broward County Commissioner Chip LaMarca was recognized this week for his work at the local level.
The Florida Association of Counties chose LaMarca as the recipient of the 2018 President's Commitment to Service Award — the honor is bestowed upon those who address local issues and serve alongside the association.
In accepting the honor, LaMarca emphasized home rule — which has come to be a hot topic of the Legislature as lawmakers have pre-empted powers to the state. The state has been criticized for overreaching into governing decisions usually determined at the local level.
"The Florida Association of Counties works on behalf of Florida's 67 counties to advocate for home rule and legislation that is vital to the quality of life for all of our residents," said LaMarca.
Florida Association of Counties President Christopher Constance, also a Charlotte County Commissioner, said LaMarca's "unwavering commitment to local governments exemplifies the definition of a dedicated and selfless public servant."
If LaMarca makes it to the House in November, Constance and the counties could have another local-friendly fighter in the state House.
Utility leaders honored for service
Four public powers leaders were honored this week by the American Public Power Association (APPA) for their important work of providing electricity to the state.
Among the honorees: Amy Zubaly, who is the Executive Director of Florida Municipal Electric Association, or FMEA; Fred Bryant, the former general counsel of FMEA and Florida Municipal Power Agency, or FMPA; Chris Gent, who is the vice president of communications for Kissimmee Utility Authority; and Michael Perri, Jr., a board member of Fort Pierce Utilities Authority.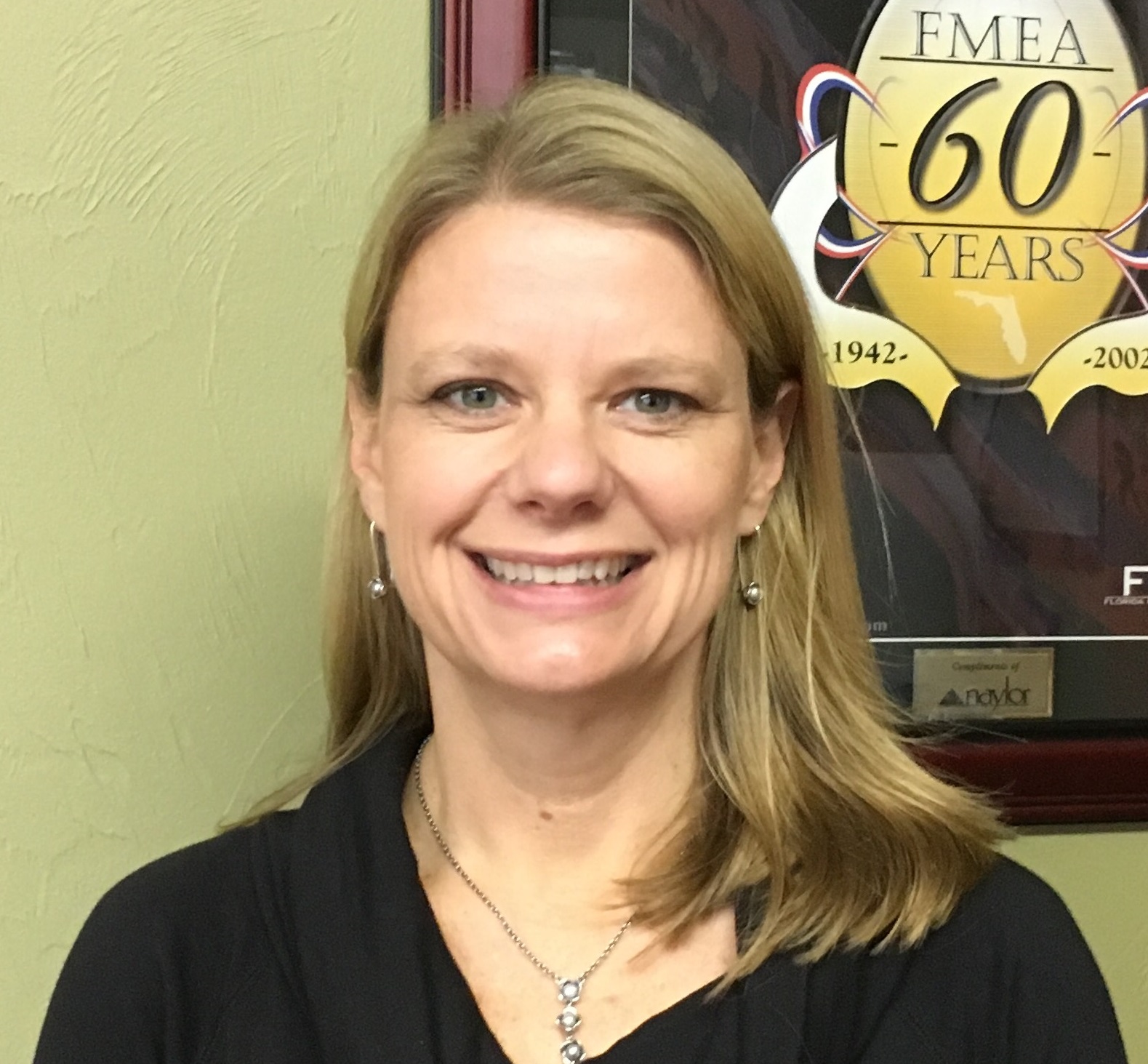 Zubaly was awarded for her 18 active years with APPA. The association recognized her important work restoring power in Florida after Hurricane Irma, as well as her efforts in the U.S. Virgin Islands and Puerto Rico following Hurricane Maria.
Bryant was given the James D. Donovan Individual Achievement Award. It's the second time he's received the honor. He is credited with unmatched legal expertise in his field.
Perri, the board member, was recognized in his capacity as an elected official. APPA awarded him the honor for assisting in beneficial legislation and opposing potentially harmful bills.
FSU research: Church does little for opioid addiction
A new study conducted by researchers at Florida State University found that religious involvement has no significant effect on mothers who are misusing prescription drugs — like opioids.
Illegal drugs, however, are a different story; the researchers found that practicing religion could have an effect on prohibited substance use.
"However, religious communities are just beginning to discuss the dangers of prescription drug abuse," explained FSU Associate Professor Amy Burdette, who spearheaded the research.
Across the slice of population studied — female mothers who were mostly single — drug abuse was low.
"That's a bit of good news," Burdette said. "Whether you're talking about prescription drug misuse or illegal substance abuse, it's somewhat rare in our sample — it's not that most mothers are doing this."
Still, Burdette believes the study should be taken into consideration by religious leaders.
"Our research suggests that church leaders may want to directly address the issue of prescription drug misuse as churchgoers may not view prescription drugs in the same way that they view illegal drugs," Burdette said. "Not directly addressing the issue may lead to a high degree of moral ambiguity."
Leon County balances budget without increasing millage rate
After tentatively coming to an agreement this week, commissioners for Leon County are touting the seventh-consecutive year in which they've drafted a budget without raising the millage rate.
The elected leaders of the county that houses the capital city are proposing a $262.5 million spending plan for the year ahead — a 3.46 percent increase from last year.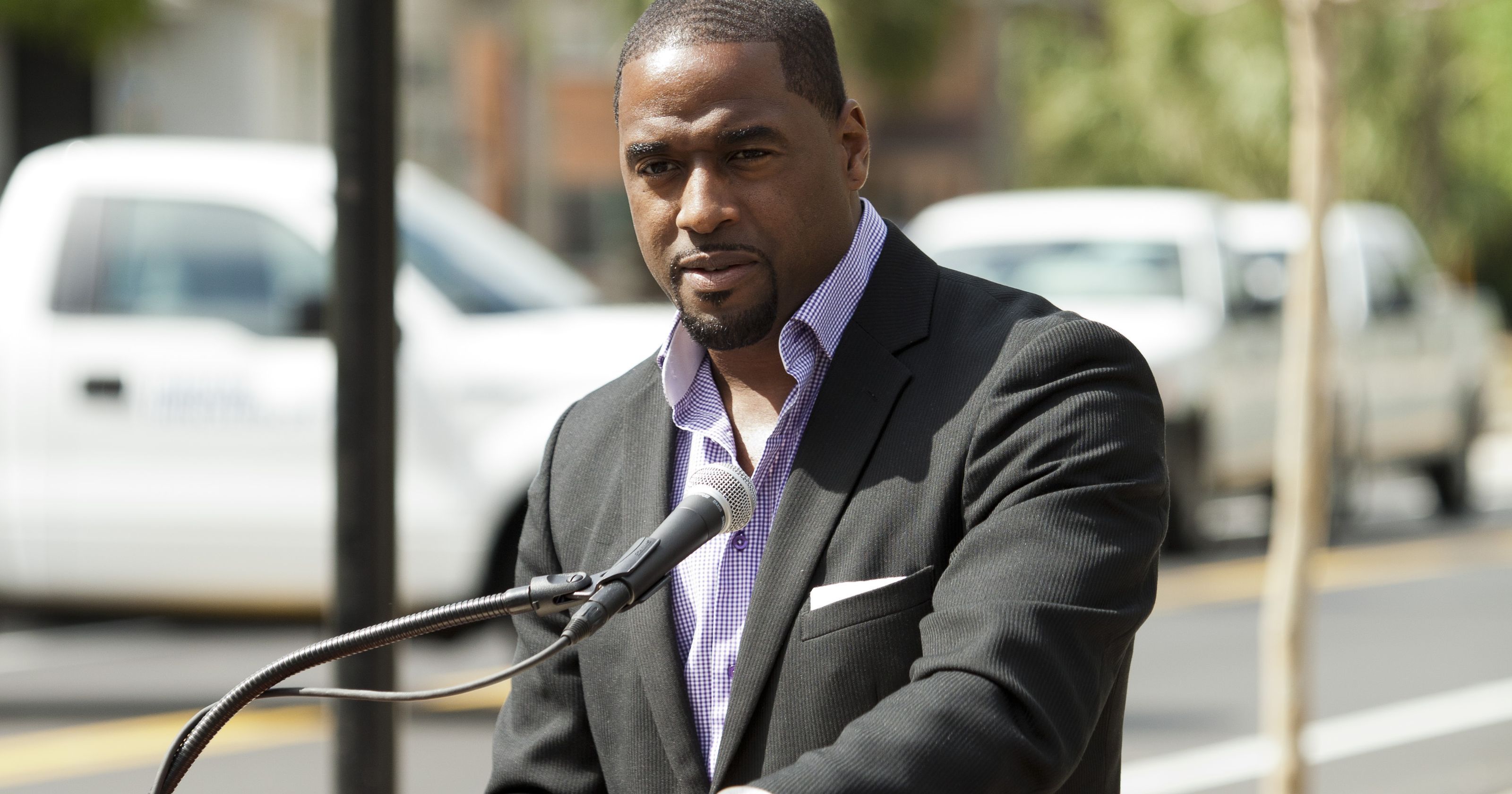 But that increase is accompanied by no change in the millage rate, currently set at 8.3144 mills.
A news release announcing the budget plan said it was created during "a slowly improving economy, where growth in property tax revenues and state sales tax revenues are beginning to cover the inflationary costs of government expenses without having to reduce program services."
"While property values continue to slowly rise in our recovering economy, the County remains committed to serving our citizens while avoiding new expenses," said Commission Chairman Nick Maddox. "This balanced budget demonstrates that commitment."
Making way for new Publix near downtown
If you travel Gaines Street often, get ready for detours.
Starting next week, there will be what the city calls 'traffic impacts' on the strip because of construction on the new Publix Greenwise Supermarket being built near Gaines and Railroad Avenue.
The city promises, however, that "access to area businesses and residences will be maintained at all times."
Here's the plan, according to a city news release:
— From next Monday through Sunday, July 1, the eastbound lane of Gaines from Railroad to Woodward Avenue will be closed. The westbound lane will remain open and detour signs will be posted.
— Starting Monday, July 2, until Thursday, July 5, the eastbound lane of Gaines from Railroad to Woodward will be closed daily from 9 a.m. to 4 p.m.
— Starting Friday, July 6 and lasting through Sunday, July 8, there will be a full road closure (both eastbound and westbound lanes closed) on Gaines in front of the site.
For more information, email Dwaine Stevens, the Publix Media and Community Relations Manager for the region, at [email protected]
Artopia: Big Bend Cares
Artopia is a charity art fundraising event Saturday, June 23, to benefit Big Bend Cares.
Local and regional artists donate artwork for this event, which includes a few signed and numbered limited editions. With art and media including painting, sculpture, photography, arts and crafts, Artopia features both silent and a live auction at the end of the evening.
Last year, Artopia featured more than 300 pieces of original artwork, including oils, pastels, acrylics, photography, scenography, sculpture, pottery, ceramics, jewelry, woodwork, mixed media and much, much more.
In addition to all of the artwork, local businesses and individuals donate gift certificates and other perks to bid on. Tickets are $25.00; event begins 7 p.m. at the Donald L Tucker Civic Center, 505 W Pensacola St.
Capitol Directions