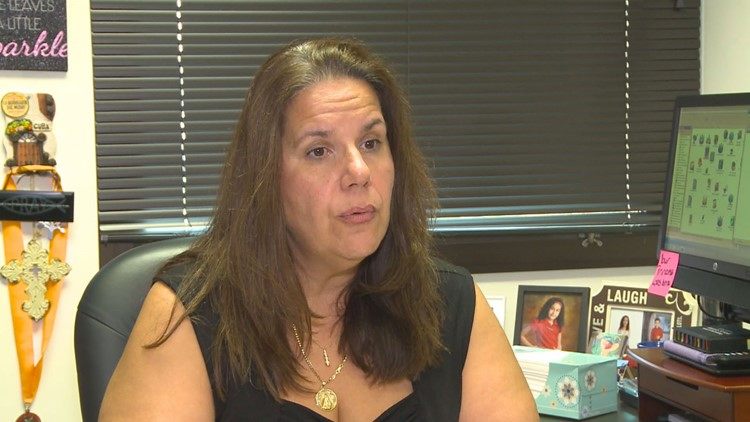 A Tampa man says a campaign consultant working with School Board member Susan Valdes, now a candidate for House District 62, threatened to get him fired and booted out of the Democratic Party for posting a video of Valdes on Facebook.
The 5-minute video, recorded during a Saturday meeting of the Hillsborough Hispanic Democratic Caucus, is of Valdes' response to a question of whether she would accept or reject campaign funding from the National Rifle Association, charter schools, the sugar industry or real estate development companies.
As of Monday afternoon, the video has been viewed more than 9,000 times.
In it, Valdes eventually says she will not accept funding from the NRA, but firmly declined to make the same pledge when it comes to "the other folks."
"When people donate to me, let me make it clear, it's because they believe in what I'm doing, not that I'm going to support what they want me to support. That's not the way Susan Valdes rolls — has ever rolled. Ever," she says in the video.
After a few minutes talking about her past votes on charter schools as a School Board member, she returns to the question at hand.
"As you all know, to win an election, it takes contributions and it takes hard work. This, right here," she says, motioning to herself, "is good government."
After a couple more asides, she says that when the interest groups such as charter schools about donate to her, "that's what they're buying."
The campaign of Democratic primary rival Mike Alvarez seized on those comments in a Monday news release and alleged that Valdes' campaign has since threatened and intimidated Justin Diaz, the man who recorded and posted the video.
"Everything about this is extremely concerning," said Alvarez, who serves as secretary for the Hillsborough Hispanic Democratic Caucus. "She starts by saying that selling out our public schools is 'good government.' I couldn't disagree more.

"Then she says out-of-area for-profit schools bankroll her campaign because 'that's what they're buying.' On that point, I think we're all in agreement."
The news release then claims Diaz, an attorney working for the Hillsborough County State Attorney's office, has "received multiple calls from the Valdes campaign first asking, then demanding that he delete the video. Those calls culminated in a threat from the campaign."
"It's just completely unacceptable," Alvarez said. "Board Member Valdes has gotten away with her bullying, her threats, and her insider deals for 14 years. That ends this August."
Diaz corroborated that story during an interview with Florida Politics, saying that Valdes and campaign consultant Victor DiMaio approached him separately during the caucus event to ask him to delete the video.
"Susan was very polite about it. Vic was less polite, but he didn't threaten me," Diaz said.
Diaz, who said he is not involved with the Alvarez campaign, disregarded Valdes' and DiMaio's request and posted the video to Facebook group Indivisible Action Tampa Bay, saying he thought Valdes' answer was something her potential constituents needed to hear.
That's when the threats started.
Upon realizing the video had been posted online, DiMaio called Diaz twice on Saturday night asking him to delete the post. DiMaio, the vice president of the Hillsborough Hispanic Democratic Caucus, then threatened to call Diaz' superiors at the State Attorney's office and have him fired if the video was not removed.
He also said he would to file a complaint aimed at getting him kicked out of the Democratic Party for "speaking ill of a party member."
Diaz said he then told DiMaio that if he received any more threatening calls that he would call the police to report him for harassment. He said he has not been contacted by DiMaio or anyone else connected with the Valdes campaign since then.
Florida Politics attempted to contact DiMaio but received no response.
The video is below.