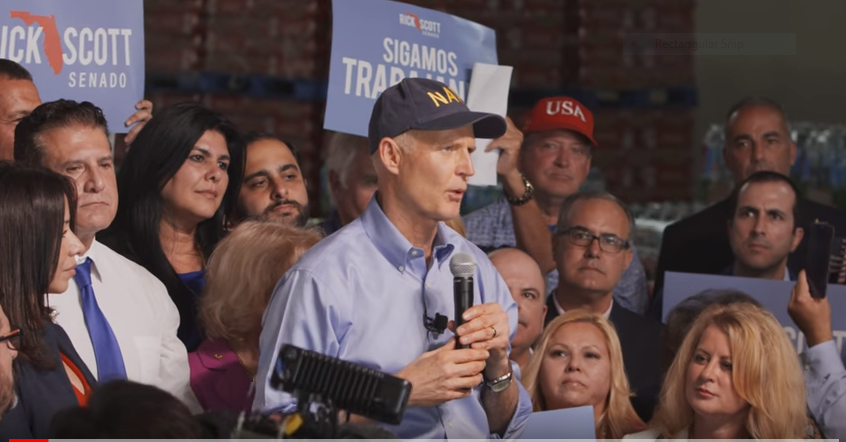 Gov. Rick Scott, the presumptive GOP U.S. Senate nominee, rolled out another plank of his "Make Washington Work" plan Tuesday.
If Scott's proposal were to become reality, Congress must pass an annual budget and meet appropriations bill deadlines, or not get paid.
A media release from Scott for Florida (the Governor's campaign arm) notes that for 22 years, Congress has not passed appropriations bills in a timely fashion. Government shutdowns have resulted.
But Congress, Scott asserts, stayed paid — including his Democratic opponent, Sen. Bill Nelson.
"Funding government is one of the most basic responsibilities of Congress," Scott asserted, "but not even the fear of a government shutdown has proved to be enough to motivate Congress to produce a timely budget."
"When the government shuts down because of Congress' inaction," Scott added, "Floridians are the ones that are impacted, and we've had enough."
"It is unbelievable that career politicians in Washington still collect paychecks backed by taxpayer dollars when they fail to do their jobs. During the most recent government shutdown, I urged politicians to forgo their salaries — but Bill Nelson refused. Just like in the real world," Scott added, "politicians should only get paid if they show up, get to work, and get the job done."
This is the fourth plank of Scott's proposed reforms. The other three include Congressional term limits, supermajority approval of tax and fee increases in both chambers of Congress, and a Presidential line-item veto.
Democrats, predictably, are skeptical, as indicated by the quote from Florida Democratic Party spox Nate Evans.
"Rick Scott is proving once again that he'll say and do anything to get elected, but Floridians know he can't be trusted to look out for anyone but himself," Evans said.
"If voters want to know what he'd actually do in the Senate, look at his record: he drove Florida's wages to the bottom of the nation while using his political power to increase his personal wealth by $46 million, ignored the impact of climate change, and helped write the health care bill in D.C. that would increase costs and slash coverage for pre-existing conditions," Evans added.
Carlie Waibel, Nelson campaign spox, likewise panned Scott's latest as a stunt.
"Rick Scott's extreme partisanship is exactly what's wrong with Washington and the source of this problem. Bill Nelson is a independent senator who is recognized for his bipartisanship that brings the parties together to make government work. Bill Nelson supported this legislation, proving he will work across the aisle – not wedded to a party or ideology – to compromise and do what's best for Floridians," Waibel said.
"Rick Scott has been a politician for almost a decade and continues a cynical effort to deceive voters, proving he'll say and do anything to try and get elected," Waibel added.