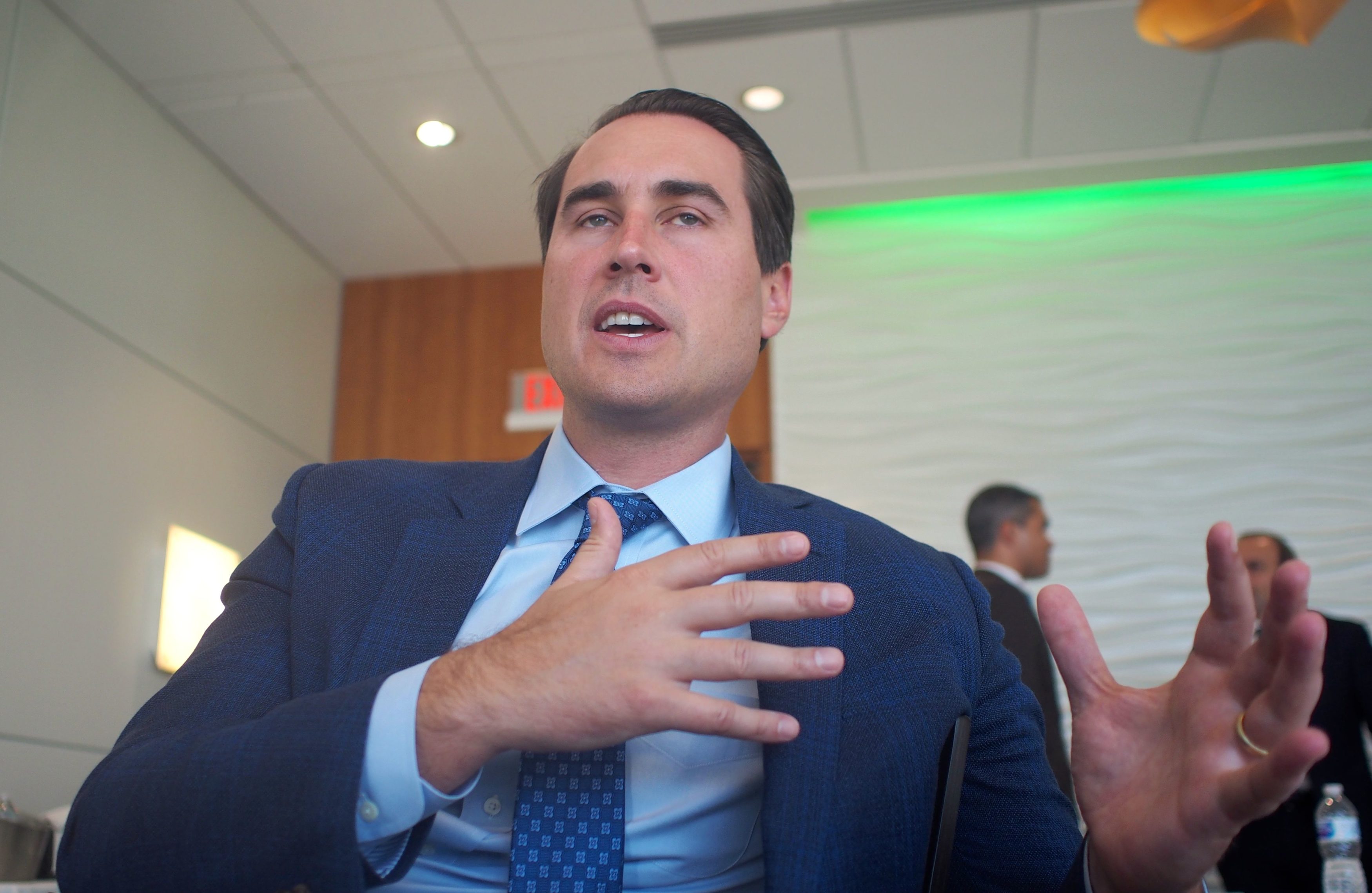 Democratic gubernatorial candidate Chris King is releasing results of internal polling Wednesday that show his support numbers rising across the board in four Florida markets heading toward the August 28 Democratic primary.
The survey by David Binder Research finds a relatively tight race for the top four contenders in a survey of likely Democratic primary voters found in a combination of Gainesville with Panama City, Jacksonville, Orlando and West Palm Beach. It also shows King making significant progress there and among specific demographic groups: both men and women, white, African-American and Hispanic voters, and across four age brackets.
Overall the survey of 519 likely Democratic voters, polled two weeks ago by cellphone and land-line, found former U.S. Rep. Gwen Graham leading with 21 percent, former Miami Beach Mayor Philip Levine essentially tied with her at 20 percent; King at 11 percent; and Tallahassee Mayor Andrew Gillum at 9 percent.
At the time of the survey, the fifth major Democratic candidate Jeff Greene had only just launched his campaign; he barely showed up in the poll, at just 2 percent. The final 37 percent of voters were undecided.
David Binder Research, a California-based firm that was an in-house pollster for the Obama For America campaigns in 2008 and 2012, claimed a 4.3 percent margin of error for the overall results.
"We've said all along in this campaign that when voters meet Chris King, they tend to support him," King's senior adviser Omar Khan said in a statement the campaign is releasing along with a summary of the poll results Wednesday morning. "As we continue to introduce Chris and his bold, progressive vision to voters across Florida, we'll continue to see support for his candidacy grow. Democrats are looking for a fresh, bold vision for Florida's future in 2018 and this survey proves Chris is uniquely positioned to win among a crowded field of conventional politicians from the political establishment."
King's campaign was more interested in the change since the previous David Binder Research survey. Among Democratic voters "certain to vote for King," he was barely showing up outside of the margin of error in an early March statewide poll. That was before he [and Graham and Greene] began television advertising. King's numbers have gone up 5-10 percent in all four markets and within all the demographic groups when comparing the surveys.
King's campaign did not release any statewide numbers for the June survey.
The King campaign also released the following analysis provided to it by David Binder Research along with the results:
"The survey indicates that voters respond very favorably to information about King's experience living his progressive values every day and his bold policy priorities. Voters from across all demographic groups react positively to King being a proven progressive with a criminal justice reform plan that ends the death penalty, legalizes and taxes recreational marijuana, expands Medicaid to cover 800,000 more Floridians, and expands high-wage job opportunities by making community college and trade schools free. Voters react favorably to King's courage to hold politicians' of both parties feet to the fire in taking on the NRA.

"Additionally, results from this survey show that King has special appeal to important voter segments that are expected to turn out in high proportions in the August primary. King grows his strong base with females, progressives, African-Americans, Hispanics, and voters across all age groups throughout the state to lead all other candidates by a wide margin after voters hear communication about his priorities and policies.
"The survey clearly shows that if voters hear about King's story and his plans to work on behalf of Floridians, his support level could grow to 33 percent, which in this crowded field of Democratic candidates would be more than enough to ensure the Democratic nomination for Governor of Florida."