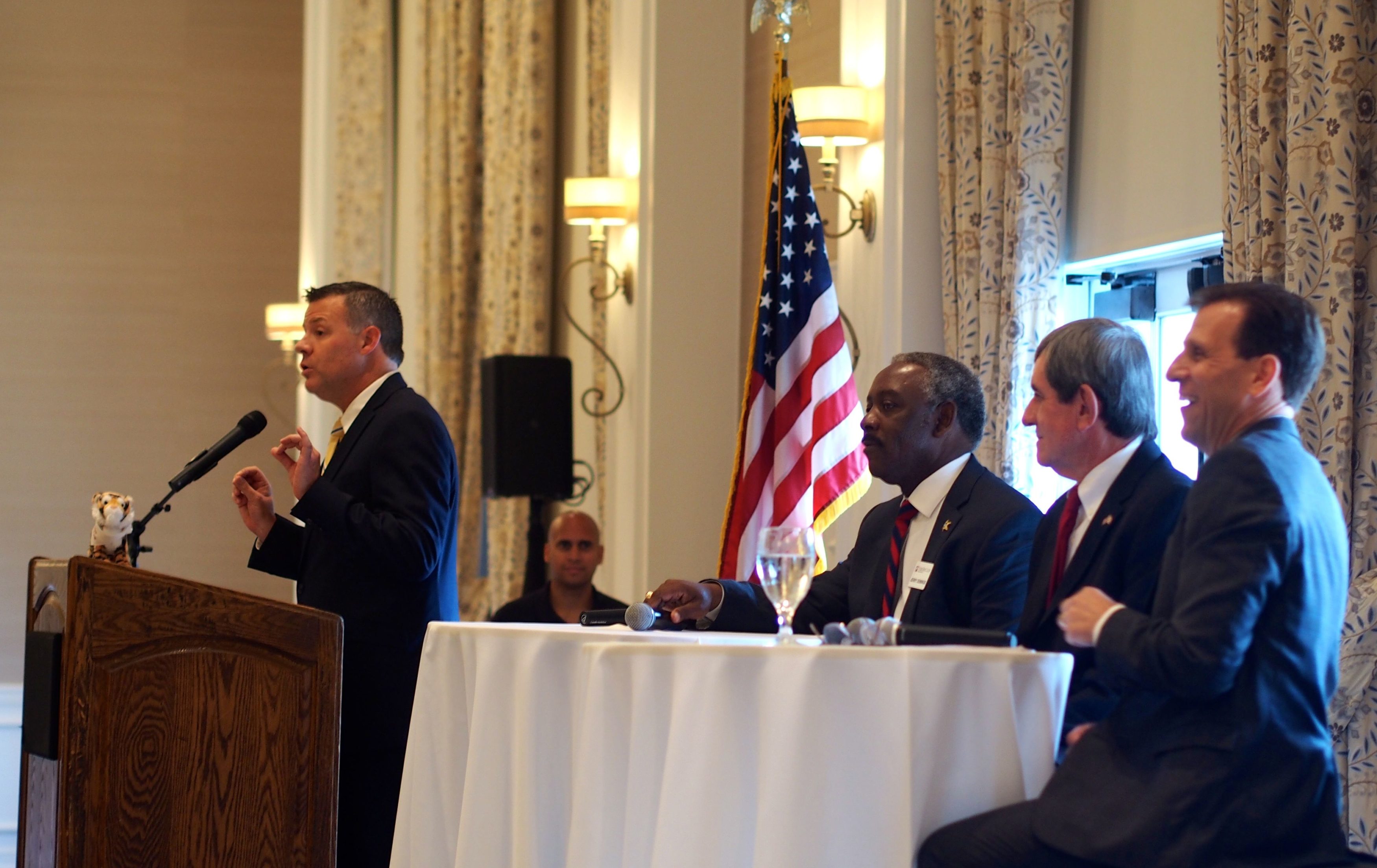 The issue of regulation of guns turned out to be more of a matter of who ought to pursue gun law reforms, not whether they ought to be pursued, for the three candidates for Orange County mayor who squared off in a debate Wednesday afternoon.
Orange County Sheriff Jerry Demings made it clear Wednesday that he wants to see guns removed from "the hands of the wrong people," and his two opponents, Orange County Commissioner Pete Clarke and businessman Rob Panepinto agreed to some extent that there are measures appropriate for the Orange County government to pursue, during a Tiger Bay of Central Florida debate Wednesday.
All three expressed their support for the move Clarke and the rest of the Orange County Commission took in May when they voted to re-enact a three-day waiting period for all gun purchases to accommodate background checks, a law that the commission had repealed in 2011 [before Clarke was elected] out of fear that it might conflict with the state's new law pre-empting local gun ordinances.
The trio all hope to replace outgoing Mayor Teresa Jacobs as the chief executive and county commission chair for Orange County. If no one gets more than 50 percent in the Aug. 28 election, the top two will advance to a Nov. 6 showdown.
And all three expressed general concern that in the wake of broad gun violence and the atrocities at Orlando's Pulse nightclub in 2016 and Marjory Stoneman Douglas High School in Parkland in February that more attention and more discussion is needed on gun laws.
Demings, a lifelong Democrat who's spent 37 years in law enforcement, took more forceful positions, talking about getting assault weapons and high-capacity magazines off the streets, while Panepinto and Clarke, Republicans, didn't go there.
Yet none of them took staunch out-of-my-cold-dead-fingers positions on the Second Amendment rights of gun ownership, though Clarke, and to a greater degree, Panepinto suggested the conversations and attention need to be at the state and perhaps at the federal level, not in Orange County government.
Clarke talked about working with the county's legislative delegations.
"We can get sensible laws in this community and this state and hopefully we can get sensible laws at the federal level," he said.
Panepinto talked about the problems of patchwork laws having little effect, ultimately, on gun sales. He praised that the conversation was now occurring, but suggested the place for the decisions is probably Washington.
"We have to look at this as a constitutional right, and the balance against public safety," Panepinto said. "At the local level, beyond what we've already done, look, we can drive 5 miles from here and be in another county. So I think this is an issue where county-by-county legislation doesn't necessarily work, but the conversation certainly does have to happen."
The sheriff said he refused to punt the issue to Tallahassee or Washington.
"We've got to take the guns out of the hands of the wrong people," Demings said.
Demings talked about how the sheriff's office now runs intelligence checks to track people whom he said should not have weapons and credited the strategy with helping reduce violent crime by 34 percent during his 10 years as sheriff.
"We also have to have a serious discussion about a ban on assault weapons," Demings said. "It's not a weapon that a civilian population should have out on the streets. We also should be looking at restricting the sale of high-capacity magazines."