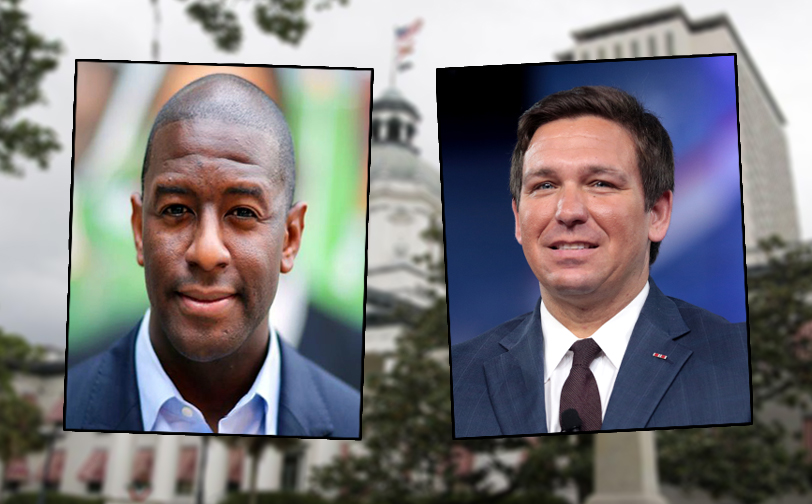 Anyone else have the sinking feeling that Florida political pundits will wake up the day after the primary election and be forced to offer their best impressions of Vizzini from "The Princess Bride"?
"Inconceivable," they will all exclaim, just as the Sicilian criminal mastermind did after the hero Westley bested Vizzini's giant (lovingly played by Andre the Giant) and his Spanish swordsman (Mandy Patinkin before he got all serious for "Homeland").
The pundits will double-check the headlines, slap their foreheads, and say it again and again: "Inconceivable."
How did DeSantis, the derpish, one-trick pony upend the $50 million machine of Adam Putnam?
How did Gillum, the scandalized, cash-strapped not-strong mayor finish ahead of a billionaire (Jeff Greene), a mega-millionaire (Philip Levine), a multi-multi millionaire (Chris King), and the scion of the Graham family (Gwen Graham)?
If the election were today, no, DeSantis would probably not beat Putnam, nor would Gillum finish first in the five-way Democratic primary. Right now, the cone of certainty projects a Putnam vs. Gra'm-vine general election.
And while it's possible that DeSantis will edge out Putnam or Gillum will win the Democratic nomination, the prospect of both of these upsets occurring is, well, inconceivable. 
Except the idea of DeSantis and Gillum emerging from the primaries is much less inconceivable than it was only a month ago.
On the Republican side of the aisle, it feels like the last quarter of a football game and Putnam is ahead by more than a touchdown. Can DeSantis close the gap while Putnam barrages him with television and digital ads?
For its part, Team DeSantis feels very confident. It believes it handily won the first debate between the two candidates, which was broadcast on Fox News.
President Donald Trump, who is as popular with Republicans as Pope Francis is with Jesuit priests, has doubled-down on his endorsement of the Ponte Vedra Republican.
Over the weekend, two polls, including internal numbers from the DeSantis campaign, provided shocking results. A survey from Remingtion Research Group on behalf of the Tenth Amendment Project has DeSantis up 17 points over Putnam. The internal poll pegged DeSantis at +19.
"Same poll shows the U.S. up by 2 goals in the World Cup finals," tweeted Democratic strategist Steve Schale.
Certainly both surveys should be taken with shakers of salt, but they will drive the narrative that the race has turned in DeSantis' favor.
All DeSantis has to do now is hope that POTUS schedules a rally at the Florida State Fairgrounds for about the same time as when early voters begin to receive their ballots.
Gillum's path to victory is steeper, albeit simpler, than DeSantis'. He just needs black voters to turn out at their traditional performance levels and hold on to 80 percent of them. Add to them some of the Bernie Bro crowd and that should be just enough to hold off Graham in this cycle of the female candidate.
To his credit, Gillum's not just playing the race card. In fact, the hand he's playing from is filled with progressive trump cards. On issue after issue, Gillum seemingly barrels over his opponents to stake out the most progressive policy position.
He's also heads-and-shoulders the best retail pol in the Democratic bunch. He has outshined his opponents at the candidate forums and debates and all the other places on the campaign trail. As the Miami Herald's David Smiley noted during Gillum's speech at the Florida Democratic Party's annual gathering, "If elections were decided by applause, Gillum would be in good shape."
Until recently, Gillum didn't have the money to communicate to black voters that he was a black candidate. But that was before billionaire Tom Steyer and his Next Gen America organization stepped in with its commitment of at least a $1 million for Gillum's campaign. That's on top of however much George Soros has given and will give to Gillum.
And that's what Gillum and DeSantis have in common: They are both heavily depending on figures perceived as bogeymen by the opposing party.
DeSantis has Trump.
Gillum has Steyer, the most prominent progressive calling for Trump's impeachment.
DeSantis' second home is a set on Fox News. Gillum has probably made more appearances on MSNBC than the rest of the Democratic field combined.
DeSantis wants to spread the message of #MAGA to Florida.
Gillum wants to make the state ground zero for #Resist.
If DeSantis and Gillum emerge from the primaries to square off against each other, it will be the basest of general elections the Sunshine State has likely ever seen.
But if DeSantis and Gillum have something in common it is that both candidates are who the opposing party wants to run against.
Increasingly, it looks like each side will get their wish.