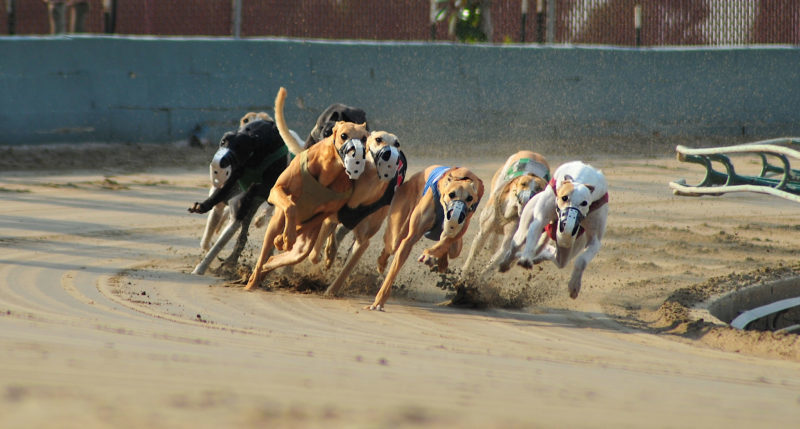 Can "athletes" perform at their best if they are "confined 23 hours a day in a crate"?
No, says the Committee to Support Greyhounds, in a new video posted Sunday on Facebook. The group opposes a proposed constitutional amendment aimed at ending commercial dog racing in the state.
Amendment 13, placed on the November statewide ballot by the 2017-18 Constitution Revision Commission, would outlaw betting on dog races in Florida beginning in 2021.
Greyhound owners and breeders, who oppose the ban, have challenged the proposed amendment in court; a trial is set for next month in Tallahassee. Proposed amendments need at least 60 percent approval to be added to the state constitution.
The Committee to Protect Dogs, which favors the ban, has said the animals are caged for as much as 23 hours daily, using trainers' own statements in a video and white paper released last month.
"How much sense does that make?" the video's narrator says. "Think how you would feel" if this were true, the video adds, mentioning "bed sores," "body aches," and "an increased risk of stress and depression."
The one minute and 20 second-long clip then shows greyhounds jumping, digging, playing with each other, and – of course – racing "at speeds up to 45 mph."
"It's an absolute lie," the video says. "These dogs are athletes and we treat them like athletes," giving them up to 12 hours of non-racing exercise a day, known as "turn outs."
"The dogs don't lie," the video's end card says.
Sonia Stratemann, the vice chair of the Protect Dogs — Yes on 13 campaign, countered in a Monday statement that "it is an absolute fact that greyhounds are confined for 20 to 23 hours per day." The campaign is backed by the Humane Society of the United States and GREY2K USA Worldwide, which works to end dog racing.
The greyhound industry, Stratemann said, "admitted this fact until recently, but has apparently realized that Florida voters will not tolerate this cruelty. Dog racers are now willfully misleading the public about how long greyhounds are confined.
"Racing greyhounds are kept in warehouse-style kennels compounds, in rows of stacked metal cages. Every five or six days they are taken to a track, where they are kept in a cage until they race for 30 seconds.
"On non-race days, greyhounds are confined perpetually, except for four daily 'turn-outs.' during which dogs are muzzled, placed in small sand pits, and allowed to relieve themselves. Until recently, the industry admitted that greyhounds receive four daily turn-outs that last between 15 and 45 minutes each.
"According to state investigator Stephen Toner, greyhounds are 'normally confined' for '20 to 23 hours per day.' This is supported by many industry statements, including a video published by Sanford Orlando Kennel Club. I have personally assisted with dog track turn-outs at Palm Beach Kennel Club, and witnessed this extensive confinement myself.
"These are very young dogs that have been bred for speed and strength. Decades ago, the industry discovered it could cut costs by keeping young dogs in extensive confinement for short racing careers and not negatively impact performance.
"They are now trying to use this sad fact to mislead voters. This cruelty goes against our values, and we are confident that Floridians will vote 'yes' on Amendment 13."