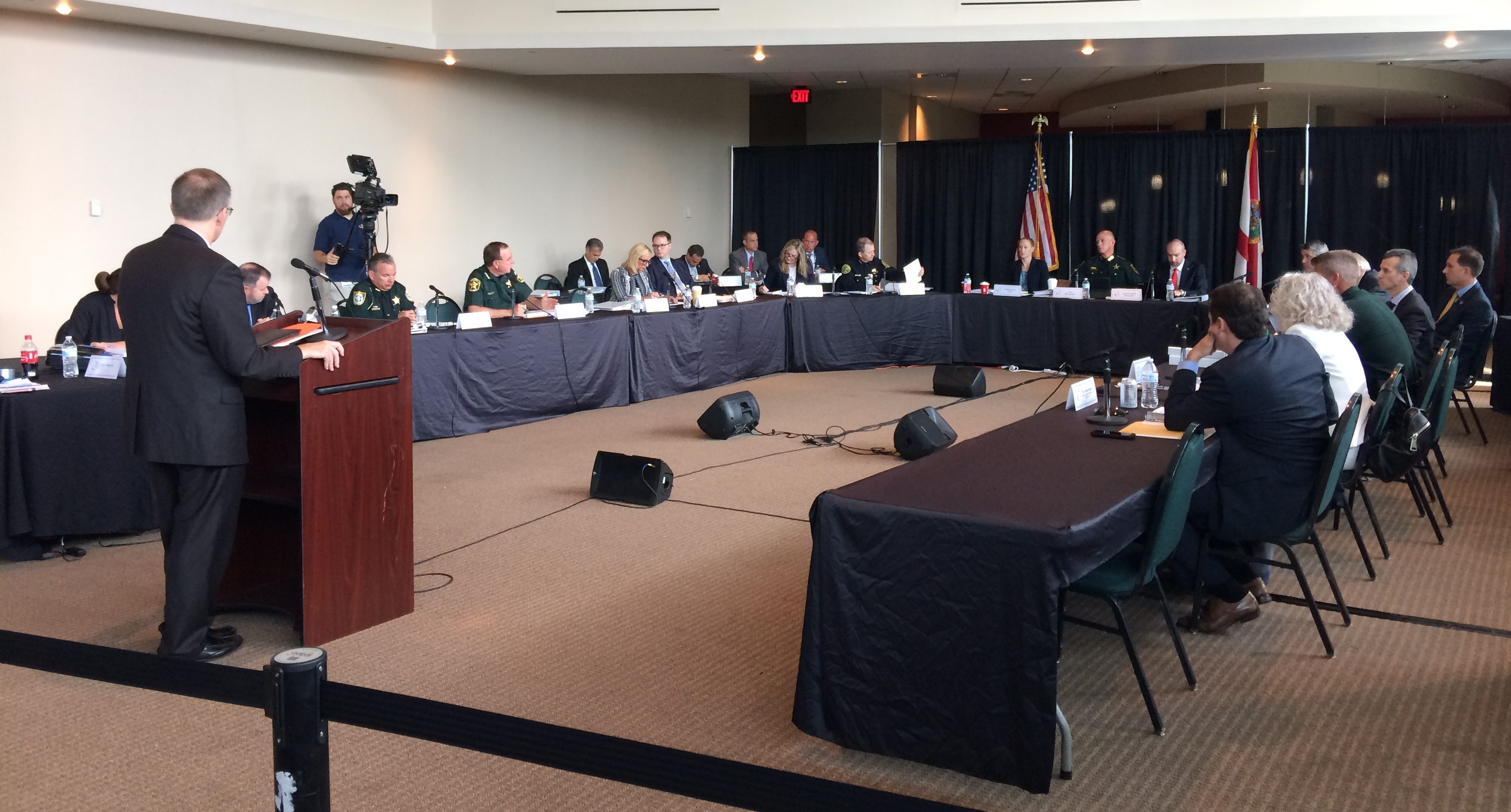 The Marjory Stoneman Douglas High School Public Safety Commission offered suggestions Tuesday to change Broward County's PROMISE Program, which has come under fire after February's attack that left 17 dead.
While most members said the program played no direct role in the shooting by suspect Nikolas Cruz, the commission still recommended changes to it and similar programs throughout the state, such as reducing the amount of infractions allowed under the program and increasing access to students' disciplinary records.
The PROMISE Program is an example of a pre-arrest diversionary program. Those programs typically seek to find ways to discipline students who commit minor crimes without entering them into the criminal justice system.
Pinellas County Sheriff Bob Gualtieri, who chairs the Douglas commission, explained why supporters of these programs put them in place: "Young people do stupid things. They make mistakes. Yes they're crimes, but they're minor crimes."
The PROMISE Program Collaborative Agreement highlights this fact. Misdemeanors such as vandalism, trespassing and drug possession are to be handled within the program when possible, shielding students from arrest.
In fact, Cruz was enrolled in the PROMISE Program for an alleged act of vandalism he committed in middle school, despite Broward County public school officials initially denying that he was ever involved in the program.
Similar programs cap the amount of offenses allowed before disciplinary measures ramp up. That is, students only get so many chances before they end up in handcuffs.
A quirk of the PROMISE Program, however, is that its cap is reset each school year. Gualtieri called that arrangement "unique."
Judging from comments, commission members seemed to agree that should change. Going forward, commissioners said diversionary programs throughout the state should have a lifetime cap rather than one restarting each school year.
Other recommendations made by the commission include coordination between state attorneys to have uniform diversionary programs throughout the state and an effort to increase access to student disciplinary data so that it's accessible by other schools as well as law enforcement.
Gualtieri also noted that the offense committed by Cruz that led to his enrollment in the PROMISE Program would not have barred him from buying or owning a gun had he instead been arrested. Gualtieri and several other members seemed eager to foreclose any direct connection between the program and February's shooting.
Yet critics note Cruz still somehow fell through the cracks, and that he could have lost access to his weapons due to other alleged offenses that did not lead to his arrest and were not covered by the PROMISE Program.
That led to some disagreement on the commission regarding PROMISE and the intent behind it. While the program itself may not have directly enabled the shooting, some commissioners said Broward's overall approach to discipline over time must be re-evaluated.
"Clearly there was … a pattern of behavior that seemed to have been escalating," said state Sen. Lauren Book, who serves on the commission.
"Perhaps your suggestion that this PROMISE Program had no bearing on his ability to purchase a firearm is true. But I think that we would be remiss in not making recommendations on PROMISE, but also the behavior matrix," she added, referring to Broward Schools' tool for addressing inappropriate behavior by students.
To that point, Gualtieri revealed that at the time Cruz committed that vandalism infraction, he was already being monitored by a behavioral therapist. That showed a recognition by the school that there were problems with Cruz well before 2018.
While today's meeting focused on the PROMISE Program specifically, Gualtieri did promise time would be spent on other behavioral issues exhibited by Cruz, and whether the district law enforcement did enough in the lead-up to the massacre.
The commission was created as part of the school-safety law (SB 7026) passed and signed into law this year after the Feb. 14 mass shooting at the Broward County high school it's named after.