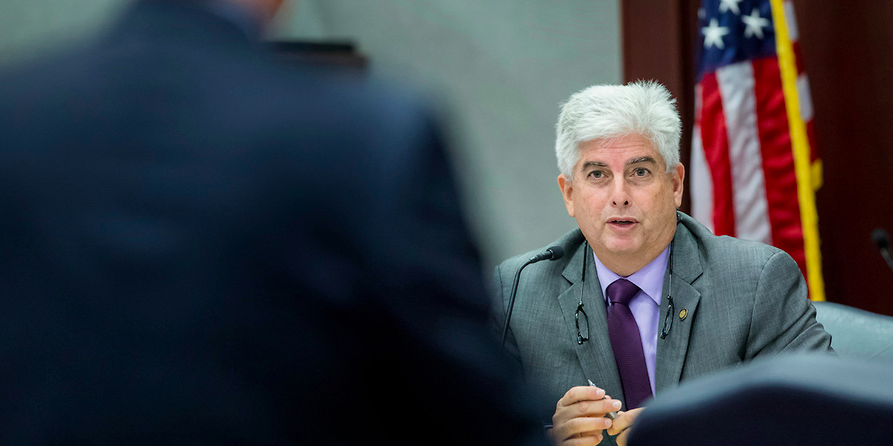 Sen. Greg Steube lambasted Rep. Julio Gonzalez Wednesday over tweets he made in 2016 disparaging then-presidential candidate Donald Trump.
Gonzalez and Steube are the two leading Republicans in the race for Florida's 17th Congressional District, which is open in 2018 due to the retirement of current U.S. Rep. Tom Rooney.
Steube's attack included screenshots of five tweets, all from March 2016, where Gonzalez states his opposition to the eventual president using the "#NeverTrump" hashtag.
In three of the tweets, the Venice Republican – who has since festooned his twitter bio with the "#MAGA" hashtag – expresses his support for U.S. Sen. Marco Rubio, who was still competing for the GOP nomination at the time. Rubio has endorsed Gonzalez in the CD 17 race.
In one tweet, Gonzalez says "Trump is no conservative." In another, he says "the fact that Trump is still in the race is deplorable." All five tweets were still live as of Wednesday afternoon.
The Steube campaign seized on those tweets to paint comments Gonzalez made during a meeting with the Lee County Executive Committee last month as inconsistent in his views.
Trump is no conservative. #NeverTrump #Marcomentum #sayfie #FlaPol

— Julio Gonzalez, MD, JD (@DrJGonzalezJD) March 3, 2016
"@Varneyco: .@KatTimpf:"The fact @marcorubio is still in the race is embarrassing."" The fact that Trump is still in the race is deplorable!

— Julio Gonzalez, MD, JD (@DrJGonzalezJD) March 10, 2016
"The interesting thing about me as a candidate is that my views on these issues are all there for you to see and hear. If I say something inconsistent with where I have stood, you will find out about it. And a lot of those things were there before I ever decided I was going to run for Congress, so, the views are consistent," Gonzalez is quoted as saying.
The Steube campaign said the tweets poke holes in Gonzalez' claims of consistency and pointed to the recent primary defeat of longtime U.S. Rep. Mark Sanford of South Carolina as the consequence of being a "Never Trump" Republican in the current political climate.
When it comes to CD 17, that argument isn't unsupported. The expansive and safely Republican district voted plus-27 for Trump two years ago.
"We need to send a conservative we can trust to Congress," said Alex Blair, Steube's campaign manager. "It's clear that conservative is Greg Steube. He has always supported President Trump and will continue to do so in Congress."
Gonzalez and Steube will be on the Aug. 28 primary ballot alongside little-known Republican Greg Akins.
Steube filed for CD 17 shortly after Rooney announced in late February that he would not seek re-election. Gonzalez followed shortly after the 2018 Legislative Session wrapped.
Gonzalez held a large fundraising lead at the end of the first quarter thanks in part to $150,000 in candidate loans, though his $84,000 in outside fundraising still bested Steube's $63,550 Q1 haul. Earlier this week, Gonzalez said he'd reeled in another $225,000 in Q2, while Steube has yet to announce his tally.
CD 17 sprawls across parts of Sarasota, Lee and Polk counties as well as the whole of Charlotte, DeSoto, Glades, Hardee, Highlands and Okeechobee counties. Rooney has held the seat since it was redrawn ahead of the 2012 elections.