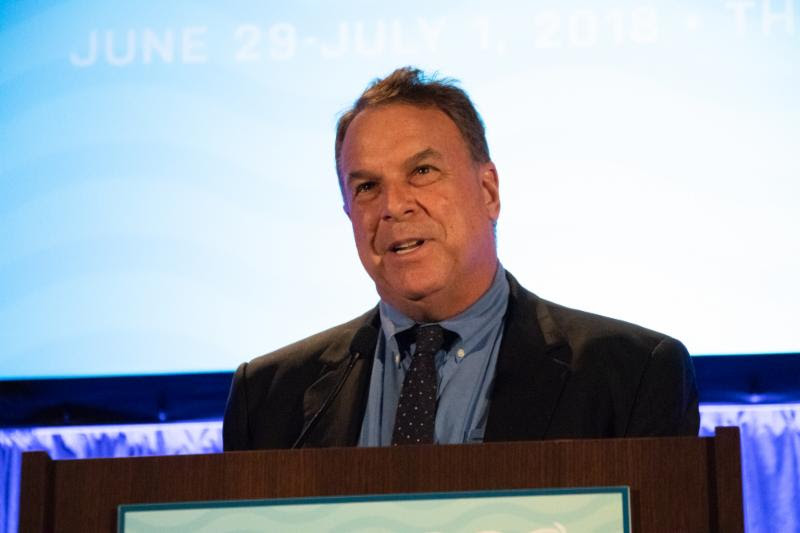 There is a new front-runner in the Democratic primary for Florida governor. Well, more like a new co-front-runner.
Billionaire Jeff Greene, who joined the race just last month, has rocketed into first place, according to a new survey from St. Pete Polls and commissioned by Florida Politics.
Greene is at 21.6 percent — a tenth of a percentage point higher than former U.S. Rep. Gwen Graham. 
"This poll confirms what I've seen firsthand campaigning across the state: Voters are sick and tired of politicians making false promises, and want to see a leader who can produce results," said Greene in a statement. "The Democratic base is clearly looking for someone who can win in November and take on Trump, and Tallahassee Republicans in defense of Florida's families.
"These results are exciting, but as we continue to reach voters from Key West to Pensacola, and Tampa to Titusville, I want folks to know one thing: We're just getting started," Greene added.
Former Miami Beach Mayor Philip Levine, who has already spent millions of his own money on a barrage of TV ads and who has been the leader in other recent polls, is in third place at 19.4 percent.
The poll does not have good results for Andrew Gillum, who, in recent weeks, seemed to be gathering momentum just as thousands of ballots are being mailed to overseas and early voters. The Tallahassee Mayor has seen his campaign account infused with the financial support of billionaires Tom Steyer and George Soros, among others. Gillum is in fourth place in this poll at 10 percent.
Far off the field is Orlando entrepreneur Chris King, who has also been up on TV and has earned kudos, even from his opponents, for his smart policy positions. He's at 3 percent.
Of course, the true leader in this poll remains "Undecided," as one in four Democratic voters do not yet know who they will vote for in the primary.
With three candidates within two points of each other and a fourth (Gillum) with a natural base that represents a large swath of the Democratic Party, the race is anyone's to win.
Powering Greene's lead is high favorable-to-unfavorable ratio with respondents. He's at 45/16, just as Graham is at 43/13. Interestingly, Levine has the best favorable rating at 49/14.
The fundamental weakness of Gillum's campaign to-date — that he hasn't had the resources to introduce himself statewide — is apparent in the fave/unfave numbers. Sixty-one percent of Democratic primary voters are unsure how they feel about Gillum, the highest number of the field.
King's favorable ratings remain an enigma. As with other surveys from different shops, King is upside down at 15/18. This really doesn't make sense. As Democratic consultant and Gillum advisor Kevin Cate has noted on Twitter, King, while relatively unknown, is probably the most affable candidate in the field, with a beautiful family and a storybook career. There's no reason not to like this guy, yet Democratic primary voters seem not to.
Further breaking down the poll's numbers, it's clear where Greene is winning — and why Graham and Gillum should be worried.
Greene has a slight lead over Graham with female voters — 22 to 21 percent. Graham, the only woman in the field, has made women's issues central to her campaign.
Likewise, Greene is winning with black voters, capturing 23 percent of this demographic. Levine is actually second here, while Gillum is third. This might suggest that too many black voters, traditionally loyal to one of their own, don't know enough about Gillum.
The St. Pete Polls survey was conducted July 14-15 and includes only responses from those voters who said they were planning on casting a ballot. The poll has a sample size of 1,314 providing a 2.7 percent margin of error at a 95 percent confidence level.