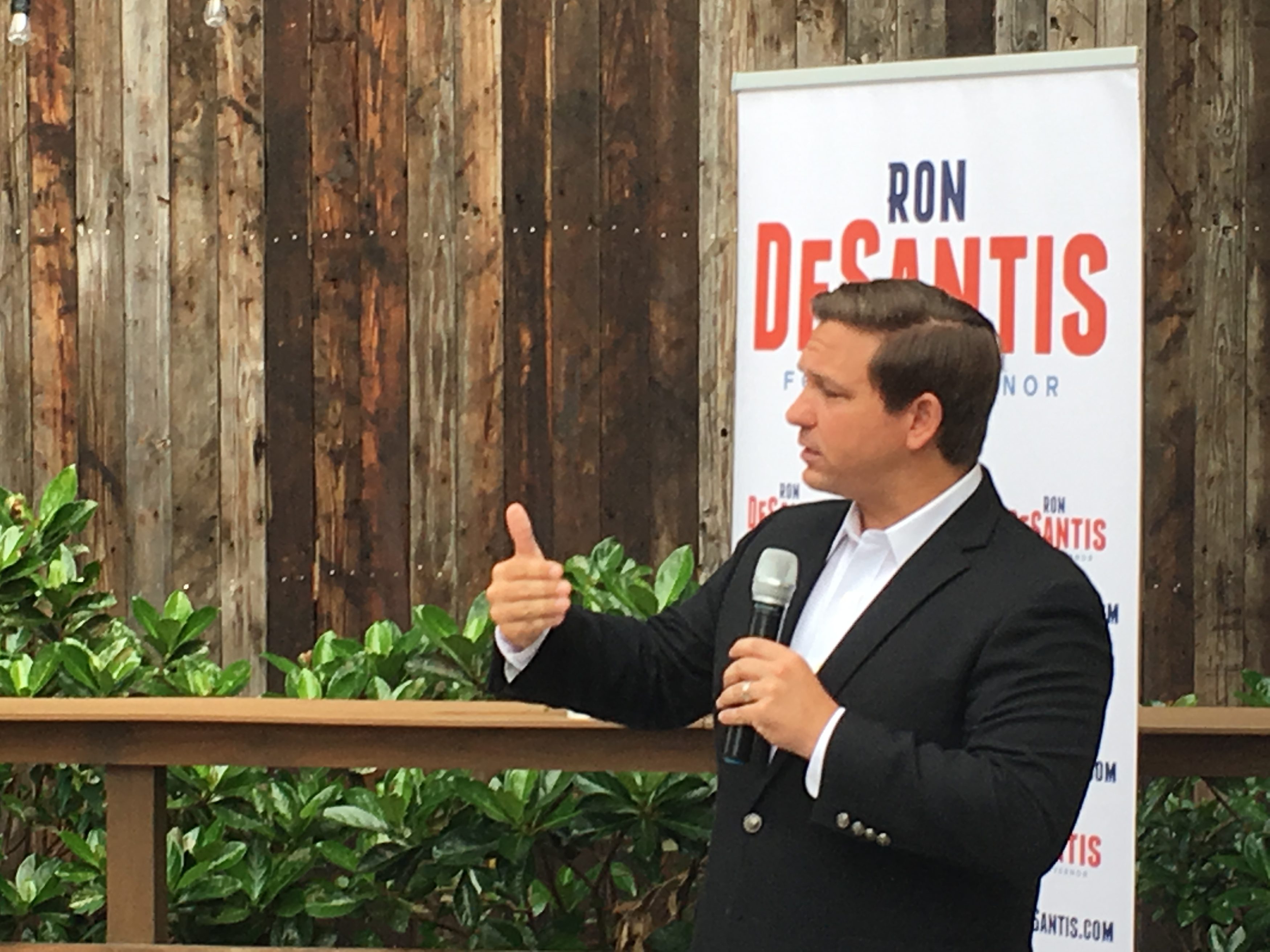 U.S. Rep. Ron DeSantis, who is looking increasingly like the front-runner in the Republican race for Governor, held a Saturday morning meet-and-greet in Jacksonville, where he drew contrasts between opponent Adam Putnam and himself.
One such contrast: DeSantis vowing that no matter what happens going forward, he will not take sugar industry money.
In his remarks, DeSantis blasted "big powerful interests like Big Sugar" attacking him with "$5.1 million," which funded "fake news for months."
DeSantis' offense? Being "one of the few [Floridians in Congress] who voted against sugar subsidies.
The candidate vowed that he was "not going to be hamstrung by an interest group," unlike Putnam, who "one big company tells … what to do."
The talking points against the sugar industry used in Northeast Florida, which DeSantis' camp counts as a source of strength, are of interest, given that the state is not, compared to points south, the current epicenter of the algae crisis.
In the media gaggle, which included local television and Breitbart, we asked DeSantis about the current governor, Rick Scott, who messaged heavily against lobbyists as a candidate in 2010 but made his peace with them in more recent years.
Though sugar is no deal for DeSantis, that doesn't mean he's opposed to the influence industry writ large.
DeSantis noted that "there's a lot of people who have interests in Florida politics. That's separate from one industry that is subsidized heavily."
"If they need all these subsidies, then why in heck are they spending all this money in politics," DeSantis asked rhetorically. "They should have less subsidies and then not spend as much money. I think that's a unique situation given how subsidized they are."
A new poll has DeSantis leading the race by a 42 to 30 percent margin, an indication that as the pool of undecided voters becomes more shallow, DeSantis' support deepens.
That survey confirms consultant reports of myriad internal polls that have shown a pro-DeSantis trend.
The Florida Chamber has a poll that deems the race a dead heat, though the DeSantis camp asserts that poll doesn't sample Trump voters, instead oversampling supervoters from pre-2016 samples.
Putnam held a public event in Jacksonville late last week; however, attendance was down from previous Putnam stops, with only two incumbent politicians showing — a drop from previous events where Putnam had strong showings from the elected class.
Putnam, when asked if he worried that the campaign was slipping away, said "I wake up every day worried. I'm fighting to the bitter end."
Before that bitter end finally gets here, Floridians are expected to be treated to a Donald Trump rally on DeSantis' behalf.
We asked the candidate if that would be the nail in Putnam's coffin.
"A Trump rally is not something that is necessarily scripted," said DeSantis.
"If and when that happens … he'll be saying whatever he says in front of ten or fifteen thousand, however much the arena can hold, and I think that's going to carry far and wide around the state," DeSantis said.
"Nobody has the kind of megaphone he has. He's excited about the developments in this race. Florida's like a second home to him," DeSantis said.
DeSantis believes he's overcome the early part of the race, a period of "political vulnerability" that has seen him run against certain special interests.
"When we had the debate, when we had the President coming out [and re-endorse], that was going to draw the contrast. I think that's been done," DeSantis said, noting that despite the avalanche of negative ads against him, he's more popular with Republicans than he was before the hits began.
"That tells me that our strategy has succeeded, and the strategy of the Tallahassee insiders has failed," DeSantis concluded.