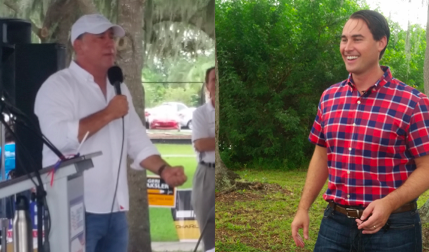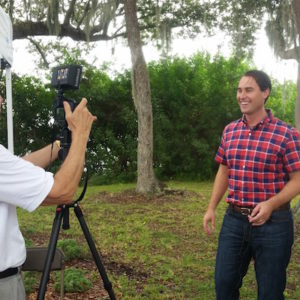 While Charlotte County can safely be called Republican country, Democratic gubernatorial candidates Philip Levine and Chris King weathered pouring rain to speak to voters there on Saturday.
The two candidates spoke at the Politics in the Park event at Harbor Heights Park near Punta Gorda. There, Levine touted his record as a climate-conscious mayor in Miami Beach while King promoted his history fighting against Big Sugar.
Even as candidates try to break ahead in a crowded Democratic field, Levine drew the greatest contrast between himself and outgoing Gov. Rick Scott, who is running for Senate this year, and regular Democratic punching bag President Donald Trump.
"We know that Rick Scott is Donald Trump's BFF, Best Friend Forever," Levine told a crowded gathered under a pavilion. "It's not that he actually robbed the bank with Donald Trump, but I know Rick Scott was the driver."
King's boogeyman of choice was the sugar industry, and he shared the story of how a trip to Clewiston last week turned sideways, spinning it as a badge of honor. "The environment and taking on Big Sugar has been a huge part of my candidacy," he said.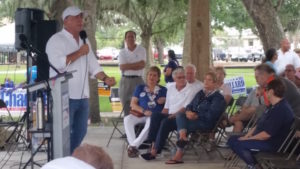 He later spoke to Florida Politics about how he doesn't want to dismantle an entire industry, but wants the government to return to protecting the government instead of allowing pollution, and stressed his campaign of message of being a the first voice of a new generation standing up to sugar. And he figures as Charlotte and other coastal residents deal with algae in rivers, it's a good time to talk about the issue.
"Here is Southwest Florida, these discharges seem to be issues one, two and three, and these will keep happening unless we start thinking about things differently," King said.
Levine stressed his own green credentials, noting Miami Beach's efforts during his eight-year tenure as mayor to strengthen building codes to deal with sea level rise brought on by climate change. Labeling Scott's Department of Environmental Protection as a department of environmental exploitation, he promised to make sure state regulators don't snuggle to polluters.
"One thing I won't do is nothing," he said.
Despite the make-up of attendees at the Democratic event, Charlotte County may prove a tough place to sell a progressive message in November. Trump carried the county by nearly 29 percent in November 2016.
But King and Levine both see reason to rally as many votes as possible here.
"We just can't keep losing these areas by huge margins," King told Florida Politics. "We have to speak to people everywhere."
Levine, who later headed from Punta Gorda to open a Fort Myers campaign office, said no region could go untouched if Democrats are to win in November.
"I don't see areas as red or blue. I see areas as Floridians and that's it," he said. "We'll be everywhere, in every town and every county."