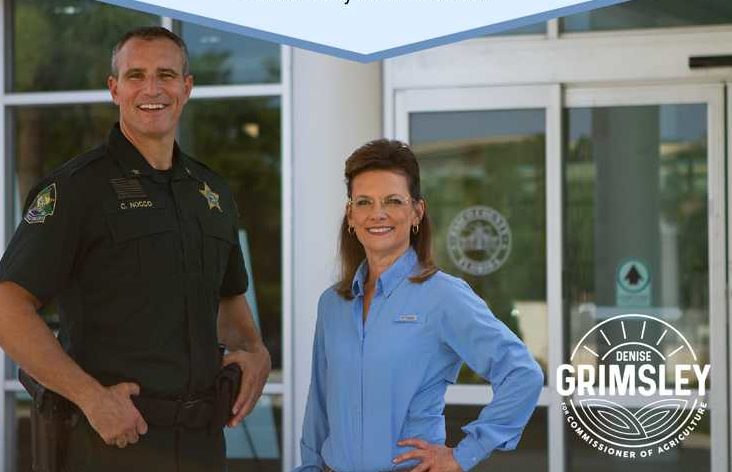 A popular Republican from Pasco County is throwing his weight behind Denise Grimsley in the race for Agriculture Commissioner.
"Florida's Commissioner of Agriculture serves farmers, ranchers and more," said Pasco Sheriff Chris Nocco in a Thursday news release. "She must protect consumers. And there's just one candidate I trust with that job: Denise Grimsley. Denise isn't a politician – she's a warrior. And she's got my vote."
With Nocco's nod, Grimsley, a state Senator representing Sebring, now has the backing of 33 county sheriffs. She's also received endorsements from the Florida State Fraternal Order of Police and Florida Professional Firefighters.
"Florida's next Commissioner of Agriculture must be prepared to not only fight for our state's farmers, but also our state's consumers," Grimsley said in accepting Nocco's endorsement. "As a third-generation farmer and a first-generation nurse, I am ready to be that advocate for farmers and ranchers, and also fight alongside our sheriffs and first responders to protect and serve Florida consumers."
Gov. Rick Scott in 2011 appointed Nocco as Pasco's sheriff. He won the election in 2012 and ran unopposed in 2016. State House Speaker Richard Corcoran appointed Nocco to the 2017 Constitution Revision Commission, which wrapped its work in May.
While Grimsley has close to half of Florida's county sheriffs backing her bid for the Cabinet seat, she isn't the only candidate racking up local support.
On Wednesday, state Rep. Matt Caldwell, one of Grimsley's Republican primary opponents, announced a slew of endorsements from municipal leaders across the state, including one from former Pasco County Sheriff Bob White.
Grimsley, Caldwell, former state Rep. Baxter Troutman, and retired U.S. Army Col. Mike McCalister all are competing for the Aug. 28 Republican primary. The winner of that race will go up against one of three Democratic hopefuls: Nikki Fried, Jeff Porter and David Walker.