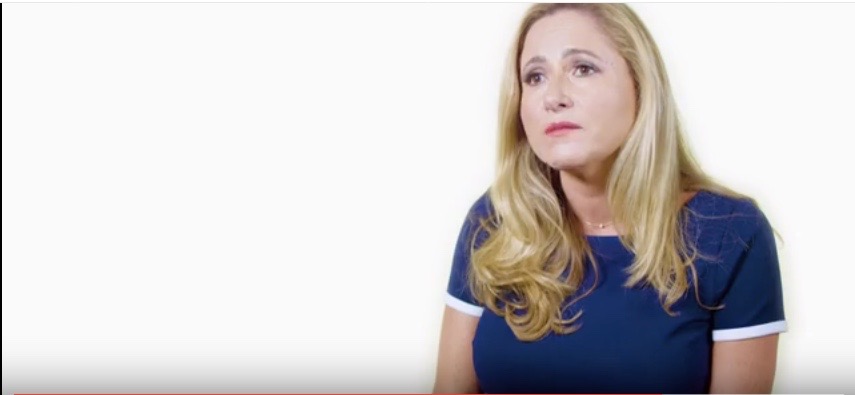 The Congressional Leadership Fund (CLF) is out with a new radio ad hitting Democrat Debbie Mucarsel-Powell over her husband's business ties to a shady Ukrainian oligarch.
The Daily Beast first reported the ties between the candidate's husband, Robert Powell, and Ihor Kolomoisky, who has been accused of hiring contract killers and running fraudulent billion-dollar schemes.
Powell reportedly worked as an attorney at several firms owned by Kolomoisky. A 2010 court order also says it appeared Powell "answers" to Kolomoisky. However, Powell told the Miami Herald, "I have never worked for, represented, answered to, or received any payment from Mr. Kolomoisky at any time."
The ad from CLF, which is a super PAC that supports Republican candidates to the U.S. House, attempted to tie Mucarsel-Powell to those accusations.
The ad's narrator begins, "A shady Ukrainian businessman. Dirty foreign money. A U.S. congressional candidate. It's a shocking scandal, and the story of Debbie Mucarsel-Powell."
Though the story focuses on allegations against her husband, it is worth noting the pair shared an LLC which listed Powell as a registered agent. His address was given as 200 S Biscayne Blvd, which is an address tied to some of Kolomoisky's U.S. businesses.
That address has since been removed in the couple's filings.
"Explosive new reports raise troubling questions about Powell and her husband's close ties to a shady Ukrainian oligarch," continues the narrator.
"But that didn't stop the Powell family from cashing in, with her husband taking $700,000 while working for the oligarch's firms."
The ad even references those court documents from 2010, saying Robert Powell was "identified as his right-hand man in documents and federal court records."
"South Florida voters have absolutely no reason to trust Debbie Mucarsel-Powell's judgment after learning her family has been making hundreds of thousands of dollars from a Ukrainian oligarch accused of 'contract killings and fraudulent billion-dollar schemes,'" said CLF Communications Director Courtney Alexander.
"Debbie and her husband have a lot of questions to answer after taking dirty foreign money from a shady oligarch. South Florida voters deserve better than Debbie's bad judgment."
But the Mucarsel-Powell campaign is pushing back, saying the candidate shouldn't be blamed for her husband's business dealings as she tries to unseat U.S. Rep. Carlos Curbelo in Florida's 26th Congressional District.
"Now we know Washington Republicans' strategy in South Florida: attack strong women's husbands because they can't defend their own policies and voting records," said Melvin Félix, communications director for the Mucarsel-Powell campaign.
"They have falsely attacked Mary Barzee Flores' family and now they're falsely attacking Debbie's in an attempt to distract from the poor job they've done in Washington."
That reference to Barzee Flores, a candidate in Florida's 25th Congressional District, is in response to a recent ad released by her opponent, U.S. Rep. Mario Díaz-Balart. The ad attempts to criticize Barzee Flores over clients at her husband's law firm, including defendants accused of arranging arms shipments to Iran.
"Debbie has dedicated her career to serving our community, expanding health care access and fighting climate change in South Florida," added Félix, in an effort to contrast her record with her opponent's.
"Meanwhile, Congressman Curbelo has been in Washington voting to strip more than 100,000 people in our district of their health care and to remove protections for the more than 300,000 people living in this district with pre-existing conditions. That's why people are tired of Washington politicians and that's what Debbie is working to change."
The CLF radio ad began airing in the Miami market Thursday.
Mucarsel-Powell is competing with former naval officer Demetries Grimes for the CD 26 Democratic nomination.