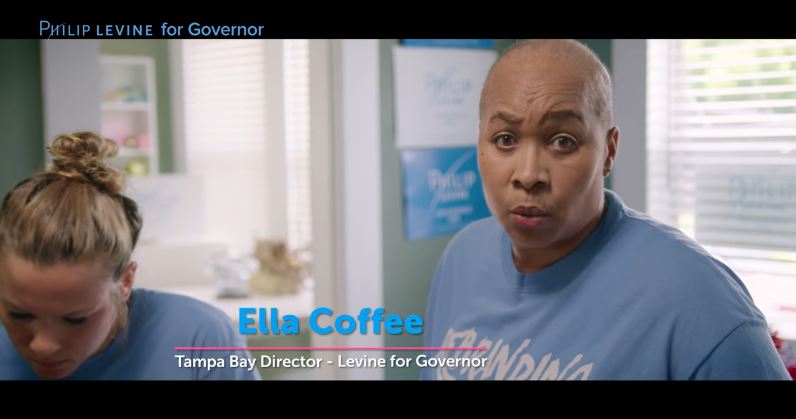 Former Miami Beach Mayor Philip Levine is out with another ad backing his campaign to be the next Governor of Florida.
The 30-second ad, titled "Ella," tells the story of the Levine campaign's Tampa Bay director, Ella Coffee, who was diagnosed with cancer shortly after accepting her position. The ad is the latest in a sustained barrage of ads for the Levine campaign, which has had a consistent presence on the airwaves since January.
"One week after Philip Levine asked me to head up his campaign here, the doctor called. And it was bad. I had breast cancer," Coffee says in the ad.
"We were stunned," Levine says. "We weren't giving up on Ella."
"That's when the entire campaign said they were going to take this walk with me," Coffee said.
"Because it's the right thing to do," Levine added.
"That's leading with your heart," Coffee concluded.
In a press release announcing the ad, Coffee said "Team Levine is more than just a campaign — it's a family."
"Before I started in my position, I was diagnosed with breast cancer. The Levine campaign told me to come on; that this is a journey that no one should take by themselves and we're going to take this walk with you," she said. "Florida is going to be very fortunate when we elect Philip Levine as Governor; because our state will finally have a leader who cares for its citizens. If one of us is hurting, we are all hurting — that is Philip's belief."
Levine added, "Ella's diagnosis stunned us. Our team is standing with her as we take this walk together—it's the right thing to do, no one should have to make that journey alone. Campaigns are about more than winning and losing—they're about people coming together for a common purpose and about the relationships made along the way."
Levine is one of five candidates seeking the Democratic nomination for governor. He faces Tallahassee Mayor Andrew Gillum, former U.S. Rep. Gwen Graham, Palm Beach billionaire Jeff Greene and Orlando-area businessman Chris King in the Aug. 28 primary race.
Levine is the current leader in the money race, thanks in large part to self-funding. As of July 13, he had brought in $20.4 million between his campaign and political committee, All About Florida, including $12 million of candidate contributions and loans. He has $934,000 on hand.
The ad is below.