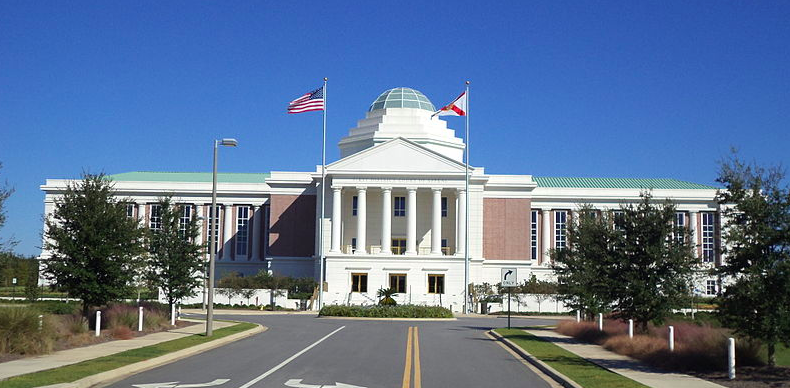 A state appellate court, for the second time in four years, has upheld Gov. Rick Scott's authority to fill a judicial seat left vacant when a judge resigned before qualifying opened to fill the slot via election.
The 1st District Court of Appeal had ruled in the same way against the same appellant, Jacksonville attorney David Trotti, the last time. This time, a three-judge panel overturned Leon County Circuit Judge Charles Dodson, who'd issued a temporary order blocking Scott from replacing Judge Robert Foster of Nassau County.
Judge Clayton Roberts, writing for judges Timothy Osterhaus and Adrian Wetherell, cited "neutral principles (that) will apply no matter who the Governor is or what the current political climate looks like." Ruling otherwise, the court said, citing it's earlier ruling, "would be nullifying the governor's power of appointment" under the Florida Constitution.
A divided Florida Supreme Court earlier this week reinstated Dodson's injunction against Scott, without comment. And his attorneys pointed to nonbinding opinions by four Supreme Court judges in 2016 supporting his position.
But the higher court has yet to formally overturn the 1st DCA's position on the subject, Roberts wrote. "Therefore, it is still binding precedent, and the circuit court was obligated to follow it."
Trotti's legal team tried to argue around the court's last ruling by arguing that Foster had approached mandatory retirement age, and that his would, therefore, be "a known vacancy" waiting to be filled via election — and that his "motives in tendering a letter of resignation when he faced mandatory retirement were a flagrant disregard of the election process."
The 1st DCA panel didn't bite. "As we stated in Trotti I, we decline to engage in an analysis of subjective factors such as unreasonableness of an impending vacancy or, in this case, Judge Foster's motivation to resign," Roberts wrote.
"Under Mr. Trotti's logic, and the logic of the dissent in Trotti I, a reviewing court would have to analyze a resigning judge's subjective intent in the hopes of determining whether the resignation was a matter of political gamesmanship. Is resigning with five days left in a term gamesmanship? What about two weeks? Or two months?
"And what about the judge's motivation to resign? Should it matter if the vacancy was created because the judge wanted to create a vacancy filled by appointment? What if a vacancy occurred because the judge was going on a cruise or elected to have a medical procedure? Such an analysis of subjective factors poses a slippery slope that, in our opinion, is avoidable under the plain language of the Florida Constitution and the case-law interpreting it."
The court rejected arguments that allowing the appointment would deprive the voters of an election, noting that would leave Trotti the only candidate on the ballot. "Mr. Trotti's proposed remedy would still disenfranchise the voters," Roberts wrote.