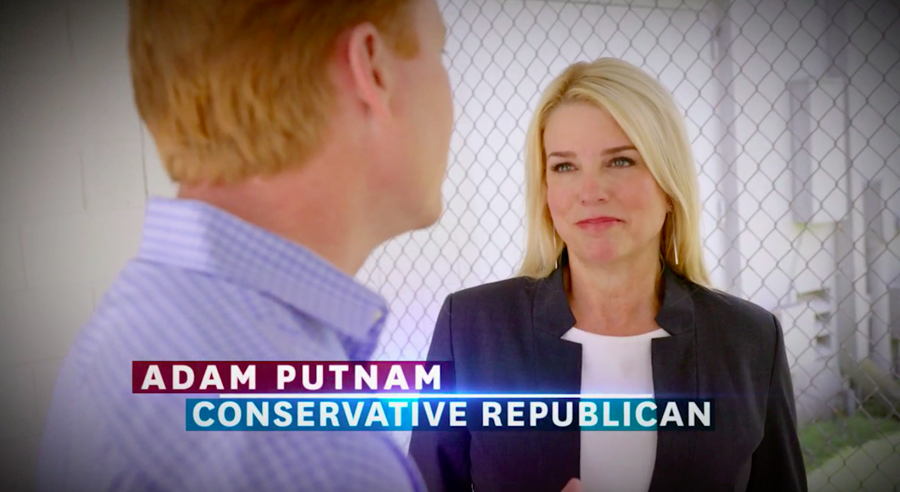 Attorney General Pam Bondi is leveraging her relationship with President Donald Trump in an attempt to give her Cabinet colleague Adam Putnam a boost in his gubernatorial campaign.
Putnam's campaign announced Thursday night that it will begin airing an ad featuring Bondi's' support for the Agriculture Commissioner.
But having the Attorney General's support, one could argue, means having at least some link to the President. The 30-second spot features Bondi saying, "I fought hard to elect President Trump and I'm supporting Adam Putnam for Governor." Bondi stumped for Trump in 2016, and the Donald J. Trump Foundation has donated to Bondi's political coffers in the past. 
"Adam will stand with President Trump to get tough on illegal immigration, ban sanctuary cities and deport criminal illegal aliens," Bondi continues. She also reminds viewers that close to 50 Florida sheriffs have endorsed Putnam. 
The ad follows Putnam's recent slip in favorability among Florida voters. Three recent polls have shown DeSantis ahead by double digits, and a poll released by Florida Atlantic University on Wednesday showed DeSantis up nine points over Putnam. In another recent poll, the Florida Chamber (which has endorsed Putnam) declared the race a current tie.
DeSantis' recent success has been linked to Trump's June intervention in the race, when he tweeted, "Congressman Ron DeSantis, a top student at Yale and Harvard Law School, is running for Governor of the Great State of Florida. Ron is strong on Borders, tough on Crime & big on Cutting Taxes – Loves our Military & our Vets. He will be a Great Governor & has my full Endorsement!"
Trump's campaign arm has since announced that the President will come to Tampa to tout certain Republicans, DeSantis among them, on July 31.
Watch the ad below: