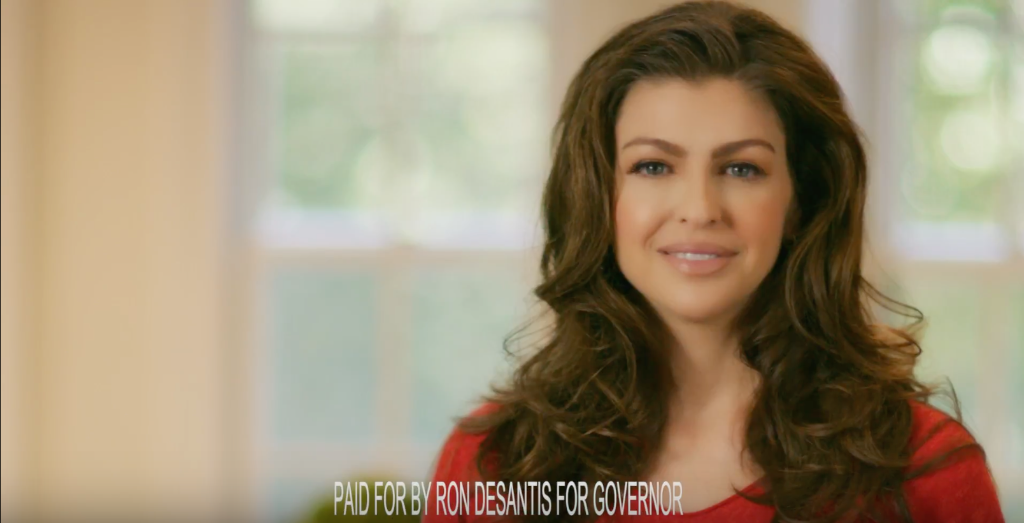 Casey Black DeSantis, one of the most recognizable faces on Jacksonville television with long runs at two local news operations, will be introduced to state audiences starting Tuesday in a new ad from the Ron DeSantis campaign for governor.
The ad's copy is heavy on references to President Donald Trump, which is unsurprising in light of the President coming to Tampa Tuesday to rally on behalf of DeSantis, a third-term Congressman representing the Daytona Beach area.
"Everyone knows my husband Ron DeSantis is endorsed by President Trump. But he's also an amazing dad. Ron loves playing with the kids," Casey DeSantis says, kicking off an ad that attempts to meld humor and the presentation of her husband as a family man.
The spot features DeSantis exhorting a child to "build the wall" using giant construction blocks, reading to a child from "The Art of the Deal," and teaching a child to read from a Trump sign.
"Make America great again," DeSantis reads to one of his offspring.
"People say Ron is all-Trump, but he's really so much more," Mrs. DeSantis quips, as the camera pans to a child of tender age in a crib, wearing a Make America Great Again onesie.
"Big league," the candidate says, "so good."
DeSantis officially entered the race for Governor in January after exploring a run for months. His entry was preceded by a late-December message from the Tweeter in Chief that many speculated would create a tectonic shift in the Republican primary to replace term-limited Gov. Rick Scott.
And it has.
But Trump's support isn't the only Ace up DeSantis' sleeve. Unlike other prospective first ladies, Casey could end up being a powerful surrogate on the campaign trail rather than playing a background role on her husband's campaign.
Where most campaigns spend weeks prepping candidate's non-politician spouses for an interview or two over the course of a campaign, there's little worry that Casey, an Emmy Award winning TV host who certainly isn't camera shy, will fumble her words or otherwise slip up in media appearances or stump speeches.
The DeSantises have been married since 2010, two years before Ron DeSantis won his first term in Congress. As seen in the TV ad, they have since had two children, the second of which was born two months into DeSantis' bid for Governor.
DeSantis is competing with Agriculture Commissioner Adam Putnam in the Republican primary for Governor.
Last updated on August 29, 2018