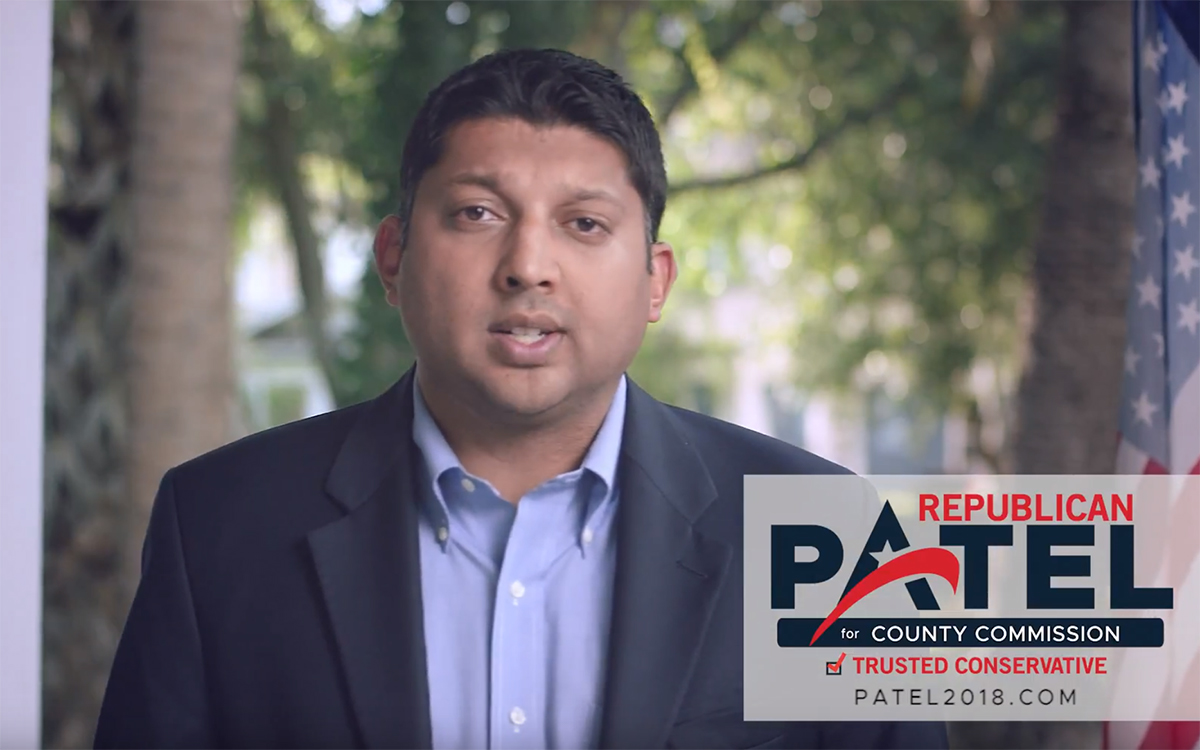 Tampa businessman Aakash Patel, a Republican running for Hillsborough County Commission, is out with a new ad responding to recent attacks that he's been too chummy with Democrats in the past.
The 30-second spot, titled "Typical Politician," comes four days after Todd Marks' TV ad attempting to paint Patel as "betraying conservative values" due to some small donations he made to handful Democratic politicians years ago.
Rather than launch his own volley of attacks, Patel said in the ad that he plans to keep his focus on the issues that matter to the people he hopes to represent.
"Typical politician. My opponent has now resorted to attacking me with false negative ads to confuse voters and change the subject. But he doesn't get it," Patel says in the ad. "This election is too important to change the subject, so I won't.
"I can promise you that I will continue to protect our conservative values as I always have and I will keep talking about the issues that matter to you. This election, I humbly ask for your vote so that we can focus on the issues that matter and begin to work towards a better Hillsborough County," he concluded.
In a press release announcing the new ad, Patel doubled down on his message of focusing on the issues while chastising Marks without naming him for throwing out attacks.
"I am running to represent all of Hillsborough County and to work on issues important to our citizens including eliminating the term limit loophole, relieving traffic congestion and providing early education opportunities for more children," Patel said.
"I sincerely apologize to my volunteer supporters whose images and words were taken from our campaign commercial, without their consent or permission, and misused to spread untrue information. It is unfortunate my opponent is not interested in having a civil discussion on the issues important to our community; instead, he resorts to this low form of negative campaign activity," Patel continued.
"Unfortunately, when politicians are desperate they will say or do anything to get elected, so we expect this negative campaigning to continue as we move closer to Election Day. Our campaign will continue to talk about issues that are important to the voters of Hillsborough County," he concluded.
Patel and Marks are the only two Republicans vying for the District 7 commission seat currently held by retiring Commissioner Al Higginbotham. The will go head to head in the Aug. 28 primary election and the winner will move on to face whomever emerges from the four-way Democratic primary for the seat.
As of July 20, Patel led the overall field with more than $500,000 in overall fundraising, including $376,000 in hard money and another $124,000 for his political committee, Elevate Tampa. He has $117,400 on hand.
Marks, through the same date, had raised about $139,000 for his campaign with much of that cash coming in via self-funding. He has $110,800 in the bank.
Patel's ad is below.