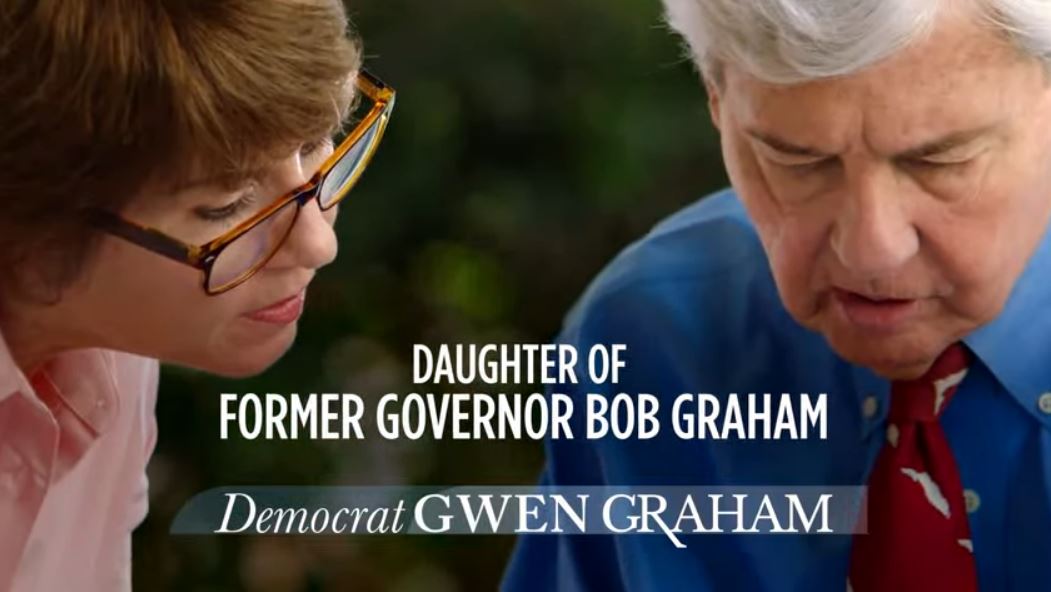 Gwen Graham's campaign for governor on Wednesday announced it's expanding its slate of TV advertising to cover the "North Florida stomping grounds" she represented in Congress.
"We are excited to build on our huge base of grassroots support in North Florida by bringing our positive message to TV in Tallahassee, Panama City and all the amazing small towns and rural communities between them," campaign manager Julia Woodward said.
The campaign didn't reveal a new TV ad in the announcement, instead saying it would air the 30-second spot titled "Service" that debuted last month. The ad highlights her PTA service, notes she's the daughter of former Gov. and U.S. Sen. Bob Graham, and says it's time to "end 20 years of Republican rule in Florida."
The new media buy covers the stretch of the Big Bend that Graham represented during her one term in Congress, which she won after upsetting incumbent Republican U.S. Rep. Steve Southerland in one of the few pickups for Democrats in the 2014 election cycle.
Leon and Gadsden counties turned out big time for Graham in that election and four years later her gubernatorial campaign is banking on those Democrats remembering her as the candidate who did things the "North Florida way."

"North Florida voters remember that Gwen returned more than $2.5 million to seniors, veterans and families while serving them in Congress," Woodward said. "We're going to build on that base of good will and share Gwen's plans to restore our public schools and expand health care."
In addition to investing in her old electorate, Team Graham said it will start rolling out ads in the Gainesville area — the city, and Alachua County as a whole, is one of the more reliable pockets of Democratic voters north of the I-4 corridor.
The new media buy comes after the campaign announced in mid-July that it would start running ads in Jacksonville and West Palm Beach. The campaign first started hitting TV in early June with ads in Tampa and Orlando.
After trailing former Miami Beach Mayor Philip Levine for most of the mid-game, recent polls show Graham surging into the lead in the five-way Democratic primary to succeed term-limited Republican Gov. Rick Scott.
A new measure from St. Pete Polls, released Wednesday, showed her 29 percent support among likely Democratic primary voters. That gives her a six-point lead over the No. 2 Democrat, Palm Beach billionaire Jeff Greene, who has seen his own rapid climb since he entered the race at the start of June.
That same poll showed her with even bigger leads in the North Florida media markets she's now targeting — she has 59 percent support among Democrats in the Panama City media market, while a full half of Gainesville area Democrats favor her and 44 percent of Tallahassee voters said they planned to vote for her in the primary.
Graham, Greene and Levine will be joined by fellow Democratic hopefuls Andrew Gillum and Chris King in the fifth and final primary debate tomorrow night, less than three weeks before voters head to the polls for the Aug. 28 primary.
Graham's ad is below.