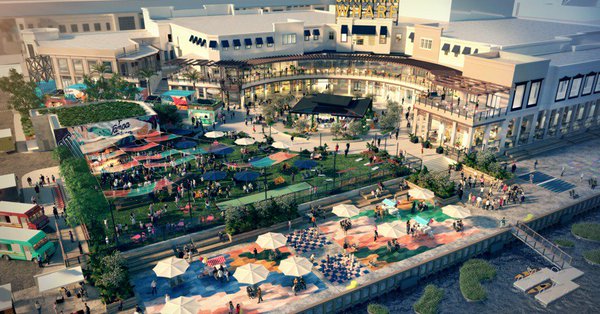 Gallito, a twist on Mexican street food, is the latest addition to Sparkman Wharf, an expansive waterfront retail, dining and recreation center at the center of the billion-dollar Water Street Tampa project.
The modern taqueria concept is the creation of chef Ferrell Alvarez and restaurateur Ty Rodriguez.
Alvarez, a 2017 James Beard Best Chef South nominee, and Rodriguez are best known for the Seminole Heights culinary sensation Rooster & the Till (named the No. 1 restaurant for 2018 by the Tampa Bay Times) as well as the upcoming Nebraska Mini Mart.
Gallito joins Foundation Coffee, a well-known local coffee outlet, and Whatever Pops, a cold treats and popsicle outpost.
Sparkman Wharf is the proposed 180,000 square foot loft-style office space, with another 65,000 square feet of street-level retail and a one-acre park-like location along the Garrison Channel in downtown Tampa.
Part of the ambitious Water Street Tampa development, Wharf is owned and operated by Strategic Property Partners, a partnership between Cascade Investment LLC and Tampa Bay Lightning owner Jeff Vinik.
Located within the Sparkman Wharf dining garden, Gallito will complement other planned food offerings. According to a statement from developers, the Wharf's innovative garden will represent a "celebration of great food and community, with inventive new ideas and menus not found anywhere else in the city."
"We chose to partner with Sparkman Wharf and open Gallito so we could be part of the exciting redevelopment of Channelside," Alvarez said. "Downtown Tampa is experiencing a historic, urban growth period and we think this is the perfect opportunity to plant roots there and contribute to the city's ongoing renaissance."
The dining garden will merge an open lawn for recreation and Fermented Reality — an open-air, waterside biergarten with over 30 taps. Currently under construction by Tampa-based contractor EWI, the dining garden, biergarten, and recreational lawn are set to open October 2018.
Updates on the progress of @SparkmanWharf can be found on Instagram, Facebook and Twitter, with a newsletter available at SparkmanWharf.com.