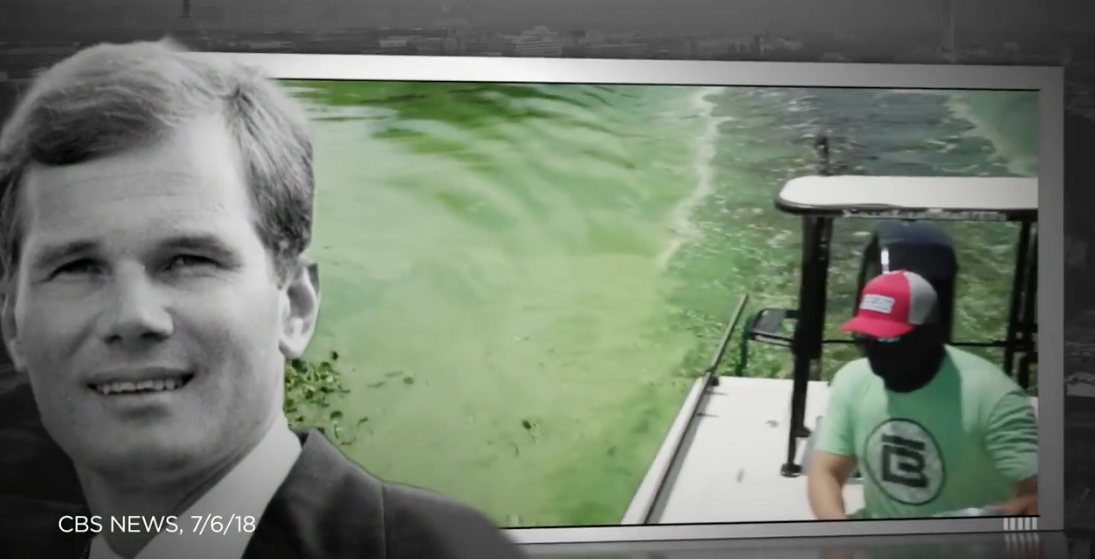 Rick Scott is blaming his Democratic opponent Bill Nelson for the harmful algae blooms devastating Lake Okeechobee and Florida's coasts, according to a new TV and internet commercial from Scott's Senate campaign.
"Experts agree: Washington controls the dike at Lake O, so they have to fix it. And so we wait for Washington," the commercial declares, as CBS News footage of the foul green waters at Lake Okeechobee plays across the screen, followed by pictures of Nelson, the three-term Democratic Senator.
"Washington politician Bill Nelson made a pledge 30 years ago to solve this problem, but Nelson's a talker, not a doer. With Bill Nelson, we get more waiting, more talk, and more algae."
While the footage of fouled waters provides strong disturbing images, the commercial almost soft-sells the impact of the algae bloom compared with what many along Florida's Treasure Coast and Southwest Florida Gulf Coast have described.
The ad raises concerns that the algae are "polluting our waterways, making them an eyesore, reducing our quality of life," while others have labeled it as public health, environmental, and economic disasters.
Scott approval message at the end of the commercial includes the line, "I don't wait for Washington."
The 30-second ad, "More Waiting, More Talk, More Algae," cites a 1990 St. Petersburg Times story including Nelson's pledge.
Nelson's campaign fired back quickly with its own set of newspaper citations, including numerous recent editorials, news stories, and columns from the Gainesville Sun, the Sun Sentinel of South Florida, the Ocala Star-Banner, the Orlando Sentinel and the TC Post all laying the blame at Scott's feet as governor, for waiting for Washington. "Gov. Rick Scott is trying to cleanse a seven-year record of environmental indifference," declared the Sun Sentinel editorial of July 10, citing previous algae catastrophes in 2013 and 2016.
"Experts and scientists agree, Rick Scott's almost eight-year assault on the environment has exacerbated the toxic algae outbreak plaguing much of Florida," Sebastian Kitchen, a spokesperson for the Nelson for Senate campaign, stated in a written response. "And now once again — he's lying about Bill Nelson's record to hide from his own record of hurting Florida's environment. Rick Scott has done a poor job as governor because he's slashed budgets for environmental and water management agencies, cut enforcement of environmental regulations, allowed more toxins in the waterways and stopped efforts to monitor leaking septic tanks, which altogether have helped create the algae crisis we're facing today.
"Rick Scott's failures are risking the health of Floridians and the state's environment."
A news release from Scott's campaign lays out a record it characterizes as indifference or ineffectiveness by Nelson.
In the statement, Scott charges that Nelson did not sponsor a single bill to help the Everglades during his decade-long tenure in the U.S. House, nor has he been able to get any meaningful Everglades restoration bills he sponsored approved during his 18 years in the U.S. Senate.
Meanwhile, the Scott news release declares that Scott "championed" the $100 million in state funding to jump-start repairs to the Herbert Hoover Dike, signed legislation to accelerate the planned reservoir to alleviate Lake Okeechobee flood levels without diverting waters to the Treasure Coast and the Southwest Florida Gulf Coast; got President Donald Trump's commitment to speed up repairs; and secured funding through the Army Corps of Engineers to complete the dike repairs by 2022.