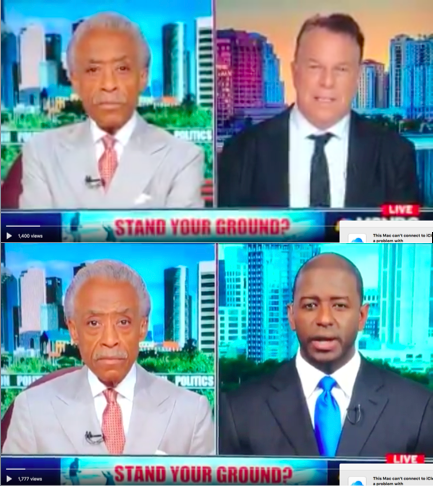 Gubernatorial candidates Andre Gillum and Jeff Greene both called for a full repeal of Florida's Stand Your Ground law during MSNBC interviews with Rev. Al Sharpton.
"The fact that you have an individual who becomes judge, juror and executioner all in there own minds under the protection of the law in the United States is a deep travesty of justice," Gillum told Sharpton.
Both Democratic candidates appeared on Sharpton's "Politics Nation" to discuss the law following the July shooting death of Markeis McGlockton, described on air by Sharpton as a "28-year-old black man shot by a white motorist after an argument at a gas station."
Both Greene and Gillum saw parallels between the shooting and the 2012 death of Trayvon Martin.
"Florida can't be this place where we have this white-on-black crime going on constantly," Greene said. "Why haven't we learned enough after Trayvon Martin?"
Martin's killer George Zimmerman in 2013 was acquitted by a jury of murder charges based on the Stand Your Ground portion of Florida's self-defense statutes.
Pinellas County Sheriff Bob Gualtieri in July announced he would not arrest McGlockton's shooter, Michael Drejka, based on the law, and would leave the decision on charges to the State Attorney's Office.
Sharpton devoted time on the show to discuss the July death of in advance of a rally he's attending today in Clearwater.
Come out Sunday to rally for justice for #MarkeisMcGlockton in Clearwater, FL. McGlockton was fatally shot on 7/19 in a parking lot in FL. His killer is protected by the FL 'stand your ground' law that many of us have been fighting since the killing of #TrayvonMartin 6 years ago. pic.twitter.com/vr44F0KXgR

— Reverend Al Sharpton (@TheRevAl) August 1, 2018
Gillum stressed the law creates an environment in Florida that puts black lives in particular at risk.
"As the father to two black boys, this is extremely personal to me," he said. "I've watched too many of these tragedies take place and unfairly snuff out the lives of the people who we love."
Greene on Sharpton's show called for the law to be taken off the books. "This is legalized murder," he said. "This doesn't need to be changed. This law needs to repeal, and the day I get to Tallahassee, Reverend, I'm going to fight for criminal justice reform and ending this law immediately."
Gillum noted he has long called for the law's repeal and thanked Greene for joining him in that position. He repeated a call for Gov. Rick Scott to issue an executive order suspending the law for emergency review for 60 days.
"So long as there is confusion over this law, people's lives are on the line," Gillum said.
In the McGlockton death, groups like the National Rifle Association allege the Stand Your Ground law has been misapplied.
Greene, though, said the NRA shares responsibility for any application of the law, calling out the organization's lead Florida lobbyist by name during the interview.
"Marion Hammer and the NRA should be ashamed of themselves," he said. "This is one more murder that should be on their hands."