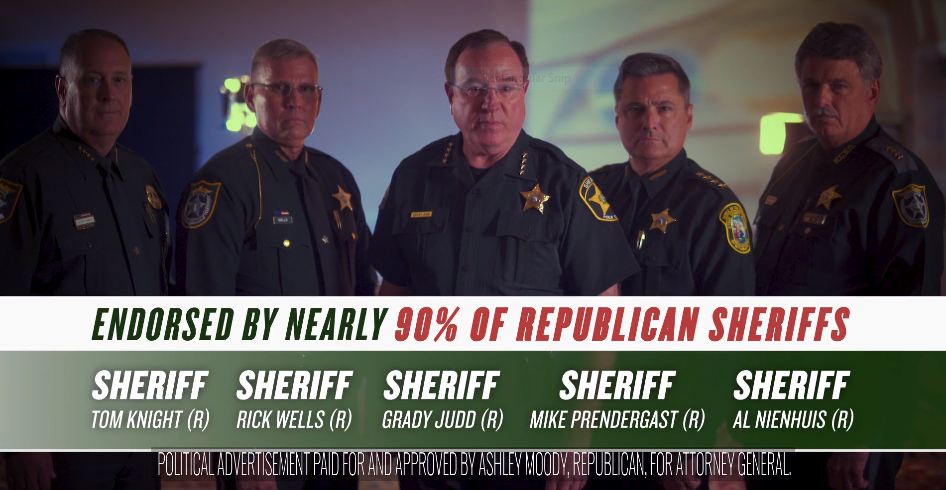 Tuesday has been an active day for those handling the messaging for Republican Attorney General candidates Ashley Moody and Frank White, with each campaign maintaining their opponents are dangerously liberal.
White's campaign touted the most recent StPetePolls survey of the race in a "state of the race" memo, with selected quotes from our write-up.
"White's lead is across the board … He holds at least a high single-digit lead among all age groups — young, middle-aged, boomers and seniors. Regionally, he trounces Moody from Pensacola to the I-4 corridor, with only West Palm Beach and Miami preferring Moody, and only by a slim margin at that.
"The Panhandle lawmaker also holds a massive lead in favorability. Among the 53 percent of Republicans who had an opinion on him, he scored a plus-31. Moody, by comparison, posted a middling plus-4 among a larger share of Republicans who were familiar enough with her to answer."
Additionally, White's campaign touted an ad (see below): "Over the weekend, the campaign also rotated in a new negative TV ad highlighting Ashley Moody's lawsuit against President Donald Trump for 'fraud' and her ties to Hillary Clinton."
The claims and counterclaims go both ways in this race, with Moody's side releasing Tuesday two ads slamming White. The first of them (also seen below). spotlights her backing from sheriffs across the state.
Polk County Sheriff Grady Judd opens and closes the spot, which features quick cutaways of various sheriffs reading parts of the script.
"Defend our Constitution. Lock up criminals. That's the job of our Attorney General," the script begins.
"Politician Frank White … (a) car salesman turned politician … (has) never prosecuted a case," the sheriffs continue.
White, according to the lawmen, is a mere "politician … lying about Moody's record."
Moody, meanwhile, is the "real conservative" in the race.
Appearing in the ad with Judd are the following sheriffs: Franklin County's A.J. Smith; Seminole's Dennis Lemma; Clay's Darryl Daniels; Duval's Mike Williams; Bradford's Gordon Smith; Monroe's Rick Ramsay; and Hardee's Arnold Lanier.
White's campaign noted that taxpayers footed some of the bill for the spot.
"Down and desperate, Moody is attacking Frank White as a 'car salesman' in her new attack ad, but no amount of personal attacks can erase Moody's own record of suing Trump for fraud and her close ties to the Clintons. Now, she is also financing this attack campaign with over a quarter of a million dollars in taxpayer money — even though her personal financial disclosure shows she is worth more than $3 million."
Moody's side offered up another opposition dump and ad Tuesday afternoon, asserting that White's former law firm donated to "liberals, including former President Barack Obama and Democrat House Minority Leader Nancy Pelosi."
"While linking a candidate to the political contributions of its past employer and co-workers could be viewed as tenuous, Frank White's continued attacks on Ashley Moody for a law school internship with the American Bar Association make White's association with the liberal law firm of Akin Gump and its attorneys a far stronger connection and therefore fair game," the campaign asserted.
"Frank White is attacking former judge Ashley Moody for an internship while in law school while trying to hide the fact that his only time at a law firm was at one of the most liberal in the country. Once again, Frank White is playing fast and loose with the truth, and we agree with a majority of Florida Republican State Attorneys that he is 'unfit to serve,'" said Nick Catroppo, campaign manager.