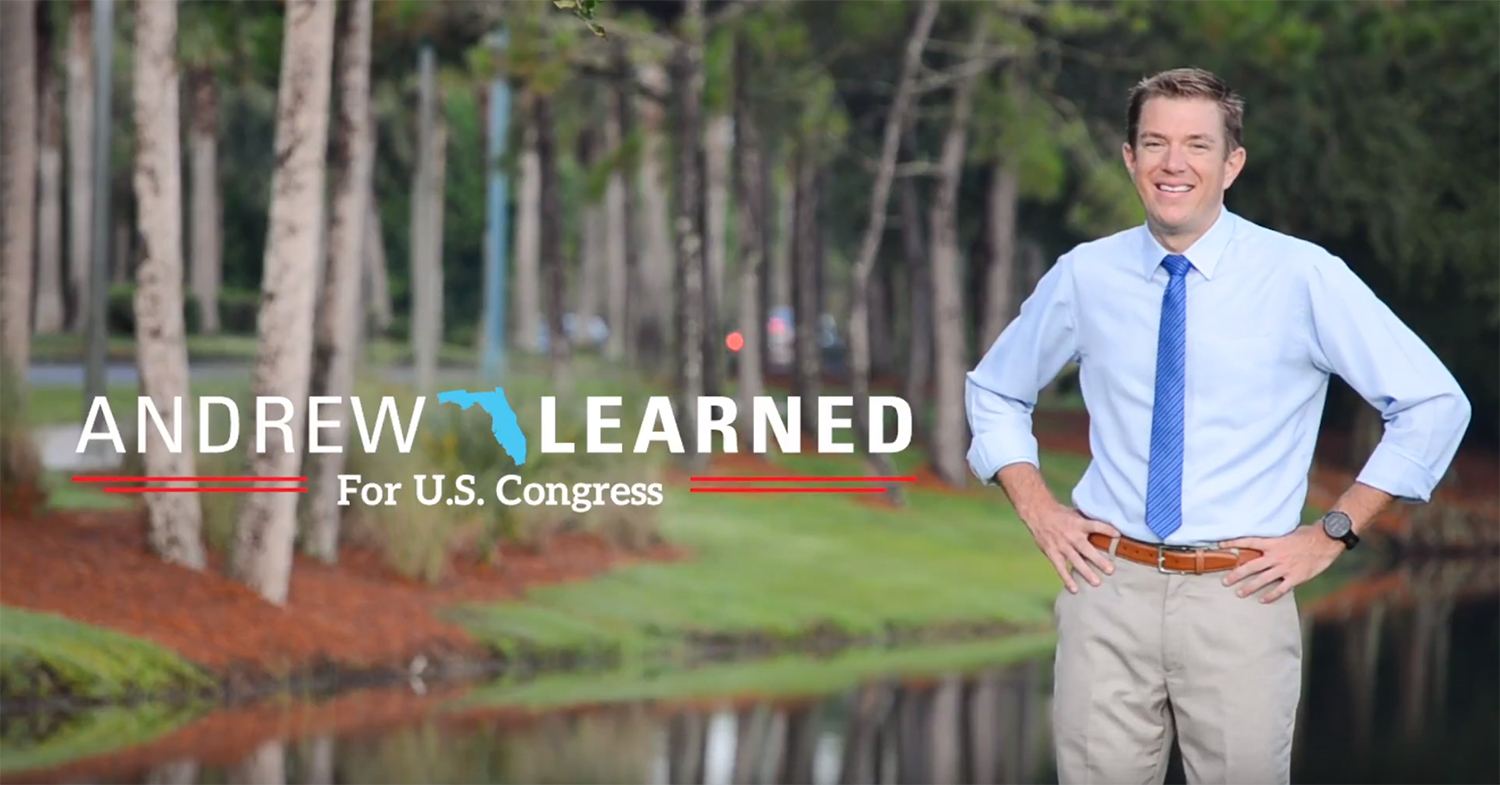 Valrico Democrat Andrew Learned is out with his first TV ad in the crowded race for Florida's 15th Congressional District, saying he'll fight for "Medicare for All" if elected to fill the open seat currently held by retiring U.S. Rep. Dennis Ross.
The 15-second spot, titled "Human Right," features the Navy veteran shaking hands with his would-be constituents and throwing shade at U.S. Senate Majority Leader Mitch McConnell of Kentucky and U.S. House Speaker Paul Ryan of Wisconsin as he vows to support the aforementioned health care solution championed by independent U.S. Senator Bernie Sanders of Vermont.
The short script for the ad: "In Congress I'll fight for 'Medicare for All,' because health care is a human right," Learned says. "We need to protect our health care from Republican attacks. I'm Andrew Learned Democrat for Congress — it's time for a new generation of leadership."
In a press release announcing the new ad, Learned reached across the aisle with a personal anecdote as he said health care was the most important issue of the 2018 cycle and that "Medicare for All" was a solution people of all political persuasions could get behind.
"If anyone tells you this election is about anything other than health care, they haven't been paying attention," he said. "My mom is a lifelong Republican, but she has been a hospice nurse for decades and she supports Medicare for All. In the richest country in the world, no one should die because they can't afford treatment. That's why I am fighting for Medicare for All and a new generation of leadership — one that puts principles over politics and will fight for what is right."
Proponents of "Medicare for All," analogous to single-payer, would bring health care access to all Americans regardless of their income. A recent study from a Koch Brothers-funded conservative think tank found the proposal could save Americans up to $2 trillion over the next decade, however, the study's principal author claimed that was a misrepresentation after Democrats, including gubernatorial candidate Andrew Gillum, seized on that figure.
Learned's ad comes a couple weeks after his chief opponent in the CD 15 Democratic primary, Kristen Carlson of Lakeland, started hitting the airwaves with a 30-second spot touting her role in exposing and stopping out-of-state orange juice manufacturers tampering of Florida products.
Learned and Carlson are running alongside Coast Guard veteran and former police officer Ray Pena to become the CD 15 Democratic nominee. Until recently, the seat was considered safely Republican, but the political handicappers at the Cook Political Report recently shifted their assessment from "Likely Republican" to "Lean Republican."
CD 15 is split between Hillsborough and Polk counties, with about 10 percent of the district's voters living in Lake County. The district voted plus-10 for Donald Trump two years ago.
The winner of the Democratic primary will face one of five Republican candidates seeking their party's nomination for the post. The best known among them are former state Rep. Neil Combee and current state Rep. Ross Spano, who led the primary field by double digits in a recent poll.
Learned's ad is below.