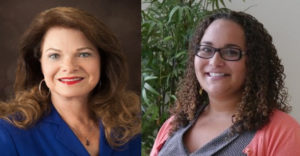 At a time when we can't seem to agree on anything, there is still an issue that unites Democrats and Republicans: protecting dogs. We are proud to join the many community leaders across the state who support Amendment 13, a humane proposal to phase out greyhound racing.
As a state, we have a proud tradition of leading on animal welfare issues. Our first anti-cruelty law was adopted more than a century ago in 1889, but today we are lagging behind the rest of the country when it comes to cruelty inflicted on greyhounds. Commercial dog racing is illegal in 40 states but continues at 11 racetracks across Florida.
At these racetracks, thousands of greyhounds endure lives of confinement, kept in rows of stacked metal cages. They are caged for 20 to 23 hours a day, with only carpet remnants or shredded paper for bedding. When let out of their cages to race, the dogs run the risk of serious injury and death. According to state records, 483 greyhounds have died at Florida tracks since officials began maintaining death data in 2013. These are young dogs that die unnecessarily for a money-losing industry that only exists because of a state mandate that other types of gambling must be coupled with dog racing.
Floridians have already voted with their pocketbooks, and clearly want greyhound racing to end. Gambling on dog races has fallen dramatically in recent years, and racetracks are collectively losing more than $30 million annually on this Depression-era relic. Taxpayers are also getting the short end of the stick. According to a report done for the legislature by Spectrum Gaming, the state is losing as much as $3.3 million annually on dog racing because regulatory costs exceed revenues.
Yet thousands of dogs continue to live in cages in this moribund industry. They die on the track and test positive for serious drugs, including cocaine, all so a handful of greyhound breeders can benefit from a state mandate that puts profits ahead of animal welfare.
This isn't a complicated issue. Dogs are members of our families, and the racing industry treats greyhounds in a way we should never treat our best friends. Tolerating this cruelty not only causes harm to gentle greyhounds, it also reflects on us. We're better than that, and it's time for dog racing to be relegated to the history books.
One ray of hope is the diverse coalition fighting to help greyhounds. Amendment 13 has been endorsed by a vast cross-section of our state's civic life, including animal welfare groups, animal shelters, animal rescue and adoption groups, veterinarians, dog clubs, current and former elected officials, candidates for office, editorial boards and news organizations, civic organizations, local businesses, environmental groups and churches. Every day, new community leaders join this chorus of support.
No other active issue is supported by the Democratic Progressive Caucus of Florida, the Florida Federation of Republican Women, Attorney General Pam Bondi, and Democratic State Rep. Carlos Guillermo Smith.
Let's celebrate this common ground by coming together to vote yes for the dogs on Amendment 13. With our vote, we can help thousands of greyhounds, and once again take the lead on animal welfare.
___

Jean Gonzalez Wingo is first vice president of the Florida Federation of Republican Women. Lisa Murano is secretary of the Democratic Progressive Caucus of Florida.