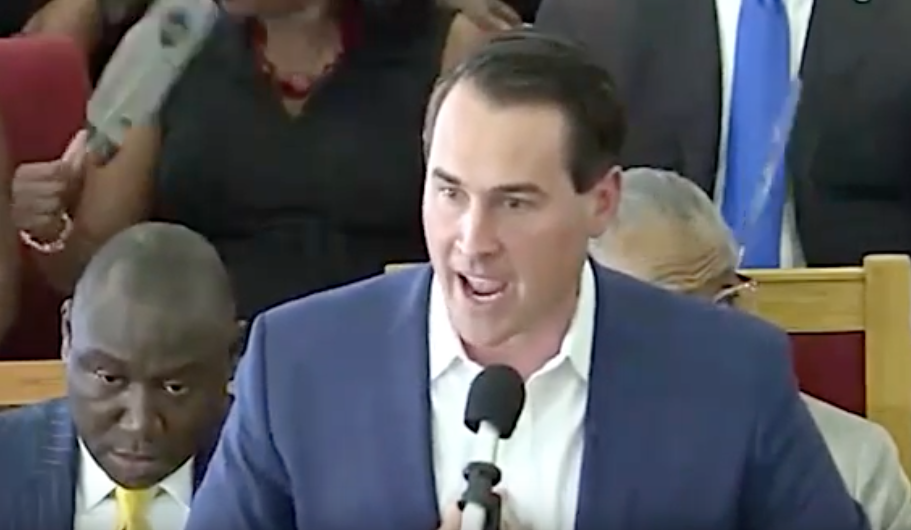 Democratic gubernatorial candidate Chris King's offering the emotional speech he gave in a Clearwater Baptist Church Sunday morning to be a new digital internet ad for his campaign, presenting his call to change Florida's 'Stand Your Ground' law and to change hearts.
The 1-minute, 13-second video  "Change Hearts" presents the conclusion of the talk King gave in remembrance of Markeis McGlockton, the 47-year-old black man who was shot and killed in a confrontation over a parking space in Clearwater, in a case Pinellas County Sheriff Bob Gualtieri decided to not pursue as a crime because the state's "Stand Your Ground" law covered it.
"We have to change a law that is wrong and immoral and indecent," King, himself an Evangelical Christian, says in the talk. "But the second is the harder truth because it's easy to change laws; it's harder to change hearts.
King's remarks were made at the St. John Primitive Baptist Church on Sunday after he met with McGlockton's family.
The ad will be targeted at Democratic voters on Facebook statewide as part of the King campaign's ongoing six-figure paid online media campaign.
All five of the Democrats running for governor in the Aug. 28 Democratic primary, King, Tallahassee Mayor Andrew Gillum, Palm Beach businessman Jeff Greene, former U.S. Rep. Gwen Graham, and former Miami Beach Mayor Philip Levine, have called for repeal of Stand Your Ground, and denounced the Clearwater shooting, and several have made visits to Clearwater.
Gillum, the first to call for the law's suspension or repeal following the shooting, took part in a sit-in Wednesday with faith leaders at the office of Republican Gov. Rick Scott, seeking to demand that he suspend the law.
Republican primary frontrunner U.S. Rep. Ron DeSantis said he does not see the Clearwater case as an appropriate Stand Your Ground case, a position for which he was slammed by his Republican rival Florida Agriculture Adam Putnam,
Scott stands by the law and its use in Clearwater.
King's ad seeks to place him there, before voters. He talked about how different it would be if he  – a white man – and his family members had been there instead of McGlockton and his girlfriend.
"And if someone had come up to my wife and said what they said and I had defended her and I had been shot and killed, this state would be on fire!" King declares.