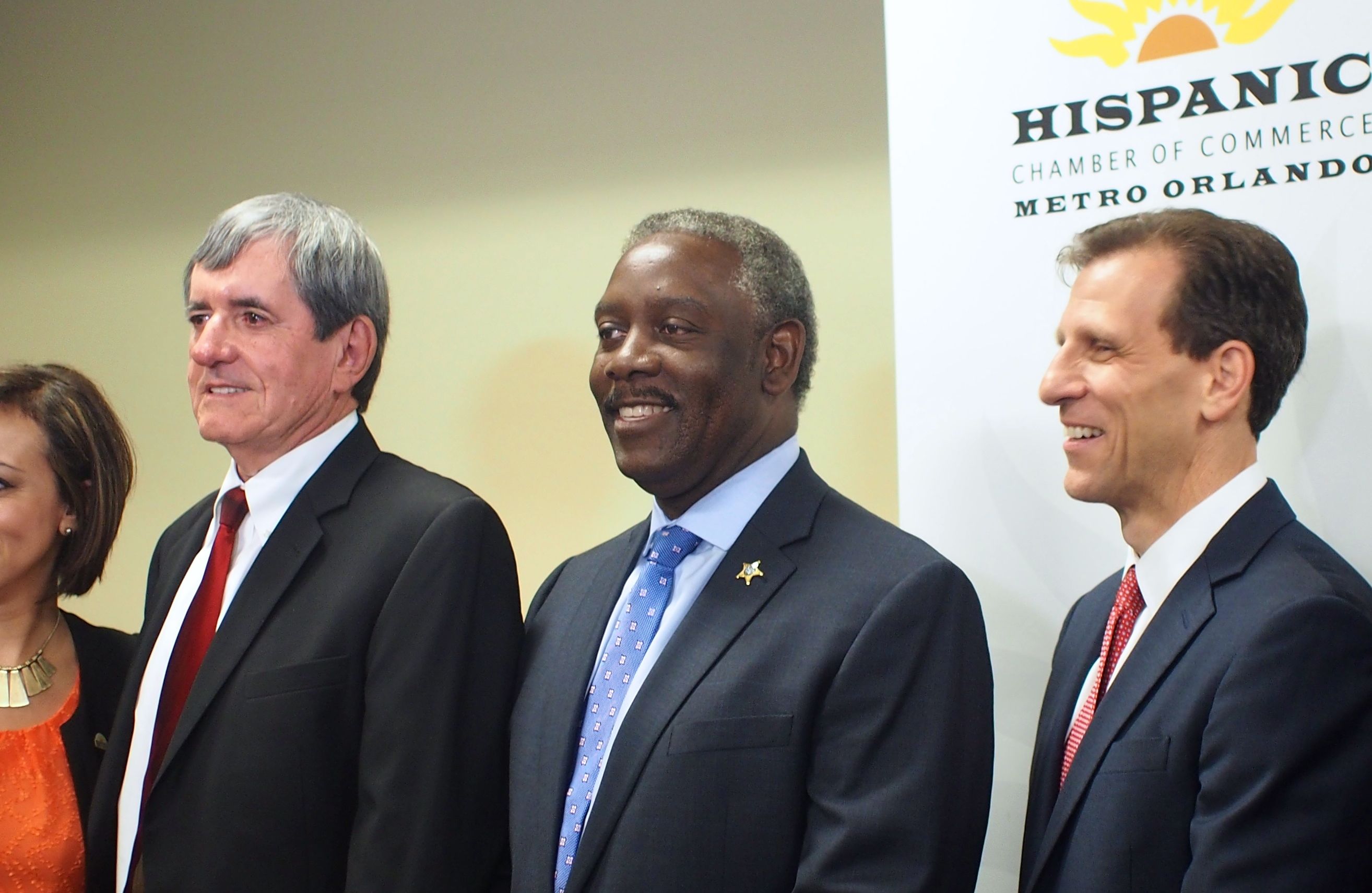 With only a few moments of minor disagreements about how to address broad issues such as affordable housing or transportation, Orange County mayoral candidates Rob Panepinto, Jerry Demings, and Pete Clarke instead clashed Thursday evening over styles: Clarke with heart, Demings with trust, and Panepinto with innovation.
Throughout the mayoral debate hosted by WOFL Fox 35 TV at the Orlando Repertory Theatre Thursday, both Orange County Sheriff Demings and Orange County Commissioner Clarke defended their experience in public service, stressing the need for experience in dealing with people and in responding to crises, while Panepinto, the outsider who started and built businesses in Orange County and led various civic organizations, stressed the need for new ideas to tackle big problems.
The three of them face off in the Aug. 28 election, and if no one gets more than 50 percent of the vote, the top two go on to a Nov. 6 showdown. At times it appeared that Clarke and Panepinto were targeting each other, assuming that Demings, the clear frontrunner by most accounts, would finish first on Aug. 28 and they needed to climb over one another to get that second spot.
Demings, meanwhile, time and again sought to characterize himself as the one, with 37 years experience in law enforcement, that Orange County voters already trusted, and needed in the trusted position of County Mayor.
"I really have the full package in terms of the level of experience. There is no substitute for experience. I want you to understand that. There's no substitute for experience," Demings insisted. "It's easy to lead during times when everything is going well. It takes true leadership when things are going poorly. And you've seen me on a number of occasions lead during crisis."
"The Mayor's job is to run a $4.2 billion operation with 7,500 employees. I have six years as a County Commissioner, I know the budget inside and out. I have 17 years as a senior-level executive I know every nook and cranny of Orange County government," Clarke responded. "When you're talking mosquito control, animal control, the medical examiner's office fire and rescue, the jail, corrections, medical. There is no private entity you can lean to, to say, 'Where did I get this experience to run this?'"
That last comment was directed at Panepinto, who time and again pushed his experience in the private sector and the need to bring fresh ideas to a community on the cusp of world-class greatness.
"I've been pretty involved in government," he insisted. "All of the initiatives that I've been involved in, the chair of the chamber [of commerce,] executive director of the Orlando Partnership, my time on the [Central Florida] Expressway Authority, work at the Central Florida Foundation, some of the nonprofits, all interact with county and state government.
"But I've done it from the outside, so I have seen the impact of government policy on problems that we face and our ability to move them forward," Panepinto continued. "So actually I think I have the perfect experience, because I know enough about how government operates, but also can look at from a broader perspective but also can see what happens to people on the other side of the table, who are out there creating jobs, building businesses, and serving this community on a daily basis."
That led to the biggest tussle of the night, after Panepinto charged that neither Demings nor Clarke have that perspective.
Demings essentially counter-punched by implying that Panepinto was not being truthful.
"Can I have a shot at this one?" Clark asked, seeking his own rebuttal to Panepinto.
"I just got whacked!" Panepinto declared, trying to repond to Demings.
"He deserved it!" Demings retorted.
"I think I need a shot because I got criticized as well!" Clarke interceded.
"Look I am not minimizing anyone's experience… but with all due respect, there is a difference between being an accountant before you were a law enforcement official, and building a business to almost 5,000 people," Panepinto pushed through.
"Do you still have that business today?" Demings demanded.
"No, I sold it," Panepinto replied.
"You sold it because you were trying to get wealthy off of it," Demings declared.
"Oh my goodness!" Panepinto exclaimed.
"Those of us who stayed in the public sector, we're going to work, I'm going to work, I wasn't trying to get wealthy!" Demings got out over a growing chorus of audience groans and boos.
"I don't think I need to respond to that," Panepinto concluded.
If there were a winner to be declared Thursday, it was incumbent and outgoing mayor Teresa Jacobs, who's now running for the countywide school board chair's position. All three, particularly Clarke, to a lesser extent Panepinto, praised many of the ongoing programs at the Orange County Administration Building, the budgeting process over the past several years, and initiatives from her administration, from SunRail expansion plans to partnership programs.
On some hot-button issues, there was little disagreement.
No one wanted to commit to any county-imposed mandates to address minimum wage or other employee issues such as a paid sick leave plan that had been proposed as a citizens' initiative five years ago and then uncerimoneously shot down in what easily was Jacobs' most controversial moment.
There was general agreement to let existing programs to serve the homeless be the basis for future policies that address issues of mental health, substance abuse and other commonly concurrent problems, though Clarke was the only one expressing support for a downtown drop-in center for the homeless.
No one had any problem with pledging full commitments to public safety, especially for the schools. This was the topic, though, at which Demings, who could point to significant drops in crime rates, increases in both staffing and salaries for the sheriff's office, and specific plans for policing, shined.
No one could point to any specific program budgets they would cut.
The closest they came to disagreement on public safety or budgeting was when both Panepinto and Clarke criticized Demings' habit of almost annually returning unused money that had been requested and budgeted for the sheriff's department but never spent. Clarke charged that Demings was "budget banking:" asking for more money than he needed each year, money that could have gone into other county services. But Clarke also said he voted for every increase the sheriff ever requested.
"I think I'm the only public safety expert that's up here," Demings responded. "What these gentlemen have just said is a bunch of gobbledy goop."
There were only a few moments of discussion of new ideas about which the candidates didn't agree.
Panepinto tried, briefly, to talk about his detailed plan, unveiled last week, to address improvements in affordable housing, but had no time to offer any detail, and complained in his closing statement about how that issue really wasn't explored in the debate. He also talked about his intention to streamline building and business permit programs to save the county money and give the private sector swifter government responses.
Demings talked vaguely about his interest in coordinating Central Florida's transportation agencies, but Clarke took it a step further, advocating combining them in some way, to use the Expressway Authority's wealth from toll roads to help pay for train and bus transit expansions and improvements.