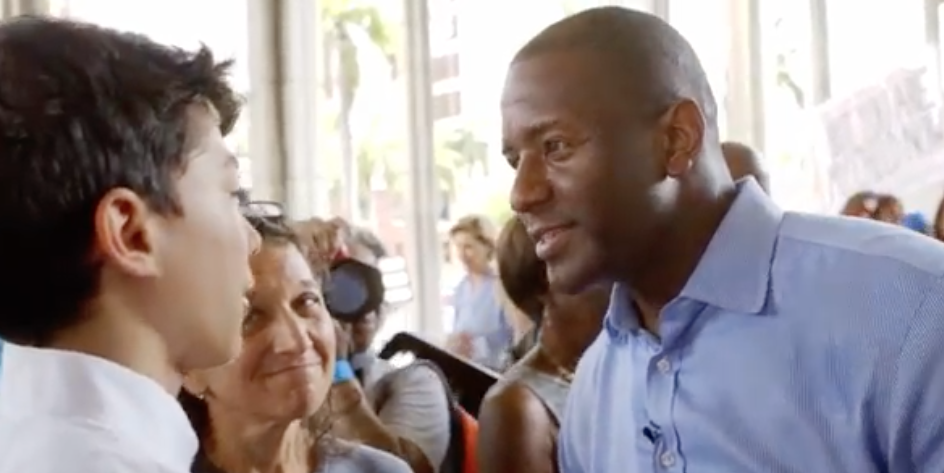 Democratic gubernatorial candidate Andrew Gillum is unloading the entire progressive Democrats' playbook into a new 30-second ad that blows through issues from Medicare for all to seeking impeachment of President Donald Trump, as the Tallahassee Mayor seeks a stretch-run kick toward the primary.
The ad, which is launching on the internet but which the campaign says will likely also wind up on television, is Gillum's firm stake in the ground to his claim to being the most progressive Democrat on the Aug. 28 primary ballot for Governor. It launches Friday with less than three weeks for him to drive that point home in a race in which he's in need of an explosive kick finish to win.
His campaign declared the commercial "Chance" to be "the most progressive ad in Florida history," and the content covers almost every conceivable progressive hot-button position in Florida.
"Mayor Gillum is running the most progressive campaign in Florida history — campaigning on Medicare for all, repealing "Stand Your Ground," banning assault weapons, legalizing marijuana, a $15 minimum wage, and impeaching Donald Trump. He is the only candidate who has the biography, platform, and audacity to excite the Democratic base to finally end more than two decades of Republican control of state government," his campaign Communication Director Geoff Burgan insisted in a news release.
He could use the commercial on TV, as his campaign has managed to afford only one spot so far, and it's largely an introductory message.
Gillum is scrambling from behind for the top tier in a race that has Gwen Graham, Philip Levine, and Jeff Greene well ahead in most polls, and only Chris King trailing him, in the Democrats' field.
In this new commercial, the actual video and voice-over by Gillum are a lot less stark than the commercial's overall effect. With shots of Gillum confidently striding a corridor, sitting lovingly with his family, smiling as he meets people, and speaking at rallies, Gillum offers inspirational, but not inflammatory words:
"My mother said, the only thing in life you should ever ask for is a chance. So I want you to know that if you give me the chance to not only be your nominee but to be the next Governor of the great state of Florida, that I'm going to make you proud every single day of the week. So I want y'all to join me on this mission, alright? And together we are going to take this state back, flip Florida blue in 2018, and flip this country blue in 2020."
But while that's playing out, and his voice rises toward an urgent tone, background music gets more dramatic, and a series of text screens pop in and out with increasing speed until they look like the backs of playing cards in a deck being shuffled, many of the messages being repeated:
BEAT THE NRA. HEALTHCARE FOR ALL. $1 BILLION MORE FOR EDUCATION. BAN ASSAULT WEAPONS. $15 MINIMUM WAGE. RESTORE RIGHTS. ABOLISH ICE. END STAND YOUR GROUND. CLEAN UP OUR WATER. LEGALIZE MARIJUANA. IMPEACH TRUMP.