Elections are upon us. Arguments are bound to spring up, especially in our highly charged 2018 world of politics.
We are presented with a good opportunity to see who has class — and who doesn't.
The worst (in my opinion) are negative ads. It reminds me of an old quote about college football recruiting: You can either sell your school (and the program) or you can slam the opposition, not talking about how good you are, but how awful someone else is.
You see it all over, in fraternity-sorority rushing or in business. I would always rather see someone take the "we are the best" approach, versus the tactic of "someone else is a crook/awful, etc."
Despite what I think some coaches say negative recruiting works. Sounds like old Jimbo might have engaged in the practice.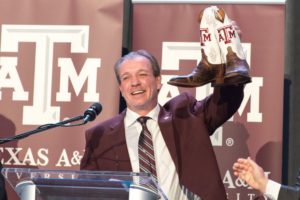 Consider this quote: "Recruiting is recruiting. People say and do things that sometimes they wish they probably didn't do when it's over with. That always happens." — former FSU coach Jimbo Fisher.
So, to that end, I suppose you could make the argument that negative ads are effective.
Why don't we check our good friends in the world of science? What do they think?
Donald Green, a political-science professor at Columbia (via Scientific American) says the results are inconclusive: "People were no less likely to turn out to the polls or to decide against voting for a candidate who was attacked in the ad."
So much for science. Despite no real facts, the battle of the negative ads continued. You can read the full article here.
I can tell you one ad that will make you want to run for the storm shelter. Oh man, I could only watch a couple of seconds before pressing pause and looking for some wine.
This is from 2017. Dan Helmer versus Barbara Comstock for Virginia's 10th Congressional District. Dan is a veteran (and I appreciate his service to our country), but if he could have discussed that only; instead, he produced this Top Gun-based rodeo of awfulness:
For the record, Dan lost. The Helmer Zone requested a flyby, but the pattern was full (as the movie says).
YEE HAH! Great Balls of Fire!
Back to Florida, as all eyes in our nation are looking to see what is happening with our elections.
"What happens in Florida will most likely happen nationwide," says Al Cardenas on NBC's Meet the Press.
Of course, there are the negative ads in our state where the public doesn't know who paid for them. These are all over. If a group does not spend more than 50 percent of its money on political activities, they are not required to disclose their donors, according to POLITICO Florida, which references the group National Liberty Foundation.
And another example of an anonymous group comes from WFTV Orlando …
Dark money groups are on all sides of the political fence, raising unlimited dollars without having to disclose donors, making large contributions to a political committee — with said dark money group often the only donor — to run negative ads. And donors to the group remain unknown.
As the battle gets more heated, we will soon see who continues to throw mud and who does not.
And in the category of "what not to do," just look at Brian in Tampa.
This week, Brian got into a heated Facebook dispute, which led him to shoot the man he was arguing with … in the buttocks.
Please, don't be like Brian.
Personally, I enjoy coaches and politicians who talk about accomplishments over the failures of opponents, but that's just me.
Buckle up; it's happening now, and Florida has a front-row seat for all the action.
___
Blake Dowling is CEO of Aegis Business Technologies. He can be reached at dowlingb@aegisbiztech.com.