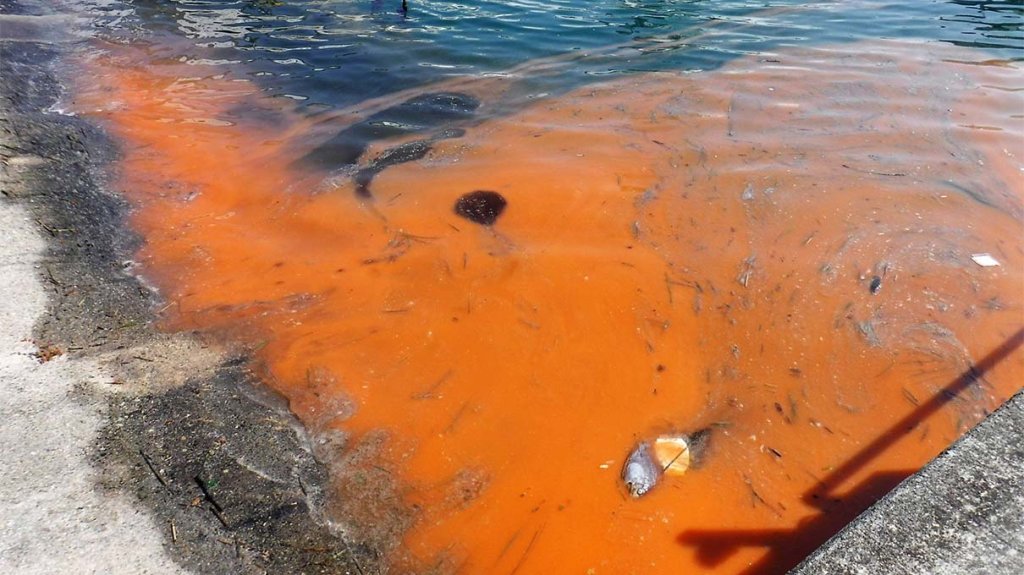 Florida is now in a state of emergency over the impacts of red tide, a colloquialism used to describe the harmful algal blooms plaguing Florida's Gulf Coast.
Gov. Rick Scott issued the executive order declaring the state of emergency on Monday.
"As Southwest Florida and the Tampa Bay area continues to feel the devastating impacts of red tide, we will continue taking an aggressive approach by using all available resources to help our local communities," Scott said in a prepared statement. "Today, I am issuing an emergency declaration to provide significant funding and resources to the communities experiencing red tide so we can combat its terrible impacts."
The order extends to Collier, Lee, Charlotte, Sarasota, Manatee, Hillsborough and Pinellas counties.
Accompanying the emergency declaration is a "significant amount of funding" and "resources," according to Scott's office. Part of the order provides for additional biologists with the Florida Fish and Wildlife Conservation Commission to "assist in clean-up and animal rescue efforts."
As well, Scott is directing more than $100,000 to Mote Marine Laboratory, which on Monday conducted a dolphin-rescue mission.
The state's tourism-marketing agency, VISIT Florida, also is getting $500,000 to administer an emergency grant program to help small businesses in local communities that depend at least in some part on business from visitors.
This year's red tide crisis has attracted national attention.
Lee County, home to Fort Myers and Cape Coral, also will receive $900,000 in grant funding for cleanup projects related to red tide, Scott announced.
"While we fight to learn more about this naturally-occurring phenomenon, we will continue to deploy all state resources and do everything possible to make sure that Gulf Coast residents are safe and area businesses can recover," added Scott.
A series of other changes in agencies are in effect.
FWC, now operating under the emergency declaration, has waived rules — like bag sizes and limits —  "to expedite the removal of dead fish," according to Scott's office.
The Department of Environmental Protection will continue "to perform enhanced water testing, beach cleanup and public outreach, as well as the deployment of additional biologists to assist communities dealing with naturally occurring red tide."
County health departments, according to Scott's office, are actively posting signage warning beachgoers and boaters of red tide-affected areas.