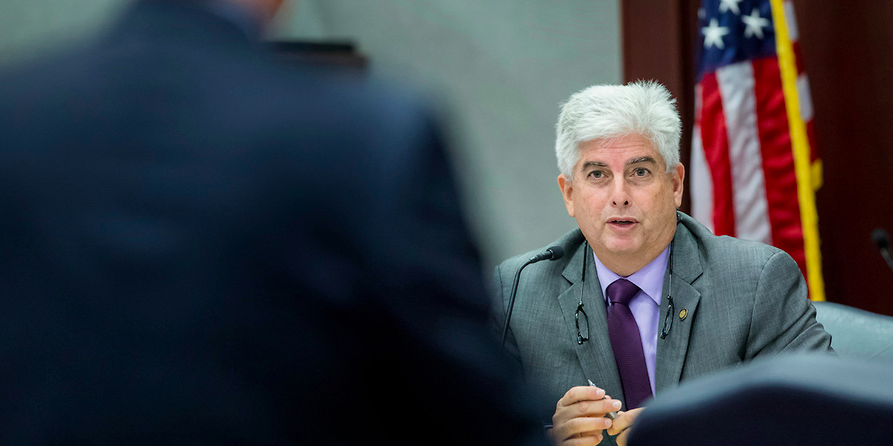 Venice state Rep. Julio Gonzalez has been pushing an online ad backing up his campaign for Florida's 17th Congressional District that features Gov. Rick Scott praising the Republican lawmaker and insinuating Gonzalez is his pick in the primary race to fill the seat being vacated by retiring U.S. Rep. Tom Rooney.
According to an article by Brenden Farrington the Associated Press, the 30-second spot features the term-limited Governor making some effusive remarks about Gonzalez, and ends with an announcer saying Scott "stands with" Gonzalez, and asks voters to "Join Governor Scott in support of pro-Trump, tax-cutting conservative Dr. Julio Gonzalez."
Short of a nod from President Donald Trump, the official backing of Scott would be the biggest coup a Republican congressional candidate could hope for. The problem: It's not true.
Those clips were from a fundraiser benefitting Scott's U.S. Senate campaign, and while Scott is likely appreciative of Gonzalez' support in his quest to oust Democratic U.S. Sen. Bill Nelson, he hasn't weighed in on the Republican primary for CD 17.
If it weren't clear enough by the lack of endorsement-style language, the bottom of that AP article puts to rest any lingering doubts: "Scott's campaign manager, Jackie Schultz, said Scott hasn't endorsed in the race."
Gonzalez' chief rival in the Republican primary for CD 17, Sarasota state Sen. Greg Steube, seized on the misrepresentation in a Tuesday campaign email hammering Gonzalez
"Julio Gonzalez, candidate for Congress, has been falsely touting the support of Governor Rick Scott in an effort to boost his failing campaign," the email read, citing the AP report.
"Last week, Gonzalez sent an email to supporters calling on them to 'Join Governor Rick Scott in supporting Dr. Julio Gonzalez.' His campaign then released a short video with footage from a recent rally for Scott's U.S. Senate campaign. As of August 13, the video is being promoted online by the Gonzalez campaign."
Similar to the recent drama in the race for House District 62, Gonzalez may be violating state elections laws depending on the language and images he used. In the HD 62 case, U.S. Rep. Kathy Castor chastised School Board member Susan Valdes for using her picture in a campaign mailer that insinuated the congresswoman had endorsed Valdes, and went even further by alleging the act was a violation of Chapter 106.143(4) of the Florida Statutes.
Team Steube is doing the same in regards to Gonzalez' ad.
The statute reads as follows: "It is unlawful for any candidate or person on behalf of a candidate to represent that any person or organization supports such candidate, unless the person or organization so represented has given specific approval in writing to the candidate to make such representation."
A violation of that rule can result in civil fees.
"This is the latest attempt to mislead the voters from a campaign that is desperately trying to revive itself," said Alex Blair, Steube's campaign manager. "First, they tried to dismiss Gonzalez's Never Trump past, and now they are trying to mislead voters about Governor Scott's support. I think the voters will see past the deceit and will support Greg Steube's positive, pro-Trump, conservative vision for Congress."
Gonzalez and Steube will be on the Aug. 28 primary ballot alongside little-known Republican Greg Akins. The winner of the GOP nomination will go up against the Democratic nominee — either April Freeman or Bill Pollard — in the Nov. 6 general election, though the Republican candidate will be the odds on favorite come Election Day.
CD 17 is a safe Republican seat that sprawls across parts of Sarasota, Lee and Polk counties as well as the whole of Charlotte, DeSoto, Glades, Hardee, Highlands and Okeechobee counties. Rooney has held the seat since it was redrawn ahead of the 2012 elections.
In 2016, Rooney won re-election over his Democratic challenger with 62 percent of the vote and Trump earned the same share of the vote at the top of the ticket.