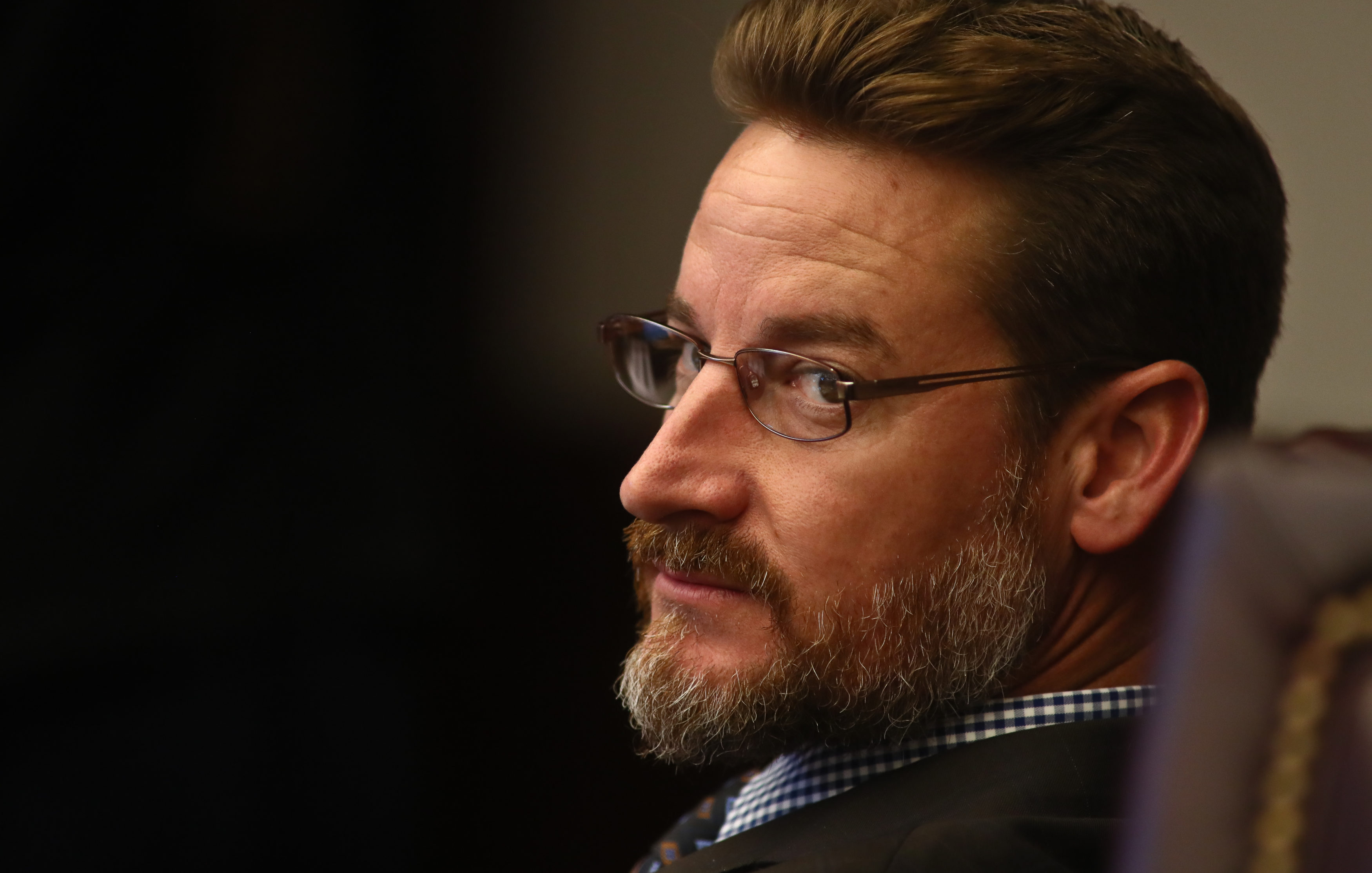 Sarasota state Sen. Greg Steube filed another six-figure fundraising report ahead of the primary election for Florida's 17th Congressional District, bringing his to-date fundraising total past the $500,000 mark.
From the start of last month through Aug. 8, Steube's campaign account received $126,636 in contributions, including $104,136 from individual donors and another $22,500 from political committees. Notable among those contributions were a pair of $2,000 checks from Republican U.S. Rep. Jim Jordan of Ohio, one from his congressional campaign committee and another earmarked by him from the House Freedom Fund PAC.
The spending tally for the five-week reporting period came in at $ 306,694. Nearly half of that total — $148,223 — was spent on direct mail campaigns and postage through Political Ink, a Washington-based firm that creates mailers for Republican campaigns and causes.
Another $102,826 was spent on online advertising through Tallahassee-based Strategic Digital Services, with other major expenditures including a $22,000 payment for polling from Public Opinion Strategies, $5,000 for consulting from O'Donnell & Associates, $3,900 for video work, $2,000 for accounting work and a host of other charges covering credit card fees, campaign signage and website support.
Including a $15,000 loan to jumpstart his run, Steube has now raised $527,375 for his campaign and had $131,941 in the bank on Aug. 8. His campaign touted the fundraising numbers in a email sent out to supporters Thursday afternoon.
"I am pleased with not only the funds we have been able to raise, but with the wide-ranging sources of support behind this campaign," said Steube. "The financial backing of the local community as well as the nation's leading conservative organizations show that our conservative vision for Congress is resonating."
The campaign also noted the massive amount of independent expenditures being made in support of his bid, citing the prior announcement of a six-figure ad buy from Club for Growth Action and the Liberty and Leadership Fund, which had raised $627,000 on Steube's behalf through the end of June.
Steube is running against Venice state Rep. Julio Gonzalez and lesser-known candidate Greg Akins in the Republican primary for CD 17, which is open this cycle due to the retirement of Republican U.S. Rep. Tom Rooney.
Gonzalez, for his part, brought in just shy of $45,000 in outside money during the five-week stretch while shelling out $278,145, including a repayment for $30,000 of the loans Gonzalez used to juice his campaign in Q1.
Most of Gonzalez' other spending was funneled through San Diego-based ROE Strategic, which took in nearly $150,000 for a wide range of services, including accounting, consulting, direct mail, signage and other advertising. Washington-based FP1 Strategies was paid nearly $30,000 to make a campaign video, while Tallahassee-based Forward Strategies received $15,000 for "contract services."
As of Aug. 8, Gonzalez' overall fundraising total was $366,713, not including $120,000 in outstanding candidate loans, and he had $115,288 in the bank.
Steube has been on the offensive during the past several weeks of the campaign.
In mid-July, the Steube campaign painted Gonzalez as a "Never Trump" Republican by highlighting tweets he made about then-candidate Donald Trump in 2016 — Gonzalez supported U.S. Sen. Marco Rubio in the presidential primary two years ago and has since earned his endorsement for Congress.
Another volley came earlier this week, when Team Steube lambasted Gonzalez over a campaign ad that insinuated he had the endorsement of Gov. Rick Scott, something Scott campaign manager Jackie Schultz plainly stated was not true.
The hits kept coming, too, with the release of a new poll on Wednesday — commissioned by the pro-Steube Club for Growth Action — showing the Sarasota lawmaker with a 39-16 percent lead over Gonzalez in the primary race, with 5 percent going for Akins and 40 percent undecided.
Akins, Gonzalez and Steube will duke it out in the Aug. 28 primary election, with the winner moving on to face the winner of the Democratic primary between April Freeman and Bill Pollard.
CD 17 is a safe Republican seat that sprawls across parts of Sarasota, Lee and Polk counties as well as the whole of Charlotte, DeSoto, Glades, Hardee, Highlands and Okeechobee counties. Rooney has held the seat since it was redrawn ahead of the 2012 elections. In 2016, with Freeman as the Democratic nominee, Rooney won re-election with 62 percent of the vote.