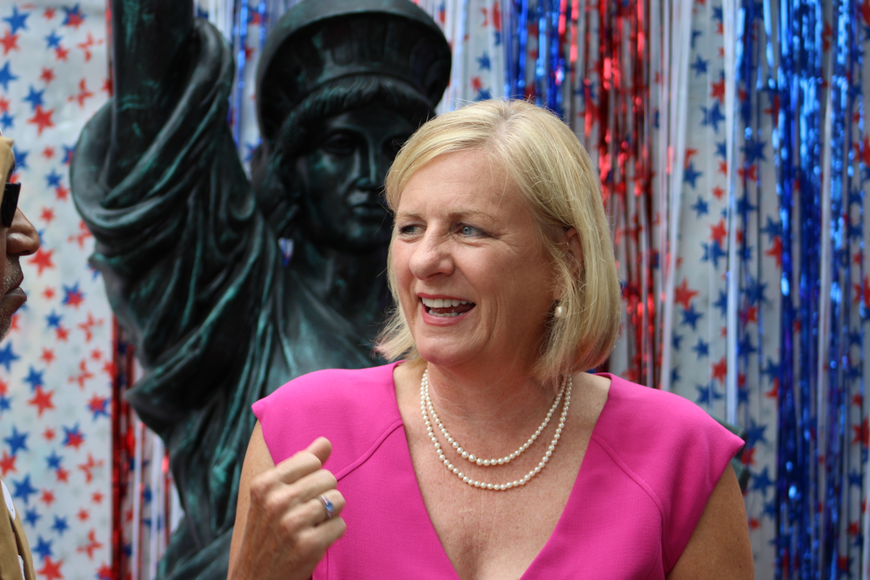 New polling shows former Ambassador Nancy Soderberg pulling away from the rest of the Democratic field in the nomination fight in Florida's 6th Congressional District.
A survey conducted by St. Pete Polls and commissioned for Florida Politics shows Soberberg would win the Democratic primary with almost 50 percent of the vote in a three-candidate field if it were held today.
She boasts a 31-percent lead over closest competitor Stephen Sevigny, an Ormond Beach radiologist supported by about 19 percent of those surveyed. Federal mediator John Upchurch registered at 12 percent in the poll, with 20 percent of voters still undecided.
Of the likely voters surveyed, 28 percent already cast their ballot.
Among those who already voted in the race, the news appears even better for Soderberg. Within that set of eager voters, 56 percent went for Soderberg, while more than 25 percent went for Sevigny and less than 9 percent backed Upchurch.
Among those likely voters who haven't yet decided, a larger chunk of them, 23 percent, remain undecided.
Within that group, Soderberg remains the heavy favorite, with 48 percent planning to cast ballots for her compared to 16 percent who support Sevigny and 13 percent in Upchurch's camp.
St. Pete Polls conducted the survey on Aug. 17 through automated phone calls to voters, and tallied answers from 407 likely voters, with resulted weighted. The results had a 4.9-percent margin of error and a 95-percent confidence level.
More than 50 percent of female voters surveyed support Soderberg, the only woman in the race, with less than 18 percent backing Sevigny and more than 12 percent supporting Upchurch.
But Soderberg does almost as well with men, with just under 50 percent of male voters on her side as well. Sevigny wins a full 20 percent of male voters while 11 percent support Upchurch.
Soderberg wins all age demographics, including a whopping 57 percent of voters ages 30 through 49. The race seems most competitive among younger voters ages 18 through 29, where Soderberg still wins 33 percent of the vote but Upchurch boasts support from 27 percent and Sevigny gets just 13 percent.
While the single Asian/Pacific Islander voter included in the survey supported Sevigny, Soderberg performed best among all other racial demographics.