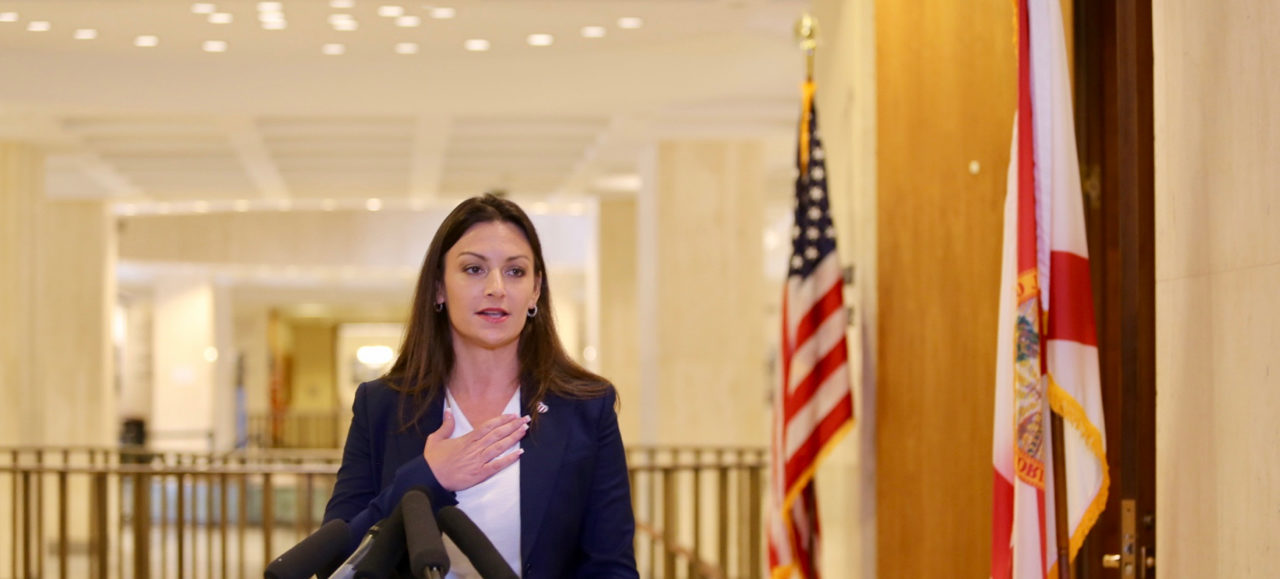 Freshly fired as a Wells Fargo bank customer for taking campaign cash from the medical marijuana industry, Agriculture Commissioner candidate Nikki Fried on Monday envisioned a state-sponsored bank to work with cannabis providers.
During a news conference outside the Capitol office she would occupy if she secures the Democratic nomination and wins in November, Fried supported federal legislation that would ease providers' access to financial services.
"I have also brought up the opportunity for the state of Florida to actually open up its own bank for this industry," Fried told reporters.
She said she would discuss that prospect with whoever gets elected chief financial officer and "see if we can't start moving that policy forward."
The bank's move in no way compromised her standing as a candidate, she said. But she did not rule out legal action.
"It is a private company. They are allowed to make their own policies. However, we are definitely looking into what legal options may be available to us," Fried told reporters. A request for comment is pending with the company.
The bank first raised questions in July about whether Fried was "advocating for expanded patient access to medical marijuana."
A representative asked the campaign, "Can you confirm the types of transactions expected for this customer & if any of the transactions will include funds received from lobbyists from the medical marijuana industry in any capacity?"
On Aug. 3, Wells Fargo notified the campaign it would need to close all accounts.
Fried is a Fort Lauderdale lawyer and lobbyist who has represented industry players and has made access to medical marijuana a central campaign plank.
At first, "I thought this was a joke," she said of the bank's action.
Fried complained that she was "kicked out of the bank for voicing support" for a provision "that is literally in the Florida Constitution." Meanwhile, marijuana providers across the country have trouble opening bank accounts because of "outdated federal laws," she said.
"This is much bigger than my campaign. I'm happy to tell Wells Fargo, 'Good riddance.' And finding a bank to take my campaign contributions without making a value judgment on my platform was not difficult. But when this happens to medical marijuana business, as it does every day all over the country, it has a much more devastating impact," Fried said.
"Small business owners — families, veterans, hard working Americans — every day live in perpetual financial instability. Will I be able to pay my mortgage? Will I be able to pay for day care? Can I keep my lights on at home? What if I get kicked out of another bank tomorrow? Will I be held up at gunpoint, or worse, when I'm on my way to work because I'm forced to run an all-cash business?"
Fried said she has moved her campaign account to BBT, the Branch Banking and Trust Co. She also moved the account for Florida Consumers First, her PAC.
"I would like to urge Floridians, Americans, to re-evaluate their relationship with a financial institution that would refuse a checking account to a candidate for office abiding by every federal and state campaign law," she said.
"We need to re-evaluate our approach to medical marijuana on the public policy level, and to re-evaluate the laws that are on the books — and the politicians who obstruct them, and ignore the life-changing impacts of medical marijuana by keeping these laws in place."
She stressed that she is not directly involved in the medical marijuana industry.
"I am a candidate. I have the right to be heard," Fried said. "I am not touching the plants; I am not selling the plants; I am not producing the plants. I'm simply advocating for the expansion of medical marijuana, and that was the reason for closing me down."
Fried was asked why no bank has gone after other medical marijuana advocates but singled her out for taking money not even from the industry directly, but from its lobbyists.
"I am the first candidate, to my knowledge, across the country that is coming from the industry. So I think that my campaign, in particular, was targeted," she said. "The rest of the state knows I have a real shot at winning in November," and that this was an opportunity "to slow me down or stop my voice."
"It is too coincidental that it's my campaign on these issues, that I do believe that somebody along the way — and I don't know who — but that somebody tipped them off to this."
She advised other candidate across the county who hold similar views and bank with Wells Fargo to "rethink their banking relationship and pull their account."
To that end, Seattle-based GRN Funds has come to Florida to offer banking services to the state's medical marijuana providers. It already handles about $500 million in deposits for clients in the cannabis industry on the West Coast.
Moreover, Florida's agriculture commissioner oversees a number of aspects of the industry, including regulation of pesticides and food safety, Fried said: "Once we start getting edibles out, they would oversee all of the food safety aspects."
The bank's move might turn out to be a blessing, she said.
"If it gets my message out there for expansion of medical marijuana, that's the whole point of this — is to make sure the will of the people is heard," Fried said. "If this is how this has to be done, then this is how it has to be done."