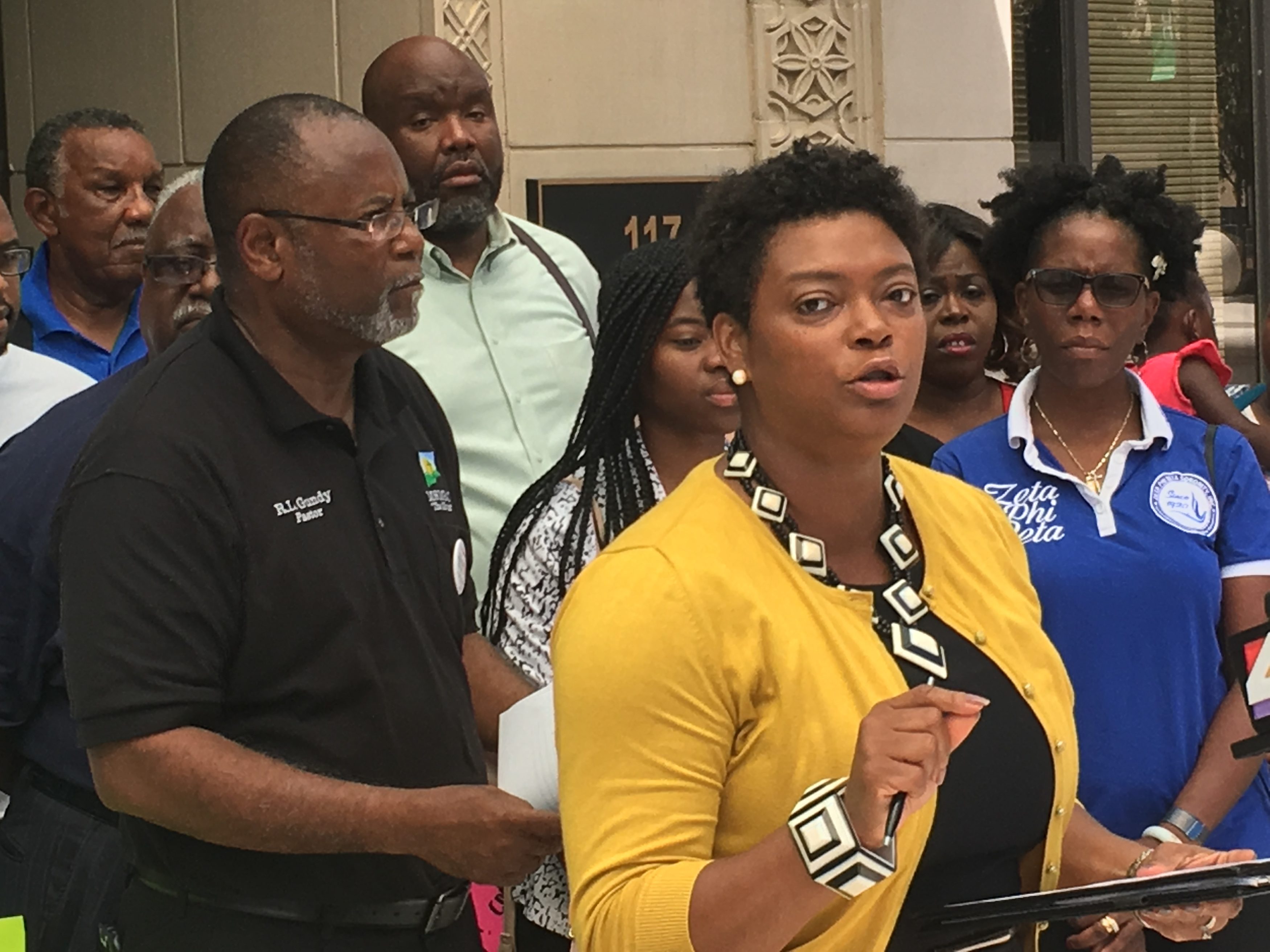 On Monday, a group of Jacksonville Democrats made their push to expand early voting sites to local colleges and universities.
The goal: to get early voting sites at the University of North Florida and, perhaps, other colleges.
However, logistical roadblocks remain.
At a press conference on the steps of City Hall, a number of politicians and activists addressed the matter ahead of a meeting between city councilors, the supervisor of elections, and several dozen community activists.
State Sen. Audrey Gibson noted that there has been a "steady chipping away at early voting," part of a larger pattern of disenfranchisement.
While Duval County does enjoy two weeks of early voting, the hours (10 a.m. to 6 p.m.) overlap with work, and "college campuses provide additional opportunities" for voting.
State Rep. Tracie Davis, who ran for supervisor of elections in 2015, noted that 830,000 students are enrolled in college, and in 2016 43 percent of them early voted.
Supervisor of Elections Mike Hogan, said Davis, needs to "do his job … follow the law."
Hogan had told local media that "criteria of selection of an early voting site involves more than just that it is available. Public access, adequate parking for our staff and voters, facility security, ADA compliance, proximity to other early voting sites and of course do we have the money budgeted for an additional location."
After the presser, a meeting between Jacksonville City Councilors, SOE Hogan, a representative from the University of North Florida, and many of the presser participants ensued.
Councilman Garrett Dennis, a former Duval SOE worker, said that for early voting to expand, there has to be a "will and a way" to do so.
"Whether one person at UNF votes or 100," it should be done.
SOE Hogan noted that the court decision allows SOE "discretion" in opening sites on campuses.
In Orlando, where University of Central Florida had early voting, there was low participation, Hogan said.
Hogan noted that he and University of North Florida have been working to find a way forward on an early voting site, but the logistics mentioned have proven to be prohibitive.
Chris Warren of UNF noted that two buildings on Kernan could potentially "host a site if things line up."
Edward Waters and Jacksonville University are also under consideration, but "time is very limited" given the scope of the election.
"The Russians are in our database," Hogan added. "All we know is what the Senators have told us and they can't give us real information."
The primary election, Hogan added, won't be over until Sept. 10 or 11, when results are certified. On Oct. 7, the final list of early voting sites has to be submitted to the Secretary of State office.
Vote-by-mail and shuttling, said Hogan, are two potential options under consideration.
"We're going to try to get two new sites," Hogan said, noting that funding from the Jacksonville City Council, procuring equipment, and other logistics prove to be challenges.
"We'll work toward it," Hogan said, "if we have the cooperation of the universities."
Getting equipment from suppliers, getting money from the Jacksonville City Council, and other logistics will be a challenge, Hogan related, describing it as "logistically impossible" with slim margin for error.
Some meeting attendees were skeptical of Hogan's commitment, and expressed those concerns in blunt language.