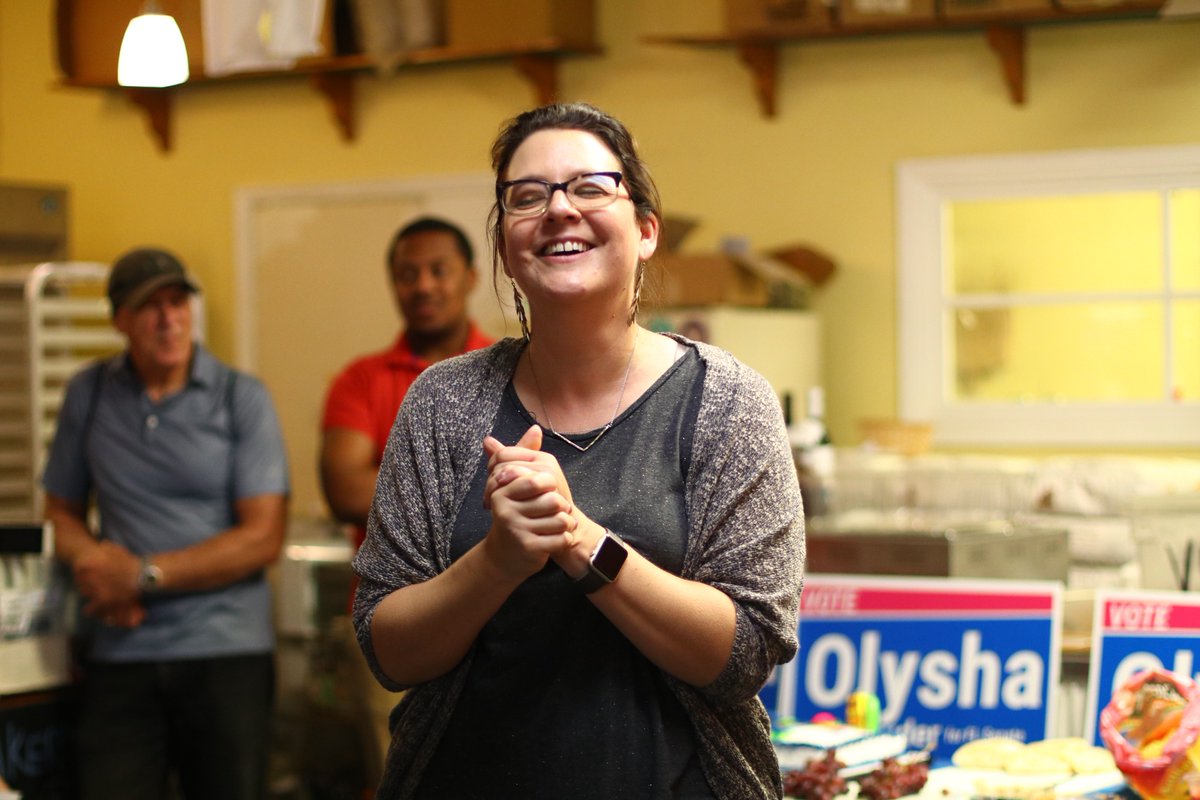 An Ocala non-profit organization has made up to $100,000 in illegal expenditures advocating for Olysha Magruder in the Democratic primary for Senate District 8, but the candidate has brushed off concerns about the spending by saying it's "traditional campaign activity" and accusing supporters of her opponent of "slandering" her character.
The Liberation Ocala African American Council has spent $25,000 on TV ad buys advocating for Magruder in the closing days of the primary contest between her and fellow Democrat Kayser Enneking and has sent out at least five rounds of direct mail ads to district voters. The head of that corporation, Whitfield Jenkins, would not comment on the cost of the SD 8 mailers but said that its past mail campaigns have cost "around $13,000 each."
In total, that spending would amount to three or four times the amount of money spent by Magruder since she entered the SD 8 race more than a year ago.
The problem? Liberation Ocala African American Council is not registered as a political committee or an electioneering communications organization, and the Florida Division of Elections has said the spending is in violation of elections law.
Jenkins made several claims of questionable legitimacy in an interview with Florida Politics regarding the ad spending.
The former Marion County NAACP chair offered no response to the elections complaint filed against his non-profit, claiming that he had filed the necessary paperwork to create a political committee on Aug. 7. There is no record of that paperwork at the Florida Division of Elections, and the disclosure section of every ad released by the group thus far has attributed the ads to the corporation, not a political committee.
Sarah Revell, communications director for the Florida Department of State, confirmed to Florida Politics on Monday afternoon that no paperwork had been filed for the committee.
Jenkins also said that his organization was supporting Magruder due to Enneking not showing up at a July 11 candidate forum, though Enneking and Magruder were both present at an event held that day. He also claimed that his organization was supporting Magruder at the request of "30 persons" associated with "Florida black legislators," though he refused to list which lawmakers were among them.
Florida Politics reached out to the Florida Conference of Black State Legislators, but did not receive a response.
A statement from Orlando Democratic Rep. Bruce Antone's district secretary, Carolyn Austin, sent to Florida Politics refutes Jenkins' claims. She said Antone "is unaware of any Florida Black Legislator that is working with or has requested the assistance of the Ocala African American organization."
Antone, who has represented House District 46 since 2012, is one of 27 black members of the Florida Legislature and is affiliated with Florida Conference of Black State Legislators.
When Jenkins was asked what his connection was to Washington DC consultant Jamie Andrus, he said: "I don't have to answer." When pressed, Jenkins said he can't recall ever meeting Andrus, though according to FCC filings for the TV ads, she signed for the media buys on his behalf on Aug. 14.
Andrus is also involved with the political committee Moms Speak Out, which is one of many groups behind ads slamming Fort Lauderdale Democratic Sen. Gary Farmer in the Senate District 34 Democratic primary. Other negative ad spending in the SD 34 primary has been traced back to the Republican-leaning Florida Chamber of Commerce by Sun Sentinel reporter Dan Sweeney.
Magruder's campaign was just as dodgy about the ad spending. A campaign representative walked a fine line of accepting the message promoted in the ads while not expressly endorsing the spending itself. Magruder did the same in a campaign press release posted to Facebook on Sunday.
When asked if Magruder approved of the spending, a representative said, "We shouldn't have to denounce the truthful information in the ads." When asked if Magruder, in general, approved of groups that do not disclose their donors paying political ads, the representative gave the same response, word-for-word.
Some of the claims in the ads, however, are not truthful. At least not fully.
One claim made in a mailer: "The Democratic Party establishment has already spent over $107,000 on Kayser Enneking, paying for her staff and campaign headquarters. When the establishment rigs our primaries, the people lose."
It is true that the Florida Democratic Legislative Campaign Committee, chaired by Jacksonville Sen. Audrey Gibson, has given substantial "in-kind" support to Enneking's campaign. Left out of the allegation, however, is that Enneking's affiliated political committee, Florida Knows Excellence, has itself given substantially to the FDLCC.
When presented with that information, Magruder's campaign responded: "We shouldn't have to denounce the truthful information in the ads."
Enneking's campaign, via elections attorney Mark Herron, has sent cease and desist letters to the TV stations airing the ads, citing "their duty to protect the public from false, misleading or deceptive advertising."
"The advertisement is deceptive because its sponsor – Liberation Ocala African America Council, Inc. – is deceiving the public of the source of its funds and who is actually underwriting its activities. Because the advertisement is flying under 'false colors,' you can and you should pull it from the airwaves," the letter states.
The primary election is Aug. 28.