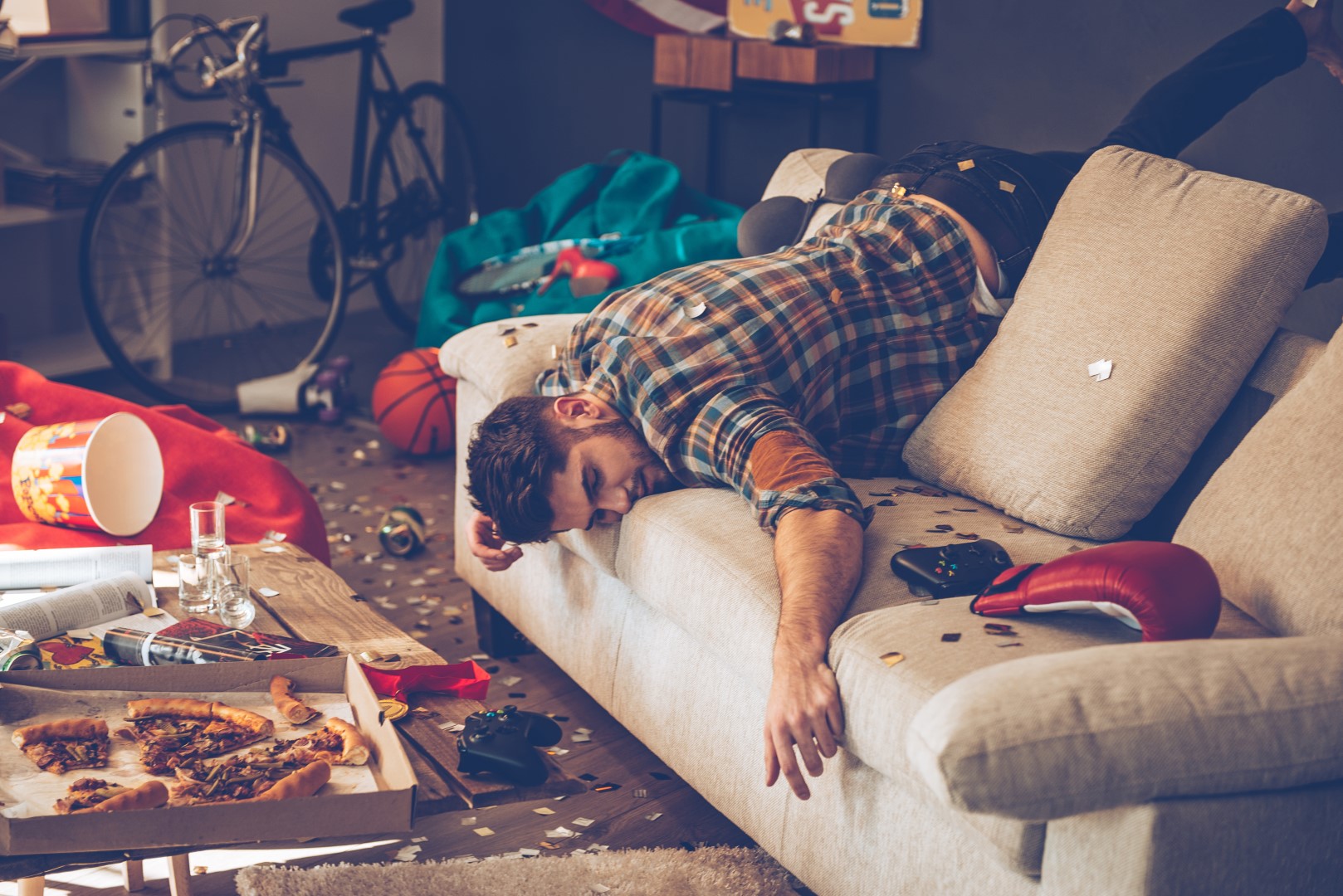 On Tuesday, Election Night parties will be held all over Florida.
For some, it's a chance to pop some champagne corks, celebrate and gear up for the general election. For others, it will be a somewhat more somber affair, the last hurrah of a long, hard-fought primary campaign.
Want to party like a politician? Here's a rundown of where many candidates will be as the polls close.
Governor
Republican Adam Putnam will celebrate election night at the Terrace Hotel, 329 East Main Street, Lakeland. Media Set Up: 6 p.m.; doors open: 6:30 p.m. Media must RSVP by August 28 at noon to [email protected]. Visit AdamPutnam.com for more information.
Republican Ron DeSantis holds his election night celebration beginning 6 p.m. at the Rosen Shingle Creek 9939 Universal Boulevard, Orlando. To register, visit the Eventbrite page.
Democrat Gwen Graham and Team Graham will host their election night party starting 8 p.m., The Social, 54 N Orange Ave. in Orlando. Those able to attend can RSVP to Casey at [email protected] Please include: "Election Night" in the subject line.
Democrat Philip Levine will hold an election night watch party at his campaign headquarters, 7:30 p.m., 2215 NW 1st Place, Miami. There will be parking accommodations and a workspace for members of the media. Media can RSVP to [email protected]
Democrat Andrew Gillum is hosting his watch party at the Hotel Duval, 415 N. Monroe Street, Tallahassee. Risers, multi-box, and filing station will all be available on a first come, first served basis to RSVP'd media. Media load in begins at 5:30 p.m.
Democrat Chris King and his campaign will join supporters for an election night party at the Alfond Inn, 300 E New England Ave, in Winter Park. Doors open at 6:30 p.m., registered media will have access at 5 p.m.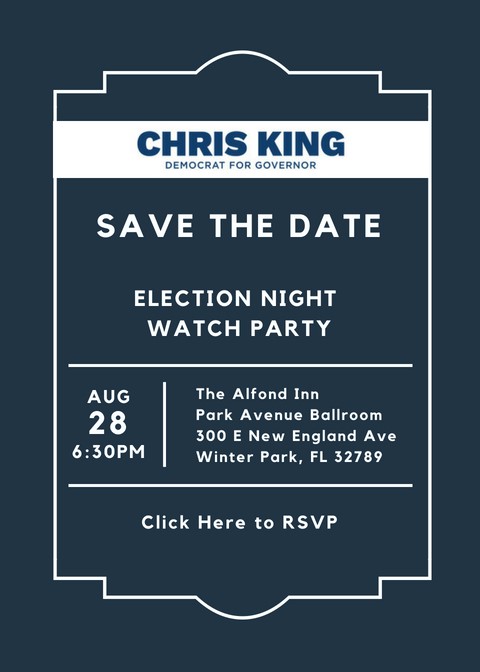 Democrat Jeff Greene hosts his party beginning 7:30 p.m. at Tideline Ocean Resort — Malcom Ballroom (Upstairs), 2842 S Ocean Blvd, Palm Beach. Malt box, media riser will be available for broadcast journalists — all inquiries on logistics for media — please contact Kraig Pomrenke at (870) 351-1165. Parking available for media trucks; RSVP at [email protected]. will be watching returns from his home, with family.
Attorney General
Republican Attorney General candidate Ashley Moody will hold her election night festivities at the Floridan Palace Hotel Grand Ballroom Florida, 905 N. Florida Ave. in Tampa. Doors open at 6 p.m. Registered media will have access at 4 p.m. and must be set up by 5:30 p.m.
Democratic candidate Ryan Torrens will host the "People's Lawyer Primary election night Watch Party" at Sociedad La Union Marti Maceo Club, Ybor City's historic Afro-Cuban club. That's at 6 p.m. 1226 E 7th Ave., Tampa.
Agriculture Commissioner
Democrat Nikki Fried will be at The Waverly Las Olas, 7 p.m., 110 N. Federal Hwy., #100, Fort Lauderdale. For more info or RSVP, call (954) 734-3799.
Republican state Sen. Denise Grimsley holds her watch party event at the Best Western Heritage Inn & Suites, 2727 US Highway 17 N, Bowling Green. Doors open at 7 p.m.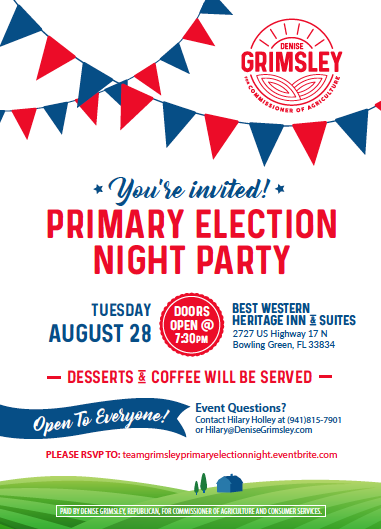 U.S. House
CD 2
Democrat Brandon Peters holds his election night watch party starting 7 p.m. at Midtown Caboose, 1406 N. Meridian Rd., Tallahassee.
Democrat Bob Rackleff will be at Waterworks — which will be serving "Blue Wave" cocktails — beginning 7 p.m., 1133 Thomasville Rd, Tallahassee. Register at the event's Facebook page.
CD 5
Incumbent Democrat Al Lawson's campaign office is holding a watch party at 7:30 p.m., 1680 Dunn Ave., Jacksonville.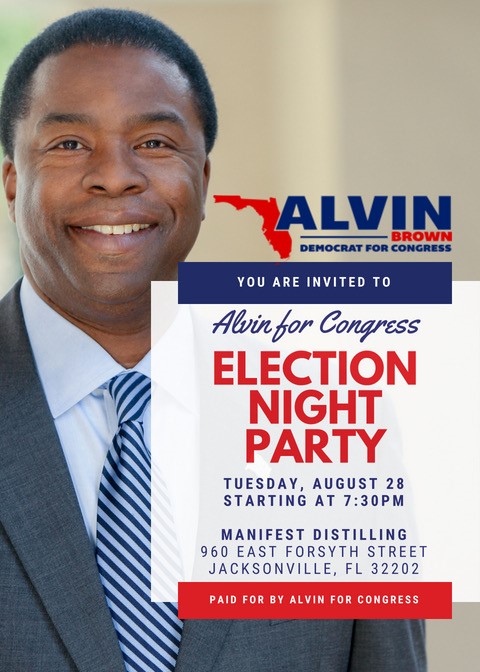 CD 6
Democrat Nancy Soderberg will join supporters and volunteers for an election night event starting 7 p.m., Rock Bottom Brewery, 1864 Victory Circle, Building K, Daytona Beach.
Dr. Stephen Sevigny will hold a gathering for supporters of Sevigny for Congress at Frappes, 123 W. Granada Blvd., Ormond Beach, beginning shortly after polls close at 7 p.m.
CD 9
Incumbent Democrat Darren Soto is hosting his election watch party at 7 p.m., Ramada Gateway Hotel, 7470 Irlo Bronson Memorial Hwy. 192, Kissimmee.
CD 18
Incumbent Republican Brian Mast's event will be in Martin County, 6 p.m., Flagler Place, 201 S.W. Flagler Ave., Stuart.
Democratic challenger Lauren Baer will hold an event at her office, 7 p.m., 1200 Town Center Dr., Suite 119, Juniper. For more info or RSVP, call (203) 747-4777.
CD 19
Democrat David Holden invites supporters and friends to watch returns beginning 6 p.m., Lansdowne Street Pub, 24851 S Tamiami Trail, Bonita Springs.
CD 27
Democratic state Rep. David Richardson will be at the Cubaocho Museum and Performing Arts Center beginning 6 p.m., 1465 SW. 8th St., #106, Miami. To RSVP or for more information, call (305) 853-6616.
Republican Maria Elvira Salazar will watch the GOP Primary Election with family and friends at  8 p.m. in her campaign headquarters, 3701 SW 87th Avenue, Miami. She will give remarks following the results of the election. For more info or RSVP, email [email protected] or call (305) 972-2270.
Florida Senate
SD 16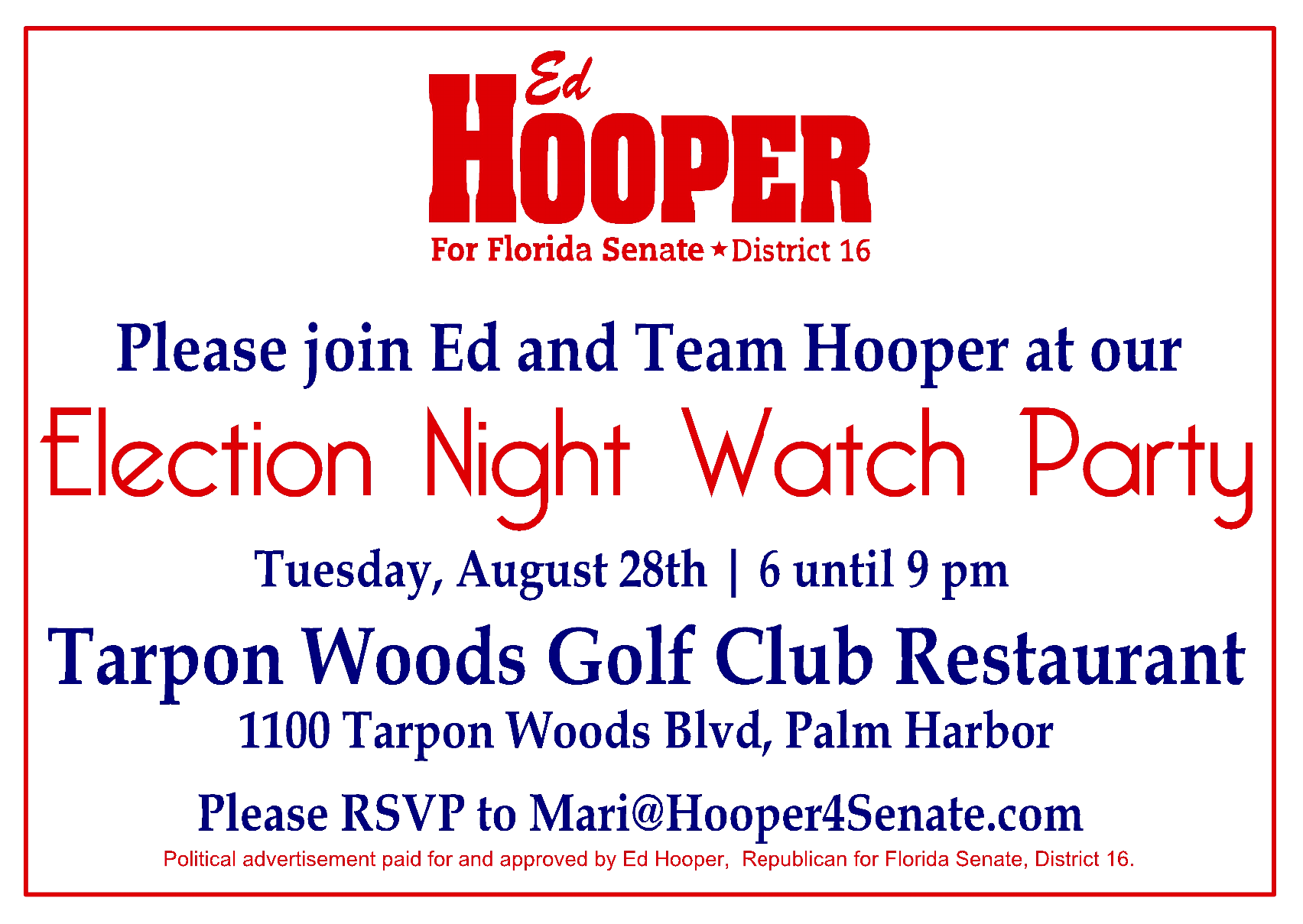 SD 30
Incumbent Democrat Bobby Powell asks supporters to visit (after the vote) beginning 7 p.m., ER Bradley's Saloon, 104 N Clematis St., West Palm Beach. RSVP by emailing [email protected].
SD 34
Incumbent Democrat Gary Farmer will be watching results beginning 7 p.m., O Lounge, 333 East Las Olas Blvd., Ft. Lauderdale. For more info or RSVP, call (954) 646-3903.
Florida House
HD 36
Democrat David Perez will be at the Firefighter Building, 8000 NW. 21st St., Doral. For more info or RSVP, call (786) 255-5791.
HD 64
Incumbent Republican James Grant will be holding a "Primary Election Victory Party" at 6:30 p.m., Catch Twenty Three, 10103 Montague St, Tampa. More info is on Grant's Facebook page.
HD 66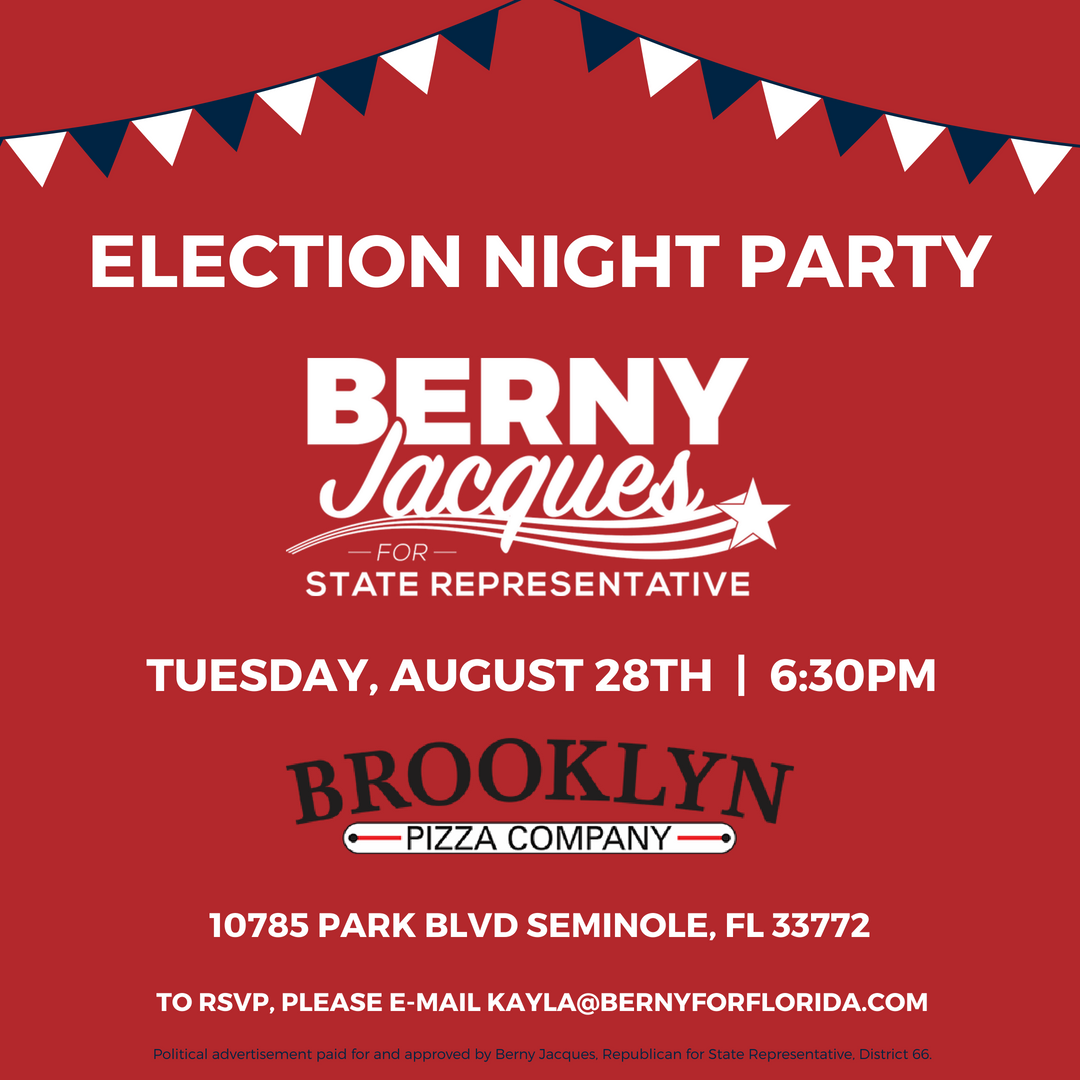 HD 70
Incumbent Democrat Wengay "Newt" Newton will hold his celebration at 6 p.m., 400 Beach Seafood & Tap House, 400 Beach Drive NE, St. Petersburg.
HD 79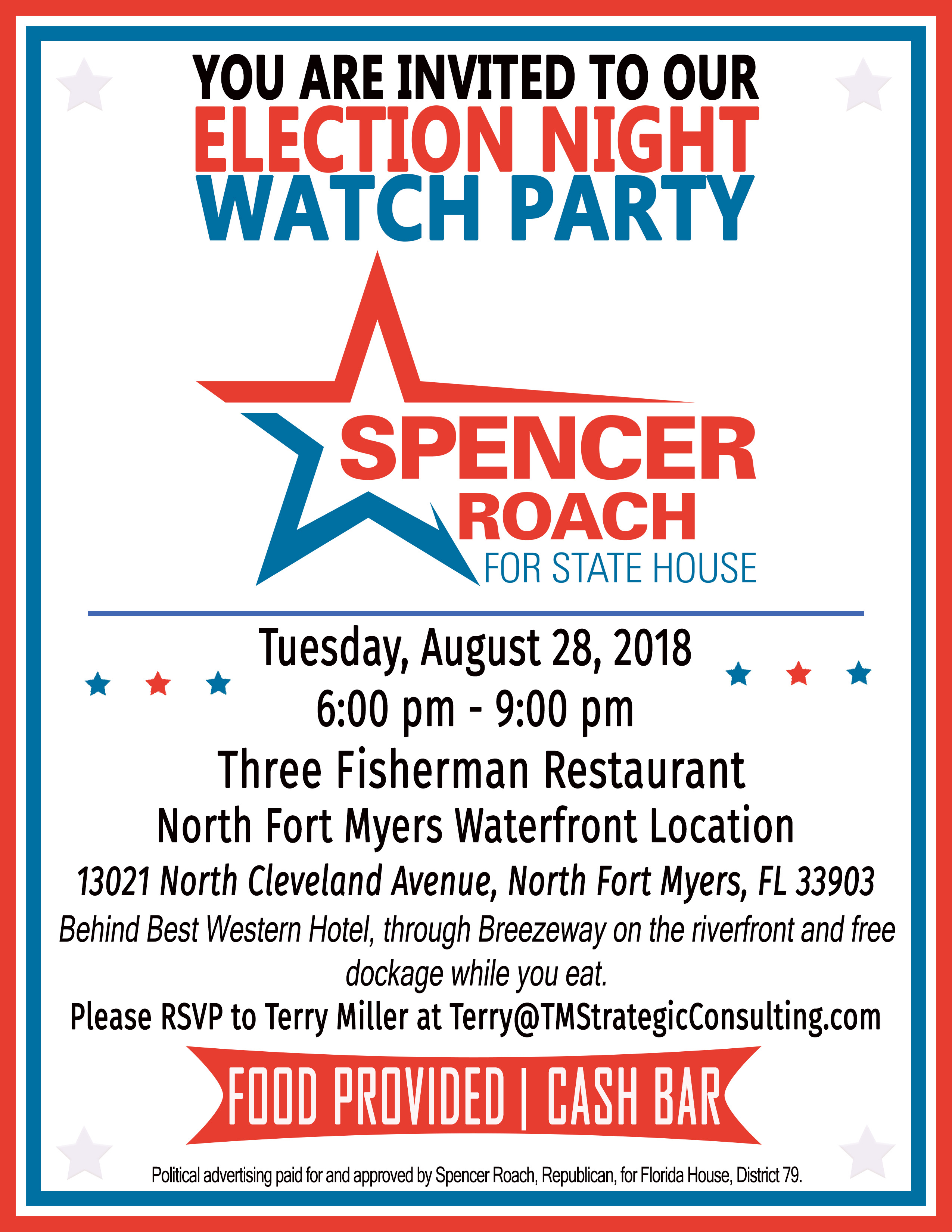 HD 81
Democrat Tina Polsky is holding her election night event beginning 7 p.m., Miller Ale House, 9244 Glades Rd., Boca Raton. For more info or RSVP, call (609) 335-8226.
HD 89
Democrat Jim Bonfiglio will celebrate with supporters at his home, 7 p.m., 5616 N. Ocean Blvd., Ocean Ridge. For more info or RSVP, call (561) 262-1622.
HD 98
Democrat Andrew Dolberg will hold his watch party beginning 7 p.m., Bokampers Plantation, 1280 S. Pine Island Rd., Plantation. For more info or RSVP, call (954) 651-5954.
HD 105
Democrat Javier Estevez is holding his election night party to celebrate with his supporters, 7 p.m., 8502 SW 146 Court, Miami. for more info or RSVP, call (305) 297-6069 or email [email protected]
Broward County Mayor
Broward County Vice Mayor Mark Bogen's watch party begins 7 p.m., Muddy Waters Restaurant, 2237 Hillsboro Blvd., Deerfield Beach. For more info or RSVP, call (702) 210-7545.
Orange County Mayor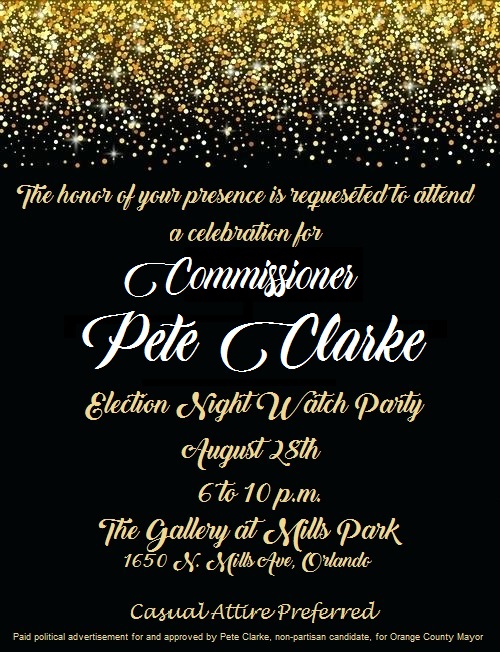 Pinellas County Commission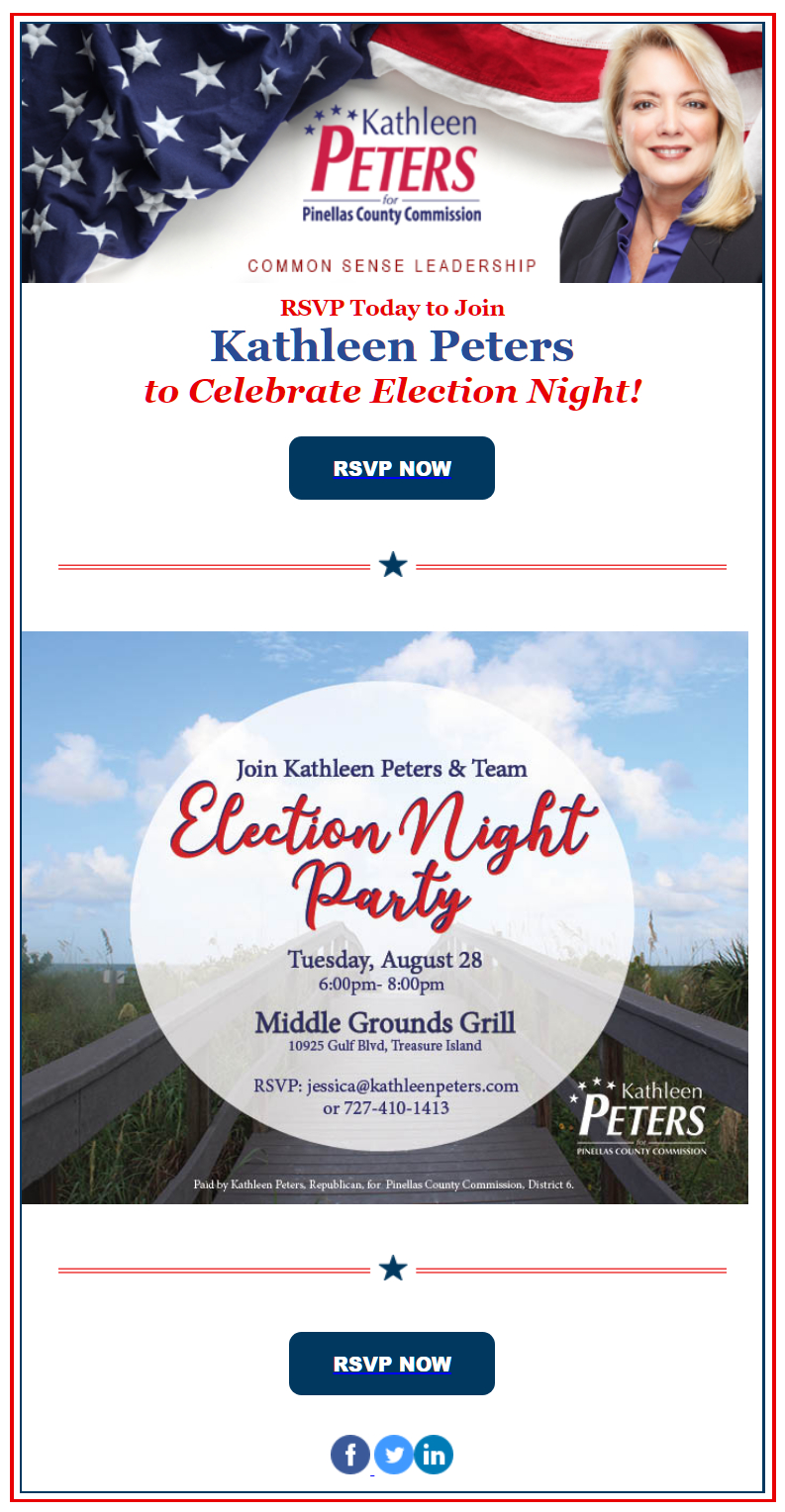 Franklin County Tax Collector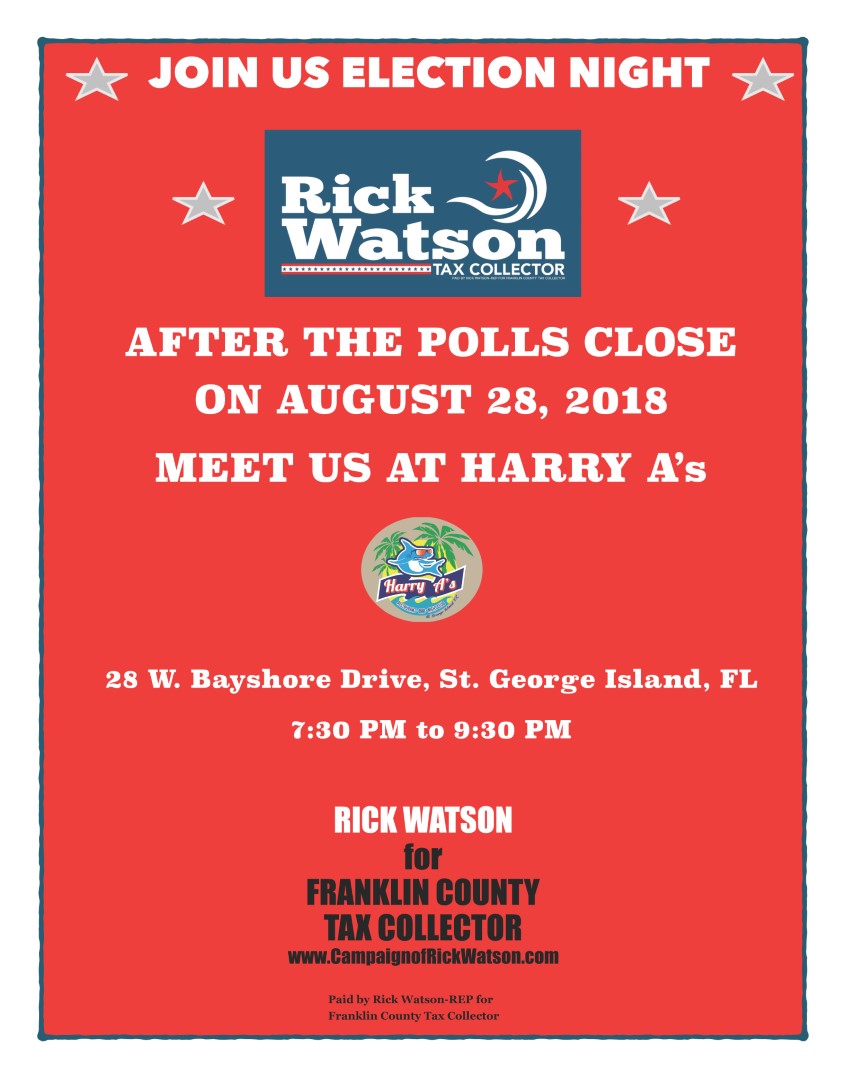 Broward County School Board
Lori Alhadeff, the mother of a student killed in the Parkland school shooting, is holding her election night watch party at the Watercrest Clubhouse, 7 p.m., 11131 Watercrest Cir. W., Parkland. For more info, call (609) 335-8226.
Florida Chamber of Commerce
The Chamber will hold a primary election watch party at its Tallahassee office, 136 S. Bronough St. Festivities begin at 6:30 p.m.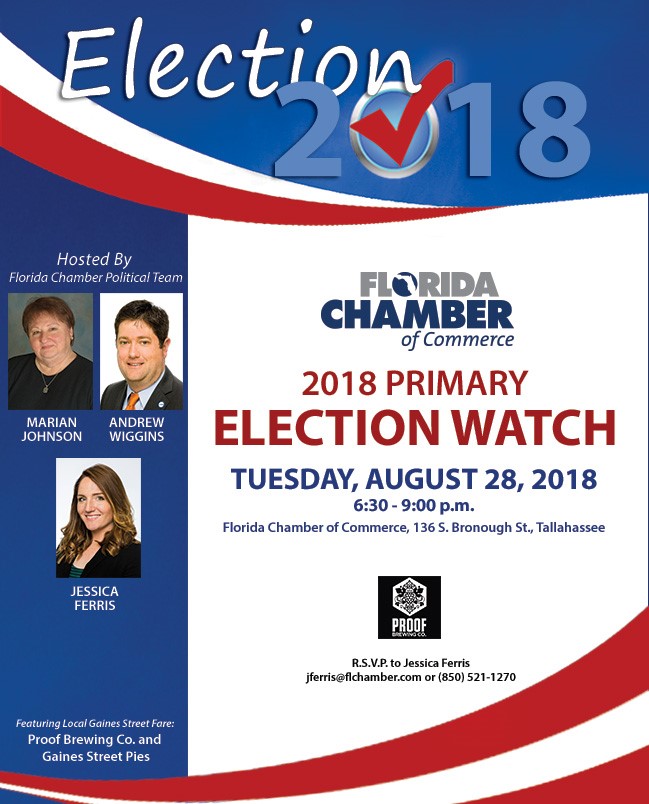 Brevard County Democratic Party
Brevard Democrats are holding three watch parties, each starting at 7 p.m.: Harbor Isles Clubhouse, 600 S. Brevard Ave., Cocoa Beach (potluck/BYOB); Pour 4 Wine & Beer Bar, 3555 Bayside Lakes Blvd., Palm Bay (free pizza); Colors Restaurant & Lounge, 4910 Stack Blvd. SE, Melbourne.
Orange County Democratic Party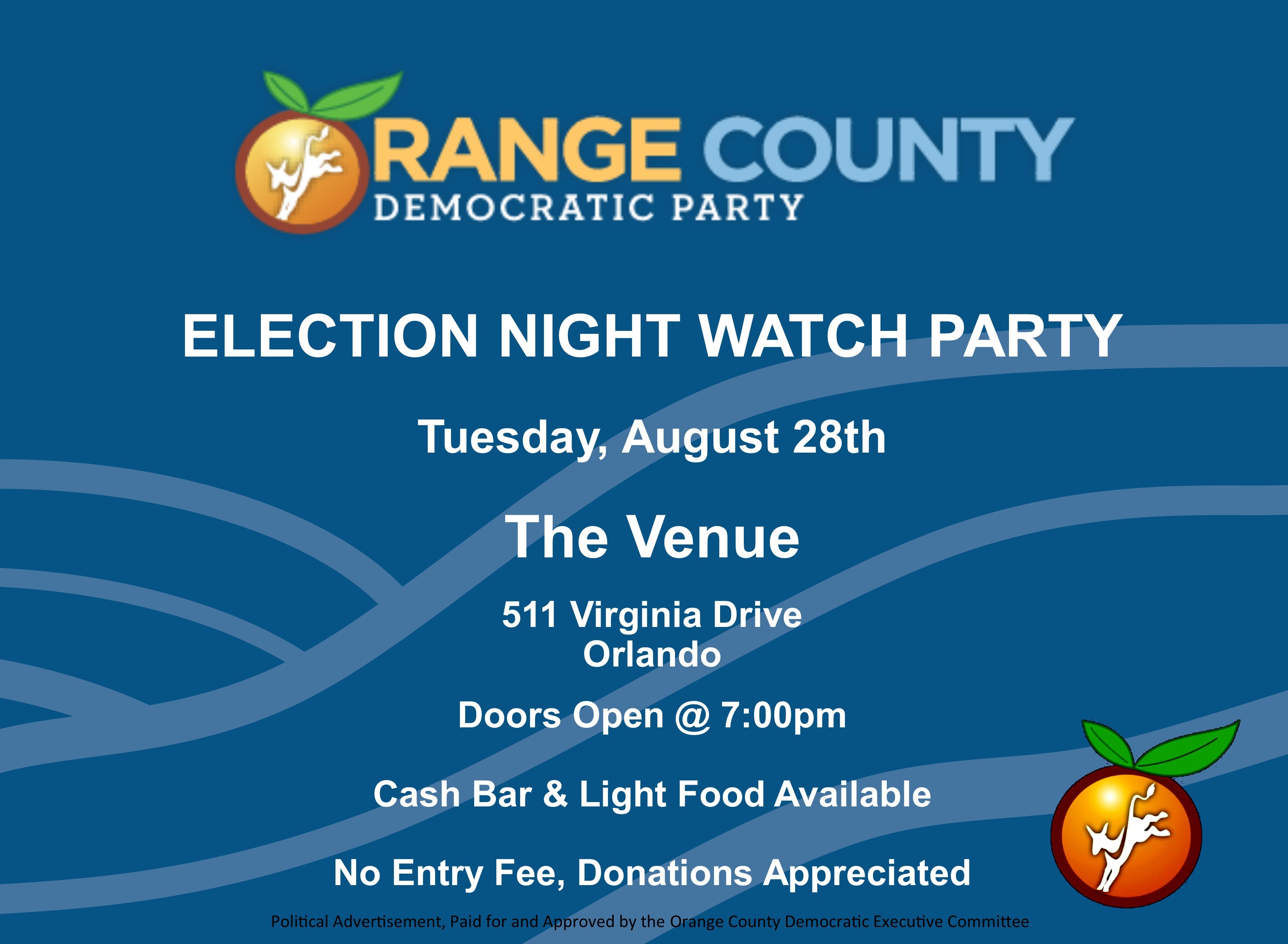 New Florida Vision
The activist group, which mobilized more than 150,000 Black and Latino voters to the polls for Democrat Andrew Gillum, is calling all supporters to watch results starting at 6 p.m., Grand Cafe, 12389 Pembroke Rd, Pembroke Pines.