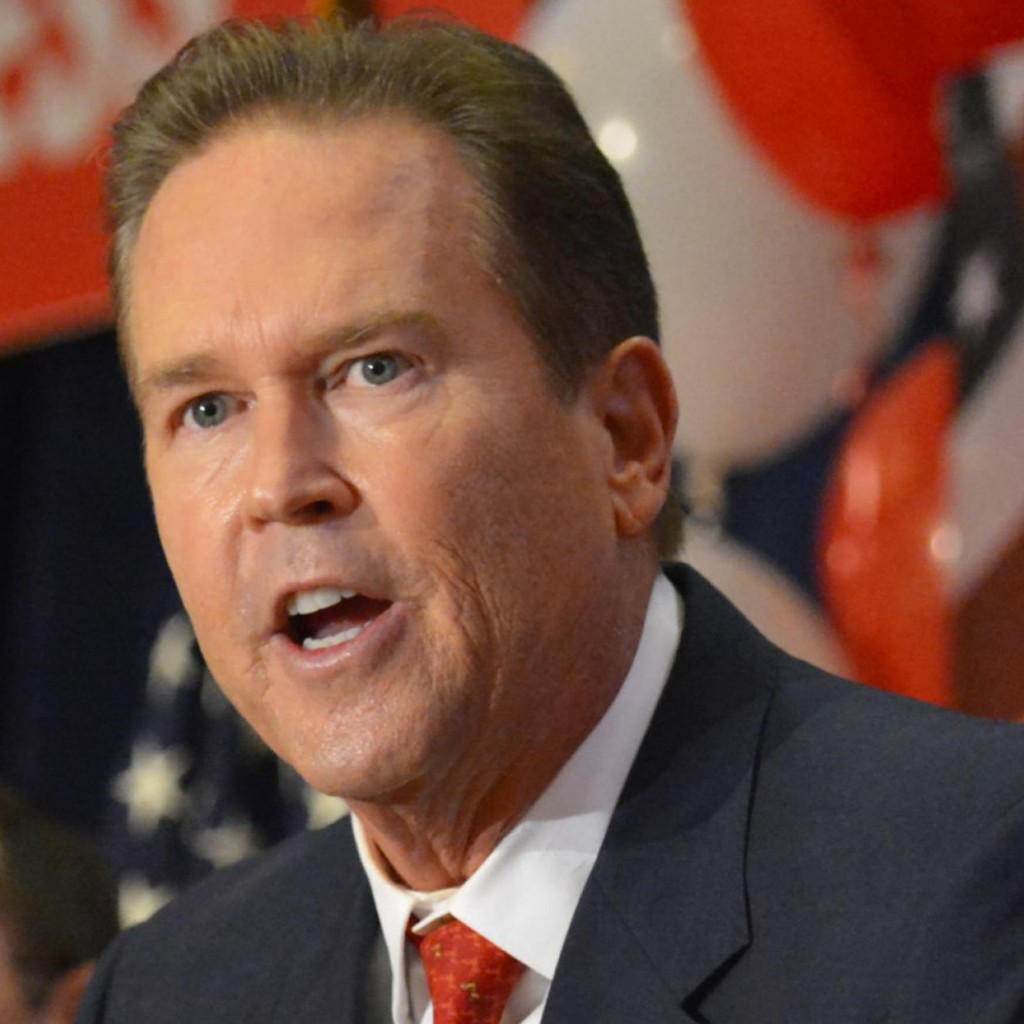 When it comes to hammering out loans, banks typically get to sit in the captain's chair.
That might not have been the case for Republican U.S. Rep. Vern Buchanan, the House coxswain of the Tax Cuts and Jobs Act of 2017.
As revealed last month, Buchanan purchased a luxurious Ocean Alexander yacht on Nov. 16, 2017, the same day he cast his initial "yea" vote for the first draft of the Tax Cuts and Jobs Act (TCJA), which slashed the corporate tax rate and filled the coffers of the nation's highest earners while providing only minimal benefits to the middle class.
Buchanan already had the cash in the bank for the yacht, of course — according to a Roll Call report, Buchanan's $73.9 million net worth makes him the eighth wealthiest member of Congress, so he likely had enough to splurge on a yacht, especially considering progressive group Tax March pegged his savings from the GOP tax plan at up to $2.1 million.
Still, it appears Buchanan opted to finance the purchase of the 73-footer, "Entrepreneur," and the bank he chose is one that was looking to shape the GOP tax bill: BMO Harris Bank, the American subsidiary of the Bank of Montreal.
As reported by the Florida Center for Investigative Reporting, BMO Harris spent hundreds of thousands of dollars on tax reform lobbying by Tony Podesta while lawmakers were designing the TCJA, and the bank floated Buchanan the $5 million loan so he could get the new yacht around the same time.
Craig Holman, an ethics advocate at Public Citizen, told FCIR that the bank's loans to Buchanan's company pose a "particularly egregious" conflict of interest.
"It isn't just business for Buchanan," he said. "The loans grant Buchanan the luxuries of a personal jet and a yacht. It is very reasonable to assume those luxuries could well influence Buchanan's official actions."
It's a different way of doing business, to be sure, and it appears Buchanan has made a habit of it. According to FCIR, Buchanan and his companies have received between $17 million and $85 million worth of loans from four lenders since he was first seated on the Ways and Means Committee in 2010. Three of those loans, totaling up to $35 million, came from BMO Harris.
According to the House Ethics Committee, such loans would only be a conflict of interest if Buchanan was given a below-market interest rate. Lawmakers aren't required to disclose such details, but Max Goodman, a spokesman for the Buchanan campaign, said there's nothing improper going on behind the curtain when it comes to Buchanan's loans.
He also added that while BMO Harris Bank was lobbying members of Congress on tax policy overseen by the Ways and Means Committee, representatives of the financial institution never sat down one-on-one with Buchanan.
One person who isn't waiting on the results of a heretofore non-existent ethics investigation to call foul, however, is Buchanan's likely opponent in the general election for Florida's 16th Congressional District: Sarasota Democrat David Shapiro.
"Last month, we learned Congressman Buchanan used his position in Washington to line his own pockets to the tune of $2.1 million, while working and retired Floridians paid the price," he said.
"Today, we learned the Congressman financed his yacht with a loan from a foreign bank lobbying on the tax bill. It's time Vern Buchanan answer the question once and for all: Is he representing Florida families in Washington, or his special interests?"
Goodman said Team Shapiro may need to check their aim on this new volley of attacks.
"This left-wing partisan front group funded by George Soros has now inadvertently linked David Shapiro to Shady Washington lobbyist Tony Podesta, who is under investigation by special counsel Robert Mueller," he said. "Podesta's political donations to the Democratic Congressional Campaign Committee have directly supported Shapiro — yet another reason why Shapiro cannot be trusted."
Shapiro and Buchanan have been at each other for weeks, with each camp going over the fine print in their financial disclosures and campaign finance reports.
Buchanan has constantly jabbed Shapiro over the Democrat's investments in various mutual funds. Shapiro has returned fire over Buchanan's acceptance of money from the sugar industry in light of the red tide wreaking havoc on Florida's shores.
The yacht buy hasn't gone unnoticed either, with progressive advocacy group Floridians for a Fair Shake slamming Buchanan for the purchase on the same day he voted for the tax bill.
As far as November goes, most political handicappers say Buchanan is in hotter water than past cycles, but still give the GOP the advantage come Election Day.
Sabato's Crystal Ball recently moved the district, which covers all of Manatee County, southwestern Hillsborough and northern Sarasota counties, from "likely Republican" to "lean Republican," and the Cook Political Report political report made the same move.
FiveThirtyEight's projections, however, give Buchanan 8 in 9 odds of winning re-election in the fall with the current vote margin at 55-45 percent.
The 10-point gap tracks with a recent survey from St. Pete Polls that found Buchanan leading Shapiro 44-35 percent with 21 percent undecided.