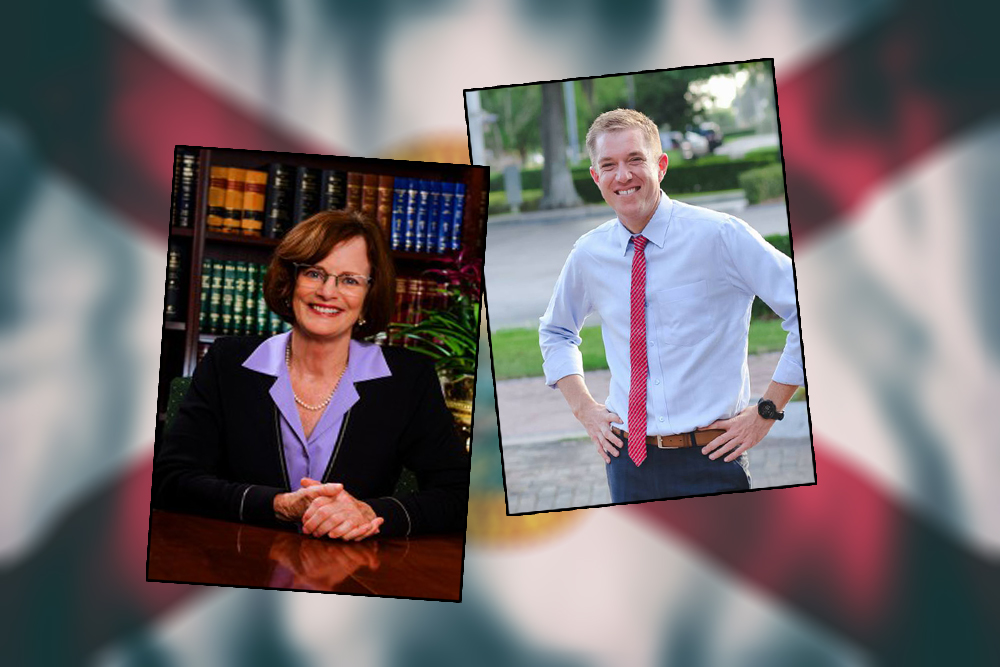 The campaign of Kristen Carlson, a Lakeland Democrat running for Florida's 15th Congressional District, is accusing primary opponent Andrew Learned of Valrico of negative campaigning.
Learned's campaign claims Carlson's money is coming from outside the district, making her beholden to corporate campaign contributors.
A political scientist from Florida Southern College in Lakeland said the damage of a primary fight may very well end Democrat's hope of flipping decades-long Republican control of the district.
A third Democrat, Raymond Pena of Lakeland, is also seeking his party's nomination for the CD 15 seat and has largely been out of the fray between the two candidates.
"The whole race looks like the Democrats are in a primary fight that could mean trouble in November," said Florida Southern professor Bruce Anderson.
The last highly competitive Democratic Primary in the region, now known as CD 15, was 1976 when Winter Haven banker Andy Ireland won the primary and general election. In 1984, Ireland switched to the Republican Party.
Republicans have represented CD 15 ever since.
The fact that two Democrats are "slugging it out" is an indication that Democrats believe that after more than 30 years of GOP control of the seat they have a chance to win it back.
Both campaigns appear to have left the issues and are nitpicking at each other.
Learned has criticized Carlson for accepting large corporate donations. Her campaign reached back and found a donation made to Learned from the Steel Manufacturers Association.
It was one contribution made before Learned said he would not accept corporate donations.
"Andrew Learned is running a negative, dishonest campaign," said Conor Hurley, Carlson's campaign manager, who does most of the talking for the Carlson campaign.
Learned disagreed. "That's not personal," he said. "That's her on the record."
Anderson said he believes such decisions should be left to campaign managers.
"Running your own campaign is the worst thing in the world," Anderson said seeming to agree with the Carlson campaign's relationship of letting its manager manage.
It might be true considering one ad takes on longtime Polk County families. The mailer states: "Carlson Gave to Extremist Republicans."
The "extremists" she gave to, according to the mailer, were Adam Putnam and Jennifer Spath, both Polk County residents. Probably not a good idea to call Polk County's "hometown boy" an extremist in mailers to Polk voters (regardless of party) or Spath who ran unsuccessfully as a mainstream Republican in a special primary election for the Florida House in January.
It is clearly a rookie mistake, and not a wise one. But perhaps neither is the Carlson campaign manager hammering at the opponent as well.
"Either could have a chance to win (over a Republican) but only with a united campaign in the general election," Anderson said.
He added that Carlson and Learned appear to be at a point where they cannot work together after the primary and there will not be a united front against the Republican nominee in a traditionally Republican congressional district.
"I was at the 1984 Democratic Convention in San Francisco," Anderson said. "When Walter Mondale won the presidential nomination the Gary Hart supporters and workers were ignored and practically thrown out. Everyone realized that Mondale then basically lost half the party."
He had to run against Ronald Reagan, popular and running for his second term, with only half the Democratic Party," Anderson said.