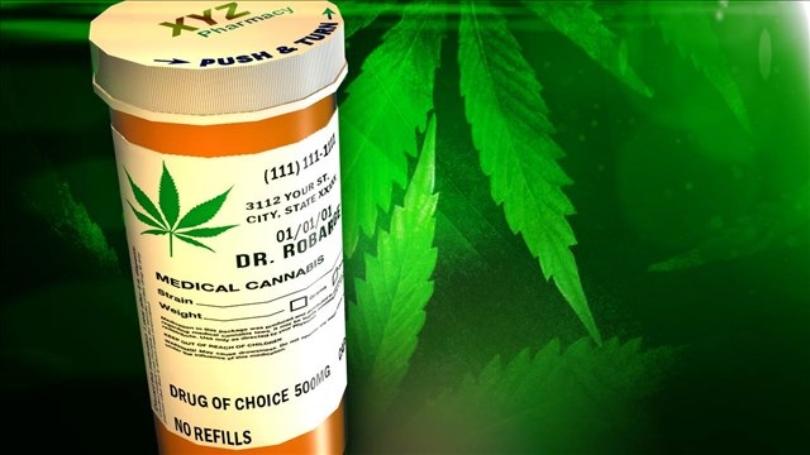 Three states already have started to explore how medical marijuana can help opioid users break their addictions. Could Florida be next?
"Studies show there's been a significant reduction in opioid use in states that have medical cannabis programs," says Todd Beckwith, marketing director for AltMed, which opened its first Florida dispensary in June.
Continued research could prove vital as Florida continues to wrestle with regulation of the burgeoning marijuana industry, which for the moment exists entirely in the health care space.
As doctors figure out how to handle a recently illicit drug, another social plague continues that stems from the use of narcotics long dispensed legally over drugstore counters.
The Sunshine State continues to suffer some of the worst pains from opioid abuse, and in 2016 led the nation in total number of drug overdose deaths, according to the Centers for Disease Control and Prevention.
In response, state lawmakers increased sentencing requirements for suppliers, boosted funding for addiction treatment and actively cracked down on pill mills.
But as that drug crisis unfolded, public opinion rapidly shifted on once-maligned marijuana.
The Florida Legislature in 2014 legalized use of low-THC cannabis extracts to treat epilepsy, cancer and amyotrophic lateral sclerosis (ALS), known as Lou Gehrig's disease. Then voters in 2016 went farther, passing a constitutional amendment expanding that to allow patients with HIV, glaucoma, multiple sclerosis and other conditions to use the narcotic.
Yet to date, the list of eligible conditions for a cannabis prescription does not include pain management. On the other hand, even after a new opiate law went into effect July 1 limiting prescriptions for acute pain, physicians can sign off on opioid use for any terminal or progressive illness or for traumatic injuries.
"Florida voters recognized that medical cannabis can and should be an available option for patients," said Kim Rivers, CEO of Trulieve, the state's largest medical marijuana dispenser. "We know there is a growing body of science that supports cannabis as a viable and non-addictive alternative to highly addictive and dangerous drugs such as opioids.
"We strongly support giving doctors and patients this viable alternative," she added. "Trulieve hears story after story of patients successfully and effectively transitioning from opioids to medical cannabis as a safer medical alternative to treat their conditions."
Then again, marijuana advocates don't deny that chronic pain often warrants the use of powerful opiates.
"There are some things in which a pure pain management regimen is necessary," Tallahassee lawyer John Lockwood says.
The problem comes, though, when patients get hooked. "What people have a problem with," Lockwood notes, "is coming off that prescription."
And that's where other states have started to consider that cannabis could serve as an alternative to pills.
Totaling Tolerance
According to the National Institute on Drug Abuse, between 21 and 29 percent of all patients prescribed opioids for chronic pain end up misusing the drugs, and four to six percent of users end up transitioning to becoming heroin users.
And thousands die from the abuse. Almost 64,000 Americans died of overdoses in 2016, including 4,738 in the state of Florida.
But as more states allow for medical marijuana, there has been a direct effect on the number of opioid fatalities. A Rand Corporation study found a decline in deaths in those states legalizing marijuana, but only in those allowing medical dispensaries.
Similarly, a study released by the University of Georgia found a correlation between legalizing cannabis as medicine and reductions in opioid use.
This one found that in states with home-cultivation laws, there was a  seven percent reduction in opiate prescriptions and a 14.4 percent decline in opiate use. In particular, the study saw sharp reductions in prescriptions for hydrocodone and morphine.
"What we were able to do is ask what happens to physician behavior in terms of their opiate prescribing if and when medical cannabis becomes available," said W. David Bradford, co-author of the Georgia study.
That prompted Georgia Rep. Allen Peake, chairman of the Medical Cannabis working group in the Georgia House, to file legislation expanding its patient registry to include patients with "intractable pain" so long as they have been treated for that condition for a minimum of six months. Georgia law allows for patients on the registry to possess 20 ounces of low-THC oil.
But Georgia's not the only state exploring the connection. The Illinois Legislature in May passed a law allowing patients with certain debilitating conditions to enroll in an Opioid Alternative Pilot Program. The website Illinois Policy reports the bill passed both chambers of the Legislature with bipartisan support.
And in June, the New York State Department of Health through an administrative rule added opioid replacement to the list of medical conditions for which physicians could prescribe marijuana.
"Medical marijuana has been shown to be an effective treatment for pain that may also reduce the chance of opioid dependence," said New York State Health Commissioner Howard Zucker. "Adding opioid replacement as a qualifying condition for medical marijuana offers providers another treatment option, which is a critical step in combatting the deadly opioid epidemic affecting people across the state."
Delayed Reactions
Lockwood says the rules and legislation used by these states should serve as a model to Florida lawmakers looking for a way to curb opioid deaths.
To date, the direction states have gone in terms of allowing cannabis into pain management remedies has been as a last resort rather than a first course of action, meaning the drug more often gets used to wean people off of their opiate addiction rather than being offered as the primary way to deal with chronic pain in the first place.
"States are going to treat this is a way to ease you off your prescriptions," Lockwood says.
But the law may be lagging behind the medical community on the matter. Physicians, mindful of the same studies driving policy in New York, Georgia and Illinois, have started experimenting with cannabis as a solution to addiction in Florida already.
Beckwith notes that while Florida has a short list of medical conditions that doctors have approval to treat with cannabis, there's also a provision of the law that allows for a physician to make an individual assessment that a patient would benefit from the drug.
"It does require them to submit additional paperwork," Beckwith said. But he says physicians have determined cannabis as a proper treatment for those addicted to opioids and alcohol, and some suggest cannabis be used to treat chronic pain.
Still, including opiate abuse on the list of conditions so that all physicians certified to prescribe cannabis could simply do so without leaping through bureaucratic hoops would streamline the process and help more people.
He notes that the Rand study that showed a correlation between legalizing medical marijuana and reducing opiate deaths also found that over-regulating the industry could negate the positive impacts.
"Our findings are consistent with previous studies showing an association between the legalization of medical marijuana and lower deaths from overdoses of opioids," writes Rosalie Liccardo Pacula, co-author of the Rand study.
Tighter regulations, coupled with growing popularity of illegal narcotics like fentanyl, can erase gains made as far as curbing opioid mortality. That's read in the industry as a signal too-tight regulation will strangle out potential benefits, but it also shows cannabis alone won't magically solve a separate epidemic.
"This is a sign that medical marijuana, by itself," Pacula writes, "will not be the solution to the nation's opioid crisis today."