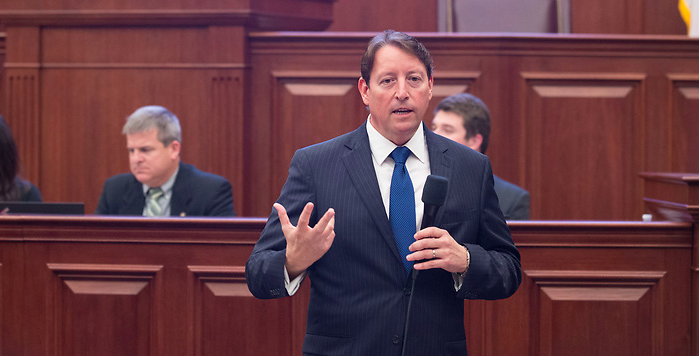 Incoming Senate President Bill Galvano on Friday said he helped reel in more than $7.2 million over the last four months for the main political committee supporting Republican state Senate campaigns.
The finance report for the Florida Republican Senatorial Campaign Committee (FRSCC) had not been uploaded to the Division of Elections public website as of Friday afternoon, but the claimed total for the pre-primary reporting period blows away the $5.17 million total FRSCC posted ahead of the 2016 primary election — and that cycle saw all 40 state Senate seats up for grabs.
The new report covers April 1 through Aug. 23.
Galvano, who represents Senate District 21, said his own political committee, Innovate Florida, had a similarly prolific run. Unlike FRSCC, a party affiliated committee, Innovate Florida is required to file finance reports more frequently.
Still, during the same April to August stretch, the political committee tacked on more than $500,000.
"We are pleased to report today the significant support we have received — not only during this reporting period, but for the entire 2018 cycle leading up to the general election," Galvano said in a press release.
"We will continue to make sure our Republican candidates have the resources they need to win. We have an outstanding ground game, qualified and dedicated candidates, and continue to have the support we need to get their message out."
The new report for Innovate Florida showed $175,000 in new money raised between Aug. 11 and Aug. 23. That haul was brought in across six checks:
— A $65,000 contribution from the American Federation of State County and Municipal Employees (AFSCME), a public employee union;
— A $50,000 check from Floridians United for Our Children's Future, a political committee chaired by Ryan Tyson, the VP of political operations for Associated Industries of Florida;
— $25,000 from telecom giant Charter Communications;
— $15,000 from Publix veep Hoyt Barnett;
— $15,000 from a political committee tied to the Florida Chamber of Commerce; and
— $5,000 from rail company Florida East Coast Industries (FEC).
Innovate Florida's ledger shows about $43,000 in spending during the reporting period, including a $25,000 check to Let's Grow Florida, one of the political committees supporting Sebring state Sen. Denise Grimsley in her statewide bid for Agriculture Commissioner.
Galvano and his likely successor as Senate President, Trilby Republican Sen. Wilton Simpson, have publicly endorsed Grimsley in the four-way Republican primary for the Cabinet seat.
Galvano's committee had a little over $344,000 in the bank five days out from the primary election. FRSCC's current on-hand tally is unknown, though it had nearly $2.3 million in its coffers at the end of March.
While the Innovate Florida cash came in from just a handful of donors, Galvano said that won't be the case when the FRSCC report pops later today.
"I am also happy to report we have gained an influx of new, individual supporters who have contributed significantly to our fundraising efforts, demonstrating that support for Senate Republicans is growing and that Floridians from all corners of the state are contributing to our efforts to maintain our Republican majority in the Florida Senate," he said.
"The combined effort of not only FRSCC and Innovate Florida, but also other fundraising activities by Senate Republicans, clearly shows a unified Republican Senate as we prepare to head into the general election."
Still, as previously reported, finance reports from other committees reveal many of the FRSCC contributions have come in from known players. Simpson has kicked in $500,000 through his committee, Jobs for Florida, while the Florida Chamber, AIF, and the Florida Medical Association PAC have each broached six-figures.
Fleming Island Sen. Rob Bradley has also chipped in substantially through his committee, Working for Florida's Families. He gave $375,000 to FRSCC during the April to August period, including $275,000 during July alone.
The prolific fundraising effort makes for more than $14 million raised for FRSCC since Galvano took over as the funds fundraising head last year, including another record-breaking haul in the third quarter of 2017.
The cash comes in as senate Republicans are gearing up for tough re-election fights in seven GOP-held districts, including Gainesville-based SD 8, the Tampa Bay area's SD 18 and SD 24, as well as Lakeland-based SD 22.
Florida Democrats are also making a play for the open SD 16, where former Democratic Rep. Amanda Murphy is running against former Republican Rep. Ed Hooper, and SD 36, where state Rep. Manny Diaz faces a pair Democrats vying to block his ascension to the Senate.
The next finance report for FRSCC is due to the state on Nov. 2, just a few days ahead of the Nov. 6 general election.