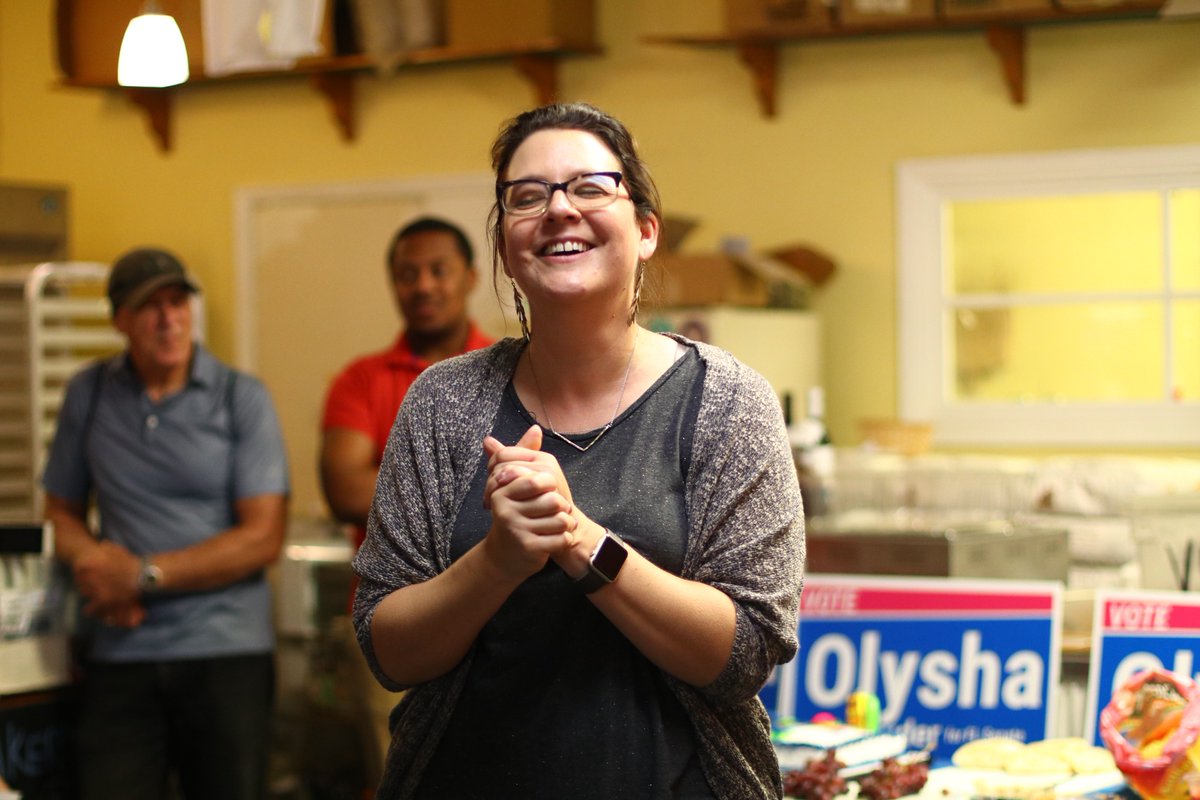 A slew of campaign mailers and TV ads pushing for Gainesville Democrat Olysha Magruder in Senate District 8 were outed as being tied to GOP operatives Thursday night, prompting TV stations in the Gainesville media market pull the pro-Magruder ads from the airwaves.
Gainesville physician Kayser Enneking, who is running against Magruder in Tuesday's Democratic primary, had sent cease and desist letters through attorney Mark Herron on Monday seeking to get the local ABC, NBC and CBS affiliates to stop running the ads.
The stations capitulated Friday after an article by Andrew Caplan of the Gainesville Sun demonstrated a clear connection between Leiann McInnis, the registered agent of the committee slamming Fort Lauderdale Sen. Gary Farmer in the SD 34 Democratic primary, and the "dark money" ad push in favor of Magruder.
As previously reported, the pro-Magruder TV ads were signed for by Washington DC consultant Jamie Andrus, who is also on the payroll of the anti-Farmer political committee Moms Speak Out.
The TV ads and the mailers were additionally suspect based on their attribution to an Ocala-based non-profit known as Liberation Ocala African American Council (LOACC). It is illegal for non-profits such as LOAAC to produce political ads.
Following nearly every twist in the "dark money" saga, Magruder has been opaque about her knowledge of the ads and whether she was aware of them prior to them being sent out.
Shortly after the ads started rolling out, Magruder claimed she "did not collaborate with nor give approval to have recent mailers or TV ads created." But two sources with knowledge of her campaign say she was in contact with the man who runs LOACC, Whitfield Jenkins, as recently as last week.
After yesterday's revelation, Magruder came closer to disavowing the ads, but still predicated her yet-to-materialize disavowal on whether Kaplan's reporting was factual.
"If this is true, that the GOP and [incumbent Republican Sen.] Keith Perry are behind this recent ad campaign that has used my name, image, and messages, then I demand a formal apology from them and that they cease and desist tarnishing my character with their tactics," she wrote on Facebook.
She also used the post to again slam Enneking for donations she has received that are indirectly tied to "the sugar, tobacco, and for-profit prison industries," even though, unwittingly or not, she has likely received far more indirect support from those industries and their ilk — Jenkins estimated each direct mail run cost $13,000, and with at least eight heading out to voters over the last couple of weeks, and nearly $25,000 spent the now-pulled TV ads, the "dark money" spending behind Magruder is approaching $130,000.
Later on in her post, she said she was "glad that some local journalists still seek to discover the truth instead of relying on specious claims."
That seeming jab at Florida Politics comes after Magruder has dodged emails, ducked phone calls and ignored twitter messages asking for her to more fully explain her relationship with Jenkins, as well as what she knew and when she knew it regarding the ads.
In a Tuesday interview with Florida Politics, Jenkins claimed knowledge of a political committee filing to support Magruder on Aug. 7 and that it had been held up by a paperwork error. Magruder attempted to start a political committee on Aug. 7 but it wasn't acknowledged by the Florida Division of Elections until Aug. 22 due to a paperwork error, Florida Department of State spokeswoman Sarah Revell said Thursday.
Like Magruder, Jenkins has since stopped taking phone calls from media.
Despite the incessant mudslinging, she claims to have a "positive" campaign message. Part of that message, of course, includes facilitating the spread of lies about Enneking's positions on certain issues important to Democratic primary voters, such as "Medicare for All."
Magruder claims to be the only candidate in the race to support the proposal, though Enneking has consistently said she is in favor while adding a necessary disclaimer that state Senators have no say on whether it becomes a reality.
The primary election is Tuesday. The winner of the Democratic nomination will face Perry and former Gainesville City Commissioner Charles Goston, who is running as a non-party affiliated candidate.