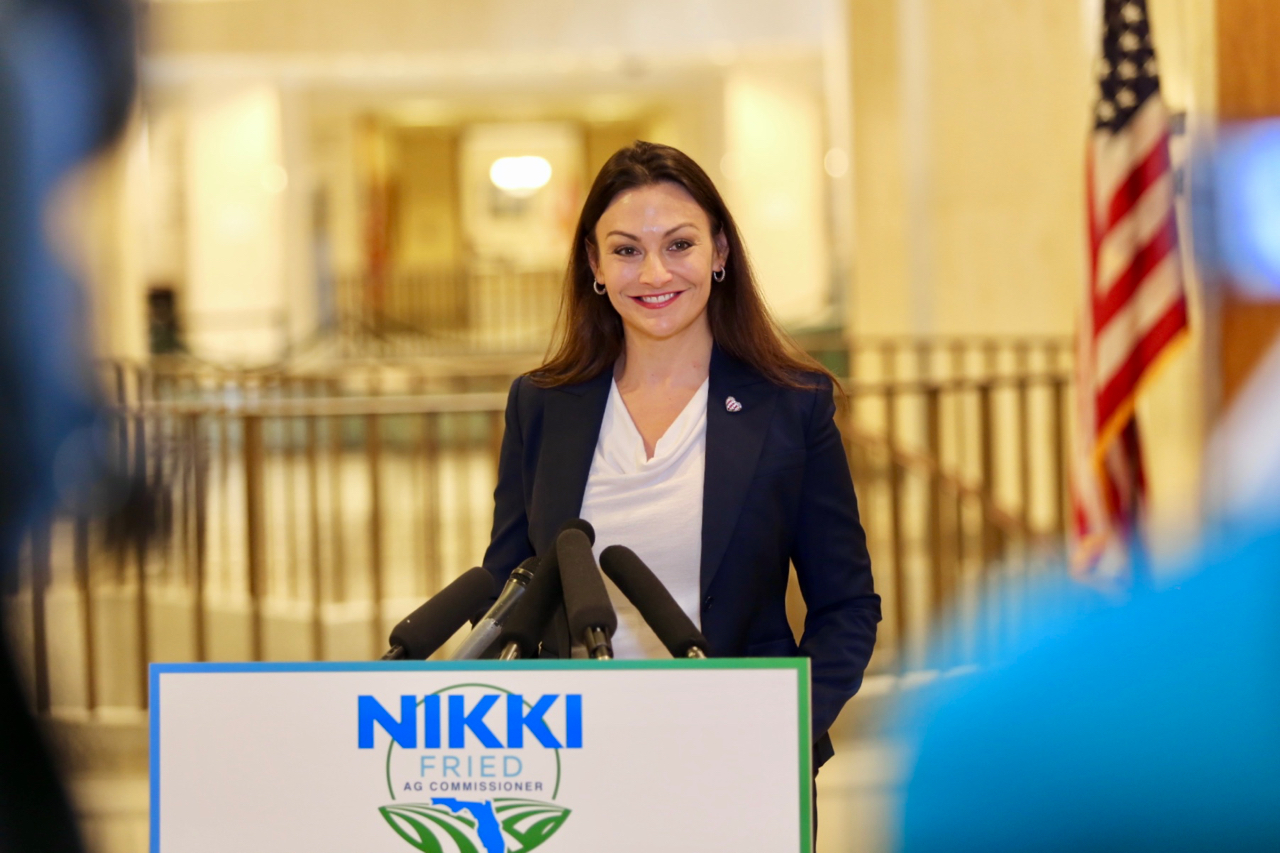 According to a new poll, attorney and medical marijuana lobbyist Nikki Fried is all but assured to snag the Democratic nomination for Commissioner of Agriculture on Tuesday.
The St. Pete Polls survey shows Fried with 44 percent support among likely Democratic primary voters, giving her a double-digit lead over the combined tally of her competitors, environmental scientist Roy David Walker and Homestead Mayor Jeff Porter, who came in at 20 percent and 11 percent, respectively. About one in four Democratic primary voters said they were undecided.
When it comes to early voters, who made up 53 percent of the sample, Fried goes from a plurality to an outright majority — 54 percent of Democrats who have already cast their ballot picked Fried, compared to 21 percent who chose Walker and 11 percent who chose Porter.
As ever, there was a significant portion of voters who said they'd already voted but were still "undecided." Whether that indicates second thoughts or reflects on the memorability of the candidates running to flip the Cabinet seat currently held by term-limited Agriculture Commissioner Adam Putnam is anyone's call.
Undecided was king among the 47 percent of Democrats who plan to vote but haven't done so yet. Following the 36 percent who are unsure about their pick is Fried, who scoops up 34 percent of the yet-to-vote crowd while Walker snags 19 percent and Porter holds at 11 percent.

Fried holds big leads among every race, both men and women, and among and every age group — from her low of 40 percent support among Gen-Xers to her high of 47 percent support among the 50- to 69-year-old crowd. The youth vote is just as enthused, preferring her 44-20 percent over Walker, and she posts the same margin among Democrats aged 70-and-up who favor her over Walker 43-19.
The media market breakdown is even more dour for all candidates not named Fried. In addition to being the top pick for former CFO Alex Sink, 25 state lawmakers, U.S. Reps. Charlie Crist and Lois Frankel, former U.S. Rep. Patrick Murphy, SEIU, Ruth's List, the Palm Beach County Human Rights Council, Fried was No. 1 in each of Florida's 10 media markets.
All three candidates are from South Florida, and in the West Palm Beach and Miami markets it's no contest — Fried carries both by 25-plus percentage points. Her lead hits 50-20 percent in the Tampa market, while the rocky result came from the relatively small Panama City market, where her lead over Walker was a slim 37-33 percent.
Walker has been running for the seat, but his questionable background as a "Walmart U" alum and even more questionable campaign loans — he's already outstripped his $138,000 listed his net worth by pumping $160,000 into his campaign — have left many Democrats unimpressed.
Porter joined the race in January, and while he's got a background in elected office, his campaign has struggled to gain traction or, more importantly, cash checks — a necessity in any race, especially a statewide one.
Enter Fried, who put her name down for the job at the last minute, but has gone on to not land loads of endorsements from the state's Democratic icons, but has actually made positive headway in fundraising. As of Aug. 23 she'd cleared well over $400,000 between her campaign fund and political committee, Florida Consumers First — that's six figures more than the combined totals of Porter and Walker.
The new survey isn't the only positive Team Fried has going for them. An internal poll released by her campaign shows her with an early edge over two of her possible Republican opponents in the general election, Sebring Sen. Denise Grimsley and former Winter Haven Rep. Baxter Troutman.
The St. Pete Polls automated phone poll was conducted on Aug. 25 and received responses from 2,342 registered Democrats who said they had voted or planned to vote in the Democratic primary. It has a margin of error of plus or minus 2 percentage points at a 95 percent confidence level.