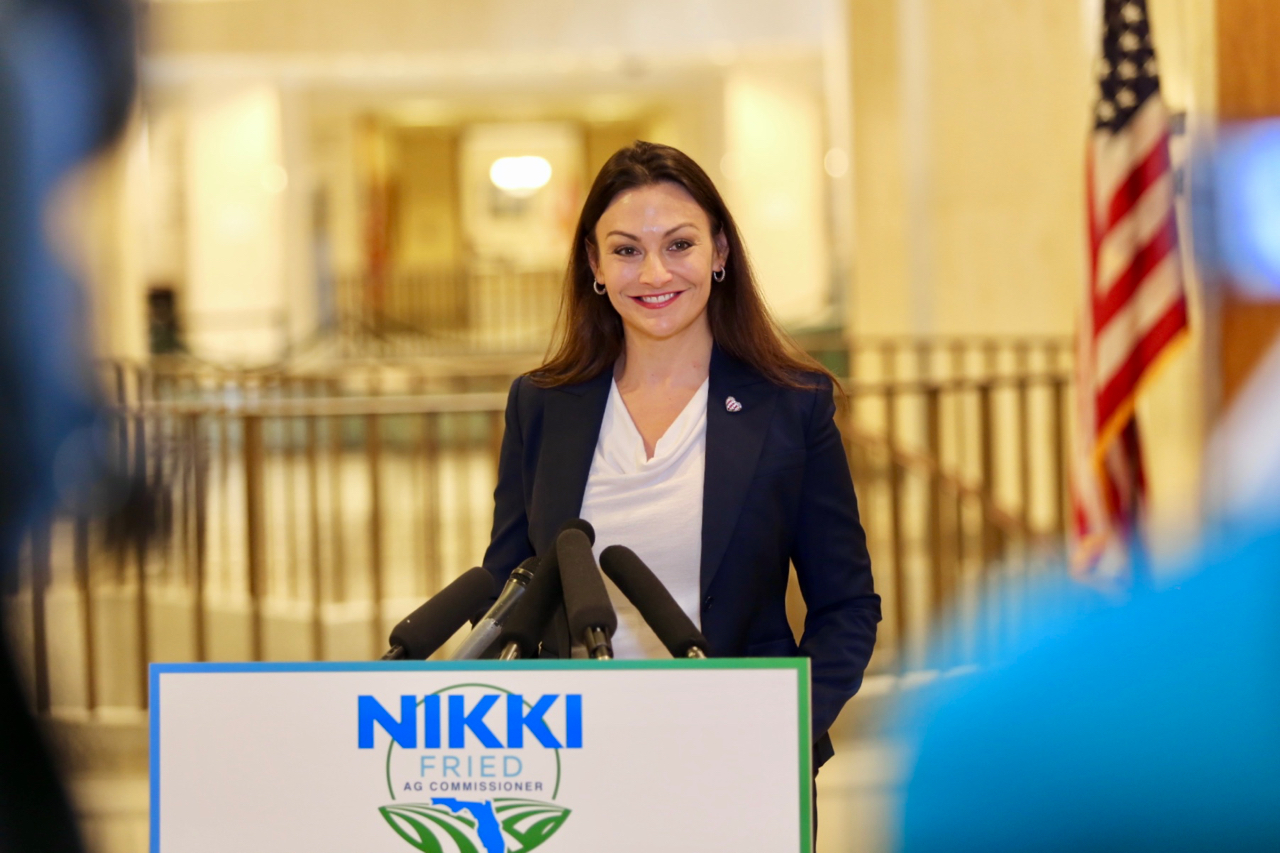 Democratic Agriculture Commissioner candidate Nikki Fried released internal poll numbers Monday showing her with a general election edge over potential Republican opponents Baxter Troutman and Denise Grimsley.
A FrederickPolls survey shows Fried leading Grimsley 42 percent to 40 percent, with 17 percent still undecided. She holds a wider lead over Troutman, 43 percent to 39 percent with 17 percent undecided.
"Nikki Fried is poised to become the first Democratic—and first female—Ag. Commissioner in the history of the office," pollster Keith Frederick said.
He wrote in a memo that Fried's lead over the GOP candidates mirrors a 4-percent edge Democratic gubernatorial candidate Gwen Graham holds over Republican gubernatorial candidate Ron DeSantis in their polling.
The polling suggests voters for the moment are picking candidates based on "partisan cues," Frederick writes, and all candidates hold low name recognition right now.
Fried holds 21 percent name recognition, compared to Troutman's 28 percent and Grimsley's 21 percent.
Notably, the poll of 500 likely general election voters was conducted Aug. 16-20, almost entirely before Fried made national headlines over a dispute with Wells Fargo regarding contributions from the medical marijuana industry.
While Fried's campaign polled a head-to-race between the Democrat and Grimsley, pollsters did an "informed ballot question" poll with Fried and Troutman. That means those surveyed first heard a positive campaign biography on both candidates.
After bios were read, Fried expanded her lead to 49 percent to 43 percent, with the Democrat nearly winning a majority of the vote.
The Troutman bio called him a "51-year-old common-sense conservative Republican, citrus grower, cattleman and successful job creator businessman." The Fried write-up described her as a "40-year-old Democratic candidate and University of Florida law school graduate who has worked as a successful and forceful advocate for public schools, foster children, and legalized medical marijuana."
"The informed ballot question reinforces the fact that Nikki's platform of expanded medical marijuana access, emphasis on consumer services and environmental protection and commitment to reforming Adam Putnam's failed concealed weapons permitting department is incredibly compelling to likely general election voters," Frederick said.
Notably, numbers matching Fried against Republicans Matt Caldwell or Mike McCalister were not released.
Campaign officials say they polled Caldwell for name identification, finding about 20 percent of voters had an opinion on Caldwell, but they did not do a "horse race" poll.
The campaign did not poll McCalister at all, who has trailed opponents with fundraising.
Fried must first win the Democratic primary on Tuesday when the Republican nominee will also be decided. She has raised almost $214,000 in cash contributions, compared to Jeffrey Duane Porter's $56,000 and Roy David Walker's $28,000.