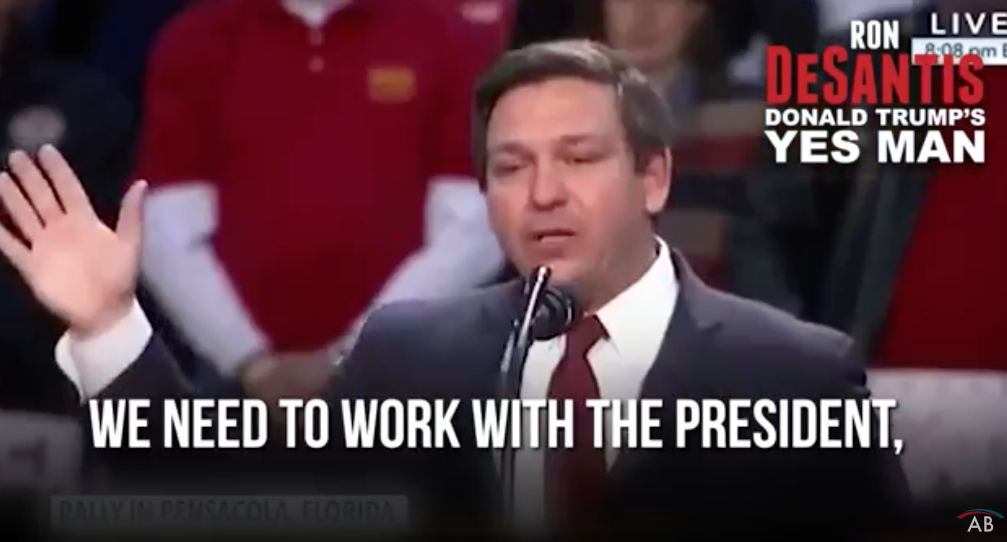 Calling Ron DeSantis a "yes man" for President Donald Trump, the Democratic super PAC American Bridge is launching the first attack ad of the Florida fall governor's race, with an internet video mocking DeSantis's praise for the president.
The 54-second video, "DeSantis: Trump's Yes Man," signals that while Democratic gubernatorial nominee Andrew Gillum may be vowing to not make Trump much of an issue this fall, outside Democratic groups will be more than happy to do so on Gillum's behalf.
The video shows clips of DeSantis praising Trump, each followed by clips of Trump saying or doing something that mocks DeSantis's statement. The issues run from Trump's frequent golf outings to his relationship with Russia President Vladimir Putin.
American Bridge, closely associated with the Democratic Party and heavily funded by New York billionaire George Soros, contends in a news release that the ad is part of a campaign aimed at painting DeSantis as someone focused on appeasing Trump, "not helping Florida families."
It begins running Wednesday on social media in Tampa, Orlando, and Miami and American Bridge said it is targeted to swing voters.
"Ron DeSantis has been a spineless yes-man for Donald Trump in Washington, and he'd continue to be one as Governor," American Bridge spokesperson Zach Hudson stated in the news release. "Ron DeSantis voted for Trump's tax giveaway to the wealthy, supported Trump's plan to take away health care from millions of Floridians, and seems more interested in defending Trump from a Washington television studio than improving the lives of Florida families. This November, Florida voters will elect a Governor who will finally put Florida first, not a Trump yes-man like Ron DeSantis."