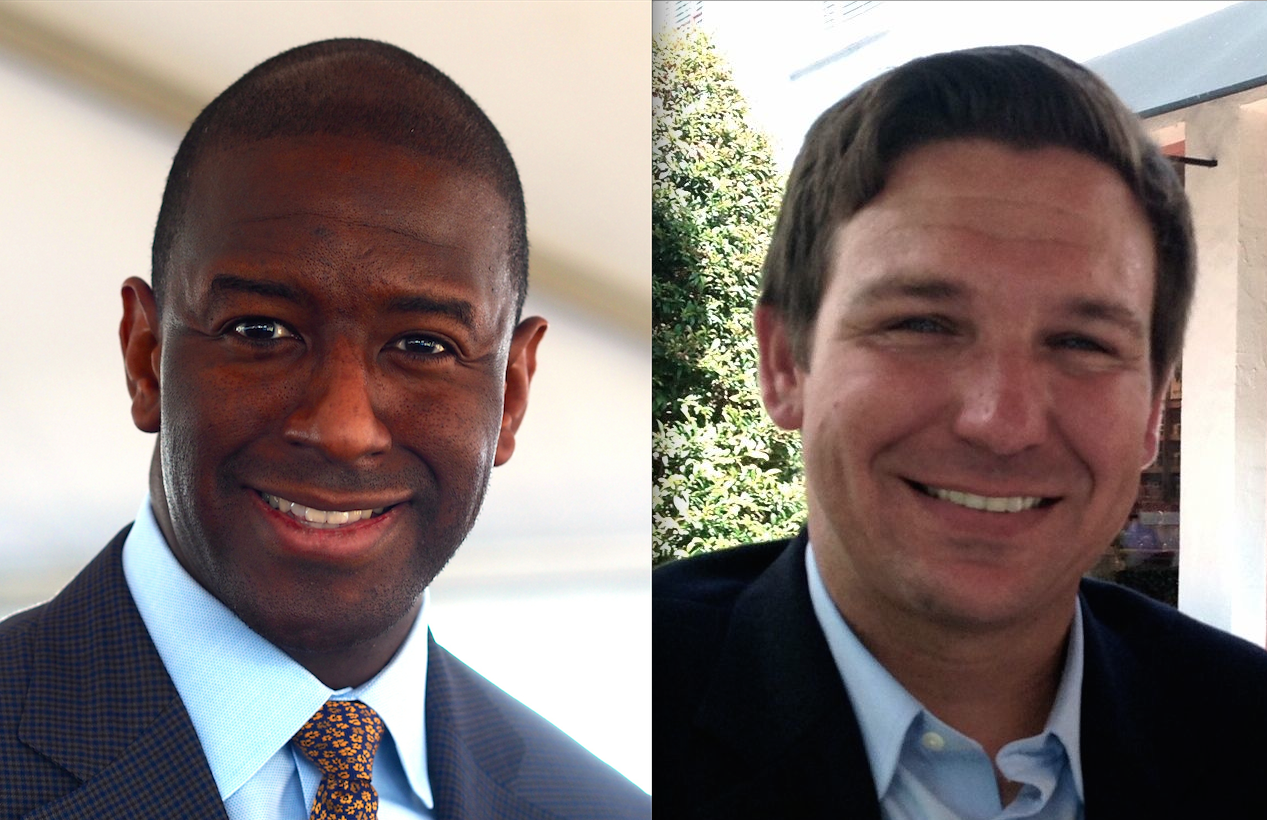 Andrew Gillum is breaking ahead of Ron DeSantis in the governor's race, fueled by the early preference of Florida's independent voters, according to the first publicly-released poll of the general election campaign season.
A new poll produced by Public Policy Polling gives Gillum, the progressive Tallahassee mayor who rocked the Democratic Party on Tuesday, 48 percent, and DeSantis, the conservative Republican nominee running with President Donald Trump, 43 percent, in the opening days of the Nov. 6 election campaign.
A remarkably low  percentage of voters, just 9 percent, told PPP pollsters that they were unsure, an early indication of how clear the differences already are, and likely will continue to be ,between the two major gubernatorial candidates.
The poll, taken Wednesday and Thursday, shows Gillum starting with a commanding lead among independent voters. Party faithful are lining up pretty equally behind their nominees, and consequently Gillum's early advantage appears built entirely from independent voters chosing him.
PPP surveyed 743 Florida voters, of which 41 percent were Republicans, 41 percent were Democrats and 18 percent were independent.
The poll was commissioned by EDGE Communications, the politial consulting firm of Christian Ulvert, the former senior consultant for Democratic gubernatorial candidate Philip Levine, who lost to Gillum Tuesday.
"In the first general election poll since Tuesday's primary, we see how Florida is very much a swing state. Mayor Gillum starts ahead of Ron DeSantis by 5 points,"  Ulvert stated in a release announcing the poll.
The poll finds Gillum starting out with a fairly warm reception from those surveyed, and DeSantis, not so much.
In favorability ratings, 45 percent of those surveyed said they have a favorable opinion of Gillum, and 27 percent an unfavorable opinion. DeSantis starts the fall campaign with a 41 percent favable rating, but a 47 percent unfavorable rating.
While party voters generally were lining up solidly behind their nominees, DeSantis's favorability issue extends deeply into independent voters, according to the survey. Just 26 percent found him favorable, and 55 percent found him unfavorable.
Gillum, meanwhile, starts out with a 51 percent favorable rating among independents and only a 14 percent unfavorable rating. Gillum also starts with a large percentage of Republican voters, 37 percent, who say they have no opinion of him yet.
The result of that independent voters favorability gap: 59 percent would vote today for Gillum and just 25 percent for DeSantis, with 16 percent undecided.
"The most interesting number is among Independent voters where Gillum leads DeSantis by 34. … Gillum starts with an impressive edge among Independent voters who are key to winning Florida," Ulvert stated.
There also is a sharp differences of opinion between men and women, and divided by races.
"In the governor's race, there is massive gender gap with Gillum leading among women by 21 and DeSantis leading among men by 13," Ulvert noted.
Gillum has 84 percent of the vote of black voters and 61 percent of Hisapanic voters, while DeSantis hs 54 percent of the white voters.